Nevada State College, Centennial Hills Hospital teaching nursing students to nurture
November 13, 2015 - 9:48 am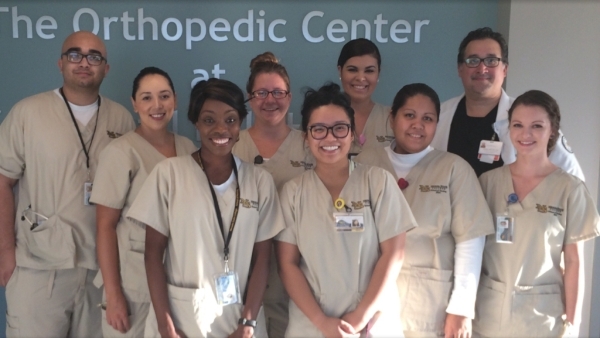 Centennial Hills Hospital has gained an extra touch of love and care.
In August, eight nursing students from Nevada State College were chosen to embark on a new method of learning at the hospital, 6900 N. Durango Drive.
"Our tagline at Centennial Hills Hospital is 'Treat people like family,' " said John Coldsmith, chief nursing officer for the hospital. "When we heard about the Nevada State College program, we wanted to be a part of it because it mirrors exactly what we've done here. Students focus on care, compassion and empathy in every single thing they do with their patients."
The students, known as the Caring Science unit, are set to meet every Wednesday for the next two years to care for patients on the sixth floor of the hospital.
Centennial Hills Hospital nurses, known as the Caring Coaches, mentor students and teach them clinical skills and caring practices.
The caring practices are based on the work of Dr. Jean Watson, who focuses on "providing care with loving kindness, having helping and trusting relationships, creating caring environments, meeting basic needs, and valuing the patient's personal beliefs and faith," according to the Watson Caring Science Institute website, watsoncaringscience.org.
Robert Reynoso, lecturer of nursing at Nevada State College, said Watson developed a concept based on nursing care and practice, which can be seen in her 10 objectives called Caritas.
"Nurses are the most trusted profession, according to a recent Gallup poll," Reynoso said. "It's a special thing when a stranger walks into a hospital and gives complete trust to another stranger. That's a sacred relationship. Watson's nursing philosophy basically centers around the care for patients, their families and everything related to them in a very practical manner. She embraces values and practices love and kindness."
These practices encompass the nurse/patient interaction and allow it to go beyond an objective assessment and develop into an essential caring relationship, understanding the other person's perspective and forming a mutual bond, according to Reynoso.
For example, nursing student Terri Davis recently applied Watson's theory to a patient she was caring for on the sixth floor of the orthopedic unit.
"We had a patient that was experiencing a lot of anxiety because she wasn't able to celebrate her daughter's birthday with her," Davis said. "We couldn't get her a card, so I grab a pen and paper, and she made a homemade card. I also went to the cafeteria and was able to bring her a small cake and lunch for her and her daughter. The patient no longer had anxiety, and she was so happy. It just made my day. I felt like I was on top of the world."
"That's one way that shows how we can go beyond the physical care of the patient," added Ruby Wertz, clinical partnership director at the school of nursing at Nevada State College. "That will set them apart forever."
The hospital is also a good place to experience day-to-day life as a professional nurse.
Recently, the students experienced their first patient death. Reynoso said the Caring Coaches had a big hug session afterward, and he held an impromptu conference to talk about death and the role it plays in nursing.
Daily tasks aren't all grim at the unit.
Nursing student Tiffany Cabos admits she was nervous about working at the hospital as a student nurse for her first time but is thankful her Caring Coach has been guiding her through the program and quizzing her on her skills. She said the program has helped her prepare for life after school.
"At first, I was nervous about doing something wrong, but now after being exposed to the hospital setting, I feel more confident," Cabos said. "I've really enjoyed the program, and I feel like my Caring Coach really cares about me and wants to help."
At the school's nursing program, students are taught different methods of calming and nurturing patients, such as reflexology or aromatherapy.
"It's amazing what a simple touch of the hand can do," Wertz said. "The energy and warmth that you pass on to someone can really help calm them down. Basic human touch is such a powerful thing."
Since the nursing program at Nevada State College was founded in 2002, it has focused on being grounded in Watson's caring therapy and philosophy.
"(Nursing) degrees mean nothing to someone who is scared or has lost their dignity because they've soiled themselves, for example," Wertz said. "Nurses need to assure their patients that it's OK and that they will do anything to preserve their dignity."
Nursing students from Nevada State College are also practicing caring science at the Department of Veterans Affairs and have plans to expand in the future.
Next year, the eight nursing students are set to move up to the eighth floor to the neurology unit to make room for incoming students.
"We're trying to create a caring environment in the hospital unit and help change the culture of nursing," Wertz said. "We are still a young and adaptive program, and we're not afraid to challenge the norm."
— To reach North View reporter Sandy Lopez, email slopez@viewnews.com or call 702-383-4686. Find her on Twitter: @JournalismSandy.