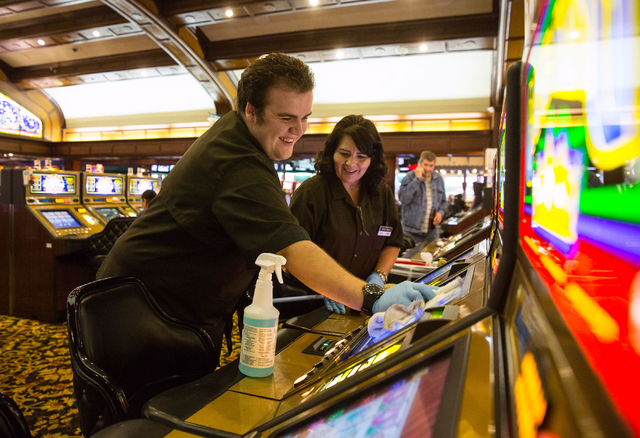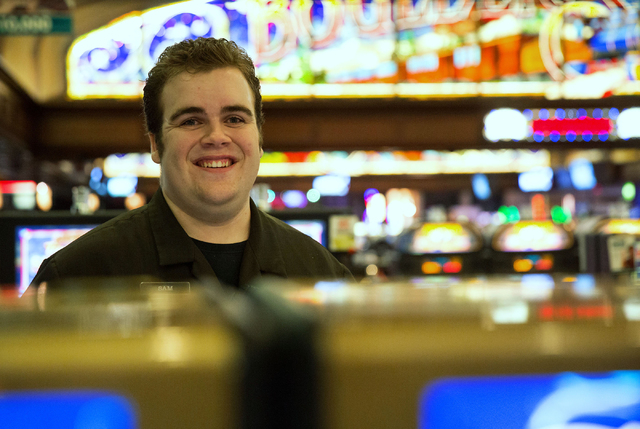 Not every new employee shows up for the first day of work two hours early, but Sam Sedgwick isn't every employee.
"He's a great source of enthusiasm and energy for the department," said Stacy Stagg, vice president and assistant general manager of Boulder Station. "You've got this young guy who's thrilled to work, and it's been a boost for everyone."
Sedgwick is a porter at Boulder Station, 4111 Boulder Highway, and was one of the first people to go through the Pathway to Work Program, a collaboration between Opportunity Village and the Clark County School District to help train the charity's clients for jobs in the community. The Department of Employment, Training & Rehabilitation's Bureau of Vocational Rehabilitation, Station Casinos and the Desert Regional Center are also partners in the program, which takes clients to several locations for a series of nine-week training sessions.
"People with special needs are entitled to be in the school system until they are 22," said Mauro Lara, associate executive director and chief operating officer of Opportunity Village. "The day they turn 22, the bus stops coming. What this program does is provide training for transitioning from the school system into the community or a program like Opportunity Village."
The program has two sessions — one during the school year and a second, more abbreviated program in the summer.
The trainees have nine-week sessions in a variety of positions, including kitchen work, retail and working at an animal facility.
"It's a win/win for us," Stagg said. "You're always looking for great talent, and the program helps identify candidates to inject into the system. You always take a chance when you hire someone off of the street. With this, we get to evaluate and find the best candidate. At the same time, they're trying different things and finding out what's the right fit for them. It's at no cost to us, except for providing the facility. It's amazing, and we end up with great new team members, like Sam."
For Sedgwick, it's a chance to get some independence and a sense of accomplishment.
"Now I pay my own rent and my own phone bill, and that feels great," he said. "My parents have seen a big change in me, and my brother is real proud of me."
One of Sedgwick's challenges is taking the bus from his home on the west side of the valley. During training, he was late the first day, an error from which he learned. He now gives himself extra time to make the commute, always arriving at least a half-hour early.
Stagg said everyone has been thrilled with Sedgwick and delighted with how he loves interacting with the guests.
"Coming to work really gets me up in the morning," Sedgwick said. "I'm doing great here. Opportunity Village really pulled through for me."
Around 80 people are enrolled in the program, and everyone involved touts it as a great partnership and a success. Sedgwick recently made the 60-day mark and hopes to be working for the company for a long time.
"My favorite part of the job?" he said. "Everything!"
For more information about Opportunity Village, visit opportunityvillage.org.
Contact East Valley View reporter F. Andrew Taylor at ataylor@viewnews.com or 702-380-4532.