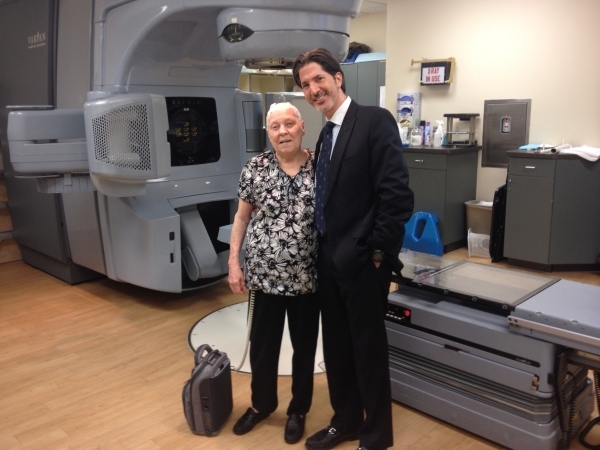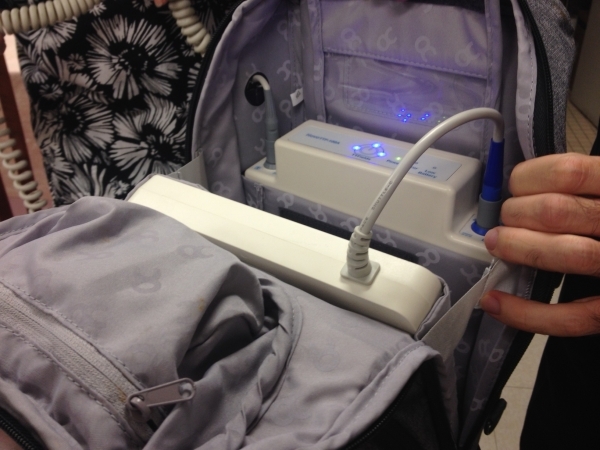 Cancer is the second-leading cause of death in the United States.
With more than 100 types of cancer, glioblastoma is one of the more aggressive forms of brain cancer, which can shorten life spans anywhere from two weeks to two years.
To add months to a patient's life, doctors are trying a new treatment called Optune.
"This is a game-changer in the field of management of glioblastoma," said Dr. Brian Lawenda, board certified radiation oncologist at 21st Century Oncology. "A randomized-controlled trial was presented in 2013 at the Society for Neuro-Oncology, which showed that patients who received the Optune device, along with standard therapy such as chemotherapy, did better in terms of survival than patients who were only receiving standard therapies, proving that this technology is significantly better than standard treatment alone. We're able to see survival expand two to six months."
Glioblastoma has an incidence of two to three per 100,000 adults per year and accounts for 52 percent of all primary brain tumors. Overall, glioblastoma accounts for about 17 percent of all tumors of the brain, according to the American Association of Neurological Surgeons website, aans.org.
The FDA-approved treatment for deadly brain tumors was recently made available at 21st Century Oncology in Las Vegas.
The portable, noninvasive medical device sits on the patient's head like a swim cap and is designed for continuous use. It requires the patient to be connected to a battery pack with a power generator for at least 18 hours a day. The adhesive pads have electrodes underneath them that rest on the surface of the scalp to provide a noninvasive electrical field within areas of the brain tumor.
"The electrical fields disrupt cancer cell division by sending them into a process called apoptosis, or cell death," Lawenda said. "They're created to target the specific cell type we're trying to treat. It does not affect normal cells in the brain."
Since its FDA certification last year, clinical results have shown it to be a nontoxic and effective treatment for glioblastoma that improves survival and quality of life, according to Lawenda.
It is offered to patients after completing standard therapies, such as surgery, radiation therapy and chemotherapy, and can be used in combination with chemotherapy or other systemic therapies.
The monthly list price for Optune is $21,000, which includes the delivery system as well as services from Novocure, the company that developed the device, including the device and transducer arrays, Novocure reimbursement support, enhanced training and ongoing personal support to patients by Novocure Device Support Specialists, compliance downloads and 24/7 technical support.
Optune is covered by many insurance plans, and Novocure may provide financial assistance to patients who qualify.
"The treatment is very well-tolerated, which is uncommon for a lot of the cancer treatments," Lawenda said.
Lawenda said that the only side effects are possible skins rashes because of the adhesive, which affects 30 percent of patients. He added that it's manageable with the rotation of the surface arrays and anti-inflammatory cream.
Patients are required to shave their heads every few days to prevent the hair follicles from pushing the arrays out.
Elnora Walters, 79, was diagnosed with glioblastoma after being admitted to the hospital for experiencing periods of memory loss.
After completing other treatments, including surgery, radiation therapy and chemotherapy, there is not much else to offer patients to further reduce the risk of their cancer from growing or coming back. After discussions with Lawenda, he recommended Optune.
"I'm not as smart as I was," Walters said. "Sometimes I'm so scared. Sometimes I'm angry. I go through a lot of emotions because it's not an easy thing to deal with."
Despite using Optune for 14 weeks and receiving an MRI that showed a more advanced tumor, Walters and her brother-in-law and caretaker John Ashcraft remain optimistic.
"One of things we're taught is to warn patients not to be discouraged by their first MRI," Lawenda said. "Oftentimes, things appear worse before they get better."
Lawenda hopes to bring this new treatment option to more patients who have been diagnosed with GBM brain tumors.
"We're just trying to enjoy life as much as we can, and I feel that Optune is helping with that," Ashcraft said. "It's not a cure; it's just a crutch. It has kept things stable. If not for this, I think things would have progressed much faster."
— To reach North View reporter Sandy Lopez, email slopez@viewnews.com or call 702-383-4686. Find her on Twitter: @JournalismSandy.
Find out more
For more information on 21st Century Oncology, including Las Vegas Valley locations, visit 21concologylasvegas.com.
For more on Optune, visit optune.com and novocure.com.