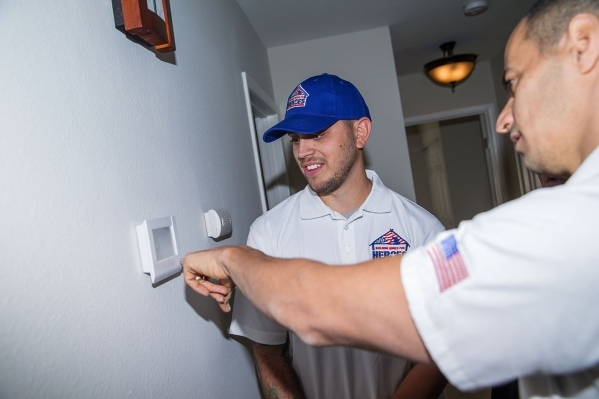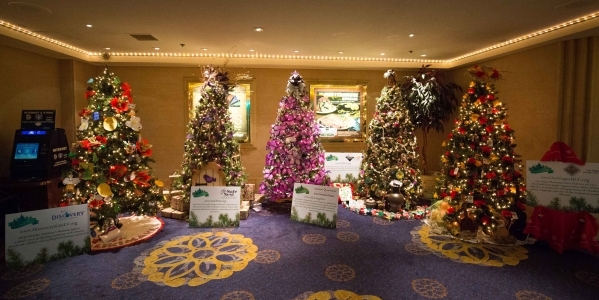 Foundation hosting adopt-a-family event:Ogden Foundation is set to host an Adopt a Family event from noon to 2 p.m. Dec. 19 at 10740 S. Eastern Ave, Suite 150. The foundation sends applications to organizations such as St. Jude's Ranch, Safe Nest, HopeLink, Family Promise, the foundation's adopted Title 1 schools and others. The organizations then decide which families need the most assistance, and foundation board members then choose from the applications it receives. Companies or organizations can sponsor each family to get the items it needs, including Christmas gifts, family outings, toys, clothes or furniture. Visit theogdenfoundation.org.
Boyd Gaming Trees of Hope: Boyd Gaming plans to award $25,000 this December to local nonprofits in Trees of Hope, a nationwide tree-decorating competition benefiting nonprofits in the communities served by Boyd Gaming. Trees can be seen at the California Hotel, 12 E. Ogden Ave., on the second floor on the walkway to Main Street Station (Alzheimer's Association of Southern Nevada, Discovery Children's Museum, First Friday Foundation, Las Vegas Hawaiian Civic Club and Safe Nest); the Gold Coast, 4000 W. Flamingo Road, in front of the Cortez Room (Goodwill of Southern Nevada, Hero School Initiatives, Nevada Childhood Cancer Foundation, the Shade Tree and United Way of Southern Nevada); The Orleans, 4500 W. Tropicana Ave., at the south end of the Race & Sports Book (A Home 4 Spot, American Cancer Society, American Red Cross, The Center, HELP of Southern Nevada and Opportunity Village); Sam's Town, 5225 Boulder Highway, on the second floor near the Bingo Room (The Animal Foundation, Boys and Girls Clubs of Southern Nevada, St. Jude's Ranch for Children, Speedway Children's Charities and Three Square food bank); and at the Suncoast, 9090 Alta Drive, on the Skywalk to the parking garage (American Heart Association, Big Brothers Big Sisters, Cure 4 the Kids, Nevada Broadcasters Scholarship Foundation and Susan G. Komen Foundation of Southern Nevada). Voting is open through 11:59 p.m. Dec. 21. Customers must have an active B Connected account to vote. B Connected membership is free and available to anyone 21 or older. Each Las Vegas Valley property will award a $5,000 prize pool to participating charities, including a first-place prize of $2,000. Winners will be decided by public vote at each property, with an assist by special guest judge Bill Boyd, executive chairman of Boyd Gaming. Visit tinyurl.com/z3yo3kw.
Stuff a Bus underway: Clark County Commissioner Lawrence Weekly and Strip performer Jeff Civillico are teaming up for the commissioner's third annual Stuff a Bus effort to collect gifts for local foster, adopted and underserved youths. The gift bus is set to stop from noon to 1 p.m. Dec. 11 at Greenberg Traurig LLP, 3773 Howard Hughes Parkway; from 5 to 6:30 p.m. Dec. 16 at Caesars Palace, 3570 Las Vegas Blvd. South; from 11 a.m. to noon Dec. 17 at Zappos headquarters, 400 E. Stewart Ave.; and from 11 a.m. to noon Dec. 18 at Downtown Summerlin, 1980 Festival Plaza Drive. Celebrity Coaches of America is providing the bus that will be filled with donated gifts at each location. Anyone interested in donating a gift is encouraged to bring unwrapped new toys for children age 13 or younger to any of the locations. The gifts will be distributed to foster, adopted and underserved children during a holiday celebration set for Dec. 22 at the Doolittle Community Center.
City facilities powered by renewable energy: The city of Las Vegas and NV Energy announced Nov. 24 the intention for a new partnership to dedicate a portion of energy by a local solar facility to city operations. The partnership is awaiting approval of a filing to the Public Utilities Commission of Nevada and ratification by the Las Vegas City Council, and the solar facility is currently in development. The energy dedicated from this solar facility, coupled with the power the city receives from NV Energy, will allow the city of Las Vegas' retail load to be served 100 percent by renewable energy. The goal is for every streetlight, city park, community center, fire station, service yard and public building owned by the city to be 100 percent powered by renewable energy.
Gift of Giving: United Way accredited agencies are running holiday events, including:
— Gift of Reading, through Jan. 1: Every $10 sends a new book to an at-risk child honoring someone on your holiday gift list. A card will go to the recipient celebrating your gift. Visit spreadthewordnevada.org.
— Goodwill of Southern Nevada, Dec. 27-31: extended donation hours of 7 a.m. to 10 p.m. For group volunteering, contact Walter Lescano at 702-296-0800 or walterl@sngoodwill.org.
— Giving hope for the holidays, through Dec. 24: Purchase a Visa or Wal-Mart gift card for St. Jude's Ranch for Children to purchase age-appropriate gifts.
— Spread the Word Nevada Book Prep, 6:30 to 8:30 p.m. Dec. 14; 9 to 11 a.m. Dec. 17 and 9 to 11 a.m. Dec. 19. Join Spread the Word Nevada and help children by participating in a book prep. Volunteers will wipe books off, remove stickers and put them in the best possible condition before they are sorted and distributed to at-risk children in the Las Vegas area. Volunteers should be at least 8 years old. To register, visit tinyurl.com/glzzkhn or contact Debbie Sandusky at debbie@spreadthewordnevada.org or 702-715-5688.
Volunteering opportunities: Volunteer efforts during the holidays are available through: Casa de Luz, casadeluzlasvegas.org; Catholic Charities, catholiccharities.com; HELP of Southern Nevada, helpsonv.org; Lutheran Social Services of Nevada, lssnv.org; and Saint Elizabeth Ann Seton, seaslv.org. To volunteer to help seniors, visit seniorcare.com/featured/volunteer-to-help-the-elderly.
Nonprofit seeks volunteers for holidays: HELP of Southern Nevada is seeking volunteers for several of the nonprofit's holiday efforts, including its Holiday Program Intake and its 17th annual 98.5 KLUC Chet Buchanan & The Morning Zoo Toy Drive. For more information or to volunteer, contact Joan Lima with HELP of Southern Nevada at 702-836-2114 or visit helpsonv.org. In addition, the nonprofit seeks volunteers to help with application intake from 8 a.m. to 4 p.m. Dec. 10 and 12. Volunteers are needed to assist clients with their applications for holiday programs at HELP of Southern Nevada's main campus, 1600 E. Flamingo Road, to ensure that all areas of the form are completed.
Wet'n'Wild coat drive: Wet'n'Wild Las Vegas recently announced it is spearheading a Coats in the Cabana Drive, a charity effort designed to collect new or gently used clean coats for men, women and children for The Salvation Army, the Shade Tree and Child Haven during the winter months. Community members who donate will receive a $10 coupon toward a 2016 Wet'n'Wild Season Pass for each coat donated. Coat donations will be accepted through Dec. 11. Among businesses serving as drop-off locations are:
SurgiSpa/Dr. Arthur Cambeiro, 2370 W. Horizon Ridge Parkway, Suite 130
Simmons Group/Grand Canyon Development Partners, 6841 S. Eastern Ave., Suite 103
Fisher & Phillips LLP, 300 S. Fourth St., Suite 1500
Jolley Urga Woodbury & Little Law Firm, 3800 Howard Hughes Parkway, 16th floor
Matt Smith toy drive: Matt Smith Physical Therapy and Desert Valley Therapy, ATI Physical Therapy Companies, are holding their annual toy drive benefiting Light of the World Childhood Cancer Foundation through Dec. 11. Community members are asked to donate new, unwrapped toys or gift cards. It is requested that stuffed toys not be donated. Items can be dropped off at donation boxes located inside any 15 of the valley's Matt Smith/ATI Physical Therapy locations. Visit mattsmithpt.com.
AFAN seeking donations for children: The nonprofit's Holiday Toy Drive for Southern Nevada newborns to age 17 infected or affected by HIV/AIDS is set to run through Dec. 11. People can drop off new, unwrapped toys to the Aid for AIDS of Nevada office, 1120 Almond Tree Lane, or to Maximum Comics locations: 5130 S. Fort Apache Road, No. 285; 7950 W. Tropical Parkway, No. 120; or 520 Marks St. Monetary donations can be made at afanlv.donordrive.com or by mailing checks to: AFAN-Toy Drive/Holiday Party, 1120 Almond Tree Lane, Las Vegas, NV 89104. Visit afanlv.org or call 702-383-8095.
Feed a Family: Arizona Charlie's Casinos is planning its fourth annual Feed a Family program through Dec. 15. Ace/PLAY card members have the opportunity to contribute their points toward providing families in need with meals during the season. For every 12,000 ace/PLAY points contributed, Arizona Charlie's will provide boxes filled with holiday meal classics to the Southern Nevada Regional Housing Authority. Visit arizonacharlies.com.
Law classes: The Clark County Law Library and Nevada Legal Services are scheduled to host new classes in estate planning from 1 to 3 p.m. Dec. 15 and in bankruptcy/consumer rights from 10 a.m. to noon Dec. 16. The classes are free, but seating is limited. To register, call 702-455-4696. A free class on how to seal criminal records and restore civil rights in Nevada is also planned from 3 to 5 p.m. Wednesdays at the Clark County Law Library, 309 S. Third St., Suite 400, through Dec. 16. Email AskInfo@ClarkCountyNV.gov.
Women's group supports rescue: Women's Business Council of Southern Nevada, a professional organization for business women, raised $2,500 for Hearts Alive Village Las Vegas at its Wine Tasting and Silent Pawction to benefit the local animal rescue organization.
City National Bank donation: City National Bank announced that it has teamed up with the Discovery Children's Museum to support the YouthWorks Program with a $5,000 donation. This work-study educational program is helping high school seniors remain enrolled in school and graduate more than 99 percent of its participants. City National is also incorporating its Dollars & Sense Financial Literacy program into the YouthWorks curriculum.
Goodwill opens job boards: Goodwill.jobs is a full-service job board powered by Goodwill of Southern Nevada and offers employers an option for job postings while providing job seekers free access to open positions, the ability to create a searchable resume, as well as access to local hiring events, workshops and resource centers.
U.S.VETS seeks holiday donations: Offering both transitional and permanent housing, more than 300 formerly homeless veterans call U.S.VETS — Las Vegas their home. While in housing, veterans are reuniting with family, rejoining the workforce, regaining independence and rebuilding their lives. This holiday season, the local community is encouraged to help grant wishes of these veterans by participating in the Veteran Holiday Wish List Project. Individuals wanting to donate can visit usvetsinc.org/lasvegas to view the personal stories and holiday wishes of veterans participating in U.S.VETS programs.
Donate at Smith's: Through Dec. 28, Smith's customers may add a $1, $5 or $10 donation to their grocery orders. The contribution will then be converted into Smith's gift cards for local food banks to purchase meat, grocery items, dairy or other needed items. Visit smithsfoodanddrug.com.
Donation match campaign: Through the end of the year, donations made to Three Square food bank will be matched by seven corporations and businesses as part of the $250,000 Holiday Match Challenge. Backing the significant Holiday Match Challenge are Las Vegas Valley businesses Barrick Gold, Boyd Gaming, Crovetti Orthopaedics & Sports Medicine, IGT, L.L. Bradford, CPA's, Towbin Automotive Group and UnitedHealthcare. Visit threesquare.org.
Mojave Max Emergence Contest: The contest opened Nov. 5 for Las Vegas Valley students to guess when Mojave Max, a tortoise at the Red Rock Canyon National Conservation Area Visitor Center, will come out of his brumation in the spring. The person who guesses as closely as possible to the correct day, hour and minute when Max will emerge from his burrow wins. Anyone can enter, but only one winner from Clark County in grades kindergarten through 12 who is enrolled in public, private or registered home schools is eligible to win. The grand prize winner and his or her entire class will win T-shirts, Mojave Max Olympic-style medals, a pizza party and a field trip to Red Rock Canyon to see Max. The winner also receives a laptop computer, a digital camera and an America the Beautiful yearlong pass to national parks and federal recreational areas. The winner's teacher will receive a laptop computer. To enter, visit mojavemax.com and click on the "Emergence Contest" button. Visit clarkcountynv.gov.
Basketball signups: Boys & Girls Clubs of Southern Nevada is accepting basketball league signups for children and coaches. Boy's recreational basketball league signups for ages 5 to 12 are available at six locations across the Las Vegas Valley: the Lied Memorial Clubhouse, Southern Highlands Clubhouse, Donald W. Reynolds Clubhouse, John C. Kish Clubhouse, Andre Agassi Clubhouse, and James Boys & Girls Clubhouse. Prices start at $65, and the fee includes a 2016 membership to Boys & Girls Clubs, practice and game schedules and team jerseys. The league fees are used to maintain the facilities and gymnasiums as well as fund Boys & Girls Clubs programs across the city. Club sports leagues are open to youths ages 5 to 12 years old. Visit bgcsnv.org.