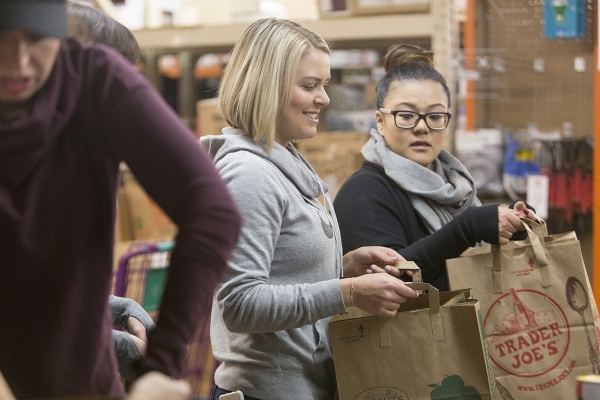 Donations for homeless youths: Dr. Arthur Cambeiro and SurgiSpa have partnered with HELP of Southern Nevada and donating 15 stocking stuffers for youths living at the nonprofit's Shannon West homeless youth center. Through Dec. 22, the Las Vegas community can help by checking-in at SurgiSpa on Facebook. Tag #SurgiSpa, and Dr. Cambeiro will match a $1 donation toward stocking stuffers. In addition, SurgiSpa will be collecting stocking stuffer donations for the following items: $10 gift cards to Walmart, McDonalds and retail stores; socks; headphones; lip balm/Chapstick; and gloves. Visit facebook.com/events/765880143538931.
Foundation hosting adopt-a-family event: The Ogden Foundation is set to host an Adopt-a-Family event from noon to 2 p.m. Dec. 19 at 10740 S. Eastern Ave, Suite 150. The foundation sends applications to organizations such as St. Jude's Ranch, Safe Nest, HopeLink, Family Promise, the foundation's adopted Title 1 schools and others. The organizations then decide which families need the most assistance, and foundation board members then choose from the applications it receives. Companies or organizations can sponsor each family to get the items it needs, including Christmas gifts, family outings, toys, clothes or furniture. Visit theogdenfoundation.org.
Henderson priorities: Henderson residents can take an online survey at hendersonstrong.metroquest.com through December to offer input on improving the city. The feedback will help set priorities for the city's comprehensive plan update. Those who take the survey will be entered into a drawing for a $50 gift card to Target. The city said it has experienced demographic and economic changes since 2006, when its last plan was adopted. The document, called Henderson Strong, is aimed at communicating the city's vision, long-term goals and objectives in terms of managing growth over the next 20 years. Visit hendersonstrong.org.
Park grand opening: Siegfried and Roy joined elected officials, representatives from McCarran International Airport, and members of the Siegfried & Roy North American Fan Club in celebration of the grand opening of Siegfried & Roy Park Dec. 4. Located along the north side of Russell Road at Maryland Parkway, the 20-acre park includes a walking trail, two tennis courts, a splash pad and a range of playground equipment suitable for toddlers through pre-teens. The $11.5 million park was developed by the Clark County Department of Aviation as the final project of the Terminal 3 airport expansion, using $4.5 million in capital parks grants from Clark County.
Planet Fitness opening: Health club franchise Planet Fitness is set to expand its reach in Southern Nevada with the Dec. 31 opening of a club at the Decatur Crossing Center, 230 S. Decatur Blvd., Suite B-100. The location, which will be open and staffed 24 hours a day, seven days a week, marks the seventh in the Las Vegas/Henderson market. New members can join for $1 down and then $10 a month with no commitment through Jan. 31. Visit planetfitness.com.
Sun City Summerlin announces new director: Sun City Summerlin recently announced that Paul Henderson had been hired as its new executive director, following the retirement of former director Sue Papilion. Henderson formerly served as city manager for Mesquite, which he said is similar to Sun City as it has a sizable population of seniors and snowbird residents. He said his top issues for Sun City are: "Making sure we're delivering all the services to residents in an efficient manner, and second is probably to make sure all the operations are fiscally responsible and all the business entities within the association are operating efficiently to bring in as much revenue as possible, so they're not an economic drain on the association." Papilion listed her top accomplishments as opening up The Summit to residents so they could "use it as an amenity instead of it being closed 320 days a year." "I'm proud of the promotional packages, media packages, that we put together for all the golf courses and getting the management team here to work together," she continued. "It's a very spread-out community, and everyone gets in their own realm and does their own work. I was trying to get them thinking as a team and communicating as a team. That's my most exciting accomplishment as a manager."
Nominate veterans for veteran of the month: Nevada's Veteran of the Month award recognizes veterans statewide who contribute their time and energy in support of veterans and the military, and/or who take pride in caring and nurturing their local communities. The program is managed by the Nevada Department of Veterans Services, which continuously seeks out potential honorees. Anyone can nominate potential candidates. Submissions must be on an official form and will be reviewed by members of the Veterans Service Commission at its quarterly meetings. The members then make final decisions on who is chosen. Submissions are accepted throughout the year, and nomination deadlines are three weeks prior to each VSC quarterly meeting. To nominate:
— Read the attached VOM guidelines at veterans.nv.gov.
— Download and complete VOM nomination packet under "Services." Nomination packets must include a copy of the nominee's DD-214 Form and a photo of the nominee. For assistance in obtaining a copy of a DD-214 form, call the Nevada Department of Veterans Services, VAST Section, at 775-321-4880.
— Nomination packets can be filled out online, saved, printed, signed and mailed to: Nevada Department of Veterans Services, Attn: Pamela Roberts, 6880 S. McCarran Blvd., Bldg. A, Suite 2, Reno, NV 89509
— Completed packets can also be scanned and emailed to Roberts at robertsp@veterans.nv.gov or faxed to 775-688-1656.
Gift of Giving: United Way-accredited agencies are running holiday events, including:
— Gift of Reading, through Jan. 1: Every $10 sends a new book to an at-risk child honoring someone on your holiday gift list. A card will go to the recipient celebrating your gift. Visit spreadthewordnevada.org.
— Goodwill of Southern Nevada, Dec. 27-31: extended donation hours of 7 a.m. to 10 p.m. For group volunteering, contact Walter Lescano at 702-296-0800 or walterl@sngoodwill.org.
— Giving hope for the holidays, through Dec. 24: Purchase a Visa or Wal-Mart gift card for St. Jude's Ranch for Children to purchase age-appropriate gifts.
— Spread the Word Nevada Book Prep, 9 to 11 a.m. Dec. 17 and 9 to 11 a.m. Dec. 19. Join Spread the Word Nevada and help children by participating in a book prep. Volunteers will wipe books off, remove stickers and put them in the best possible condition before they are sorted and distributed to at-risk children in the Las Vegas area. Volunteers should be at least 8 years old. To register, visit tinyurl.com/glzzkhn or contact Debbie Sandusky at debbie@spreadthewordnevada.org or 702-715-5688.
Boyd Gaming Trees of Hope: Boyd Gaming plans to award $25,000 this December to local nonprofits in Trees of Hope, a nationwide tree-decorating competition benefiting nonprofits in the communities served by Boyd Gaming. Trees can be seen at the California Hotel, 12 E. Ogden Ave., on the second floor on the walkway to Main Street Station (Alzheimer's Association of Southern Nevada, Discovery Children's Museum, First Friday Foundation, Las Vegas Hawaiian Civic Club and Safe Nest); the Gold Coast, 4000 W. Flamingo Road, in front of the Cortez Room (Goodwill of Southern Nevada, Hero School Initiatives, Nevada Childhood Cancer Foundation, the Shade Tree and United Way of Southern Nevada); The Orleans, 4500 W. Tropicana Ave., at the south end of the Race & Sports Book (A Home 4 Spot, American Cancer Society, American Red Cross, The Center, HELP of Southern Nevada and Opportunity Village); Sam's Town, 5225 Boulder Highway, on the second floor near the Bingo Room (The Animal Foundation, Boys and Girls Clubs of Southern Nevada, St. Jude's Ranch for Children, Speedway Children's Charities and Three Square food bank); and at the Suncoast, 9090 Alta Drive, on the Skywalk to the parking garage (American Heart Association, Big Brothers Big Sisters, Cure 4 the Kids, Nevada Broadcasters Scholarship Foundation and Susan G. Komen Foundation of Southern Nevada). Voting is open through 11:59 p.m. Dec. 21. Customers must have an active B Connected account to vote. B Connected membership is free and available to anyone 21 or older. Each Las Vegas Valley property will award a $5,000 prize pool to participating charities, including a first-place prize of $2,000. Winners will be decided by public vote at each property, with an assist by special guest judge Bill Boyd, executive chairman of Boyd Gaming. Visit tinyurl.com/z3yo3kw.
Fountain color change: In honor of World AIDS Day, the Miracle Mile Shops at Planet Hollywood Resort, 3667 Las Vegas Blvd. South, will turn its fountain red through Dec. 31 for Aid for AIDS of Nevada. All change tossed in the fountain during December will go to the organization's mission of providing education and advocacy for adults and children affected by HIV/AIDS in Southern Nevada. The fountain will be red in between regularly scheduled water shows, which take place every hour from noon to 11 p.m.
Charity receives donation: Catholic Charities of Southern Nevada was the recipient of the 12th annual Toys For Tickets All Star Jam held inside Red Rock Resort, 11011 W. Charleston Blvd., Dec. 6. Visit catholiccharities.com.
Tournament results: Brown Blankfeld Group raised $15,000 during its fifth annual golf tournament at Painted Desert Golf Club to benefit Chefs for Kids. The nonprofit supports nutrition education in the Clark County School District through the University of Nevada Cooperative Extension. The group works with second-grade students in underserved areas, teaching children how to make healthier lifestyle food choices. Visit chefsforkids.org.
McCarran donation: On Nov. 18, McCarran International Airport executives made a donation of holiday decorations to Opportunity Village. The donation included two 12-foot Christmas trees, 17 7-foot Christmas trees, two 3-foot wreaths, one 6-foot wreath and 35 bags of Christmas decor.
Volunteering opportunities: Volunteer efforts during the holidays are available through: Casa de Luz, casadeluzlasvegas.org; Catholic Charities, catholiccharities.com; HELP of Southern Nevada, helpsonv.org; Lutheran Social Services of Nevada, lssnv.org; Saint Elizabeth Ann Seton, seaslv.org; and HELP of Southern Nevada, helpsonv.org. To volunteer to help seniors, visit seniorcare.com/featured/volunteer-to-help-the-elderly.
U.S.VETS seeks holiday donations: Offering both transitional and permanent housing, more than 300 formerly homeless veterans call U.S.VETS — Las Vegas their home. While in housing, veterans are reuniting with family, rejoining the workforce, regaining independence and rebuilding their lives. This holiday season, the local community is encouraged to help grant wishes of these veterans by participating in the Veteran Holiday Wish List Project. Individuals wanting to donate can visit usvetsinc.org/lasvegas to view the personal stories and holiday wishes of veterans participating in U.S.VETS programs.
Donate at Smith's: Through Dec. 28, Smith's customers may add a $1, $5 or $10 donation to their grocery orders. The contribution will then be converted into Smith's gift cards for local food banks to purchase meat, grocery items, dairy or other needed items. Visit smithsfoodanddrug.com.
Donation match campaign: Through the end of the year, donations made to Three Square food bank will be matched by seven corporations and businesses as part of the $250,000 Holiday Match Challenge. Backing the significant Holiday Match Challenge are Las Vegas Valley businesses Barrick Gold, Boyd Gaming, Crovetti Orthopaedics & Sports Medicine, IGT, L.L. Bradford, CPA's, Towbin Automotive Group and UnitedHealthcare. Visit threesquare.org.
Mojave Max Emergence Contest: The contest opened Nov. 5 for Las Vegas Valley students to guess when Mojave Max, a tortoise at the Red Rock Canyon National Conservation Area Visitor Center, will come out of his brumation in the spring. The person who guesses as closely as possible to the correct day, hour and minute when Max will emerge from his burrow wins. Anyone can enter, but only one winner from Clark County in grades kindergarten through 12 who is enrolled in public, private or registered home schools is eligible to win. The grand prize winner and his or her entire class will win T-shirts, Mojave Max Olympic-style medals, a pizza party and a field trip to Red Rock Canyon to see Max. The winner also receives a laptop computer, a digital camera and an America the Beautiful yearlong pass to national parks and federal recreational areas. The winner's teacher will receive a laptop computer. To enter, visit mojavemax.com and click on the "Emergence Contest" button. Visit clarkcountynv.gov.
Basketball signups: Boys & Girls Clubs of Southern Nevada is accepting basketball league signups for children and coaches. Boy's recreational basketball league signups for ages 5 to 12 are available at six locations across the Las Vegas Valley: the Lied Memorial Clubhouse, Southern Highlands Clubhouse, Donald W. Reynolds Clubhouse, John C. Kish Clubhouse, Andre Agassi Clubhouse, and James Boys & Girls Clubhouse. Prices start at $65, and the fee includes a 2016 membership to Boys & Girls Clubs, practice and game schedules and team jerseys. The league fees are used to maintain the facilities and gymnasiums as well as fund Boys & Girls Clubs programs across the city. Club sports leagues are open to youths ages 5 to 12 years old. Visit bgcsnv.org.