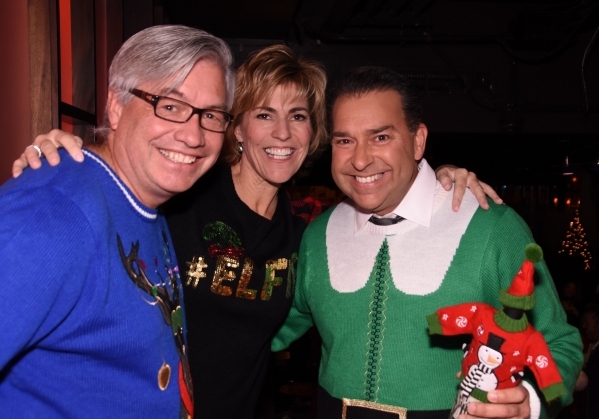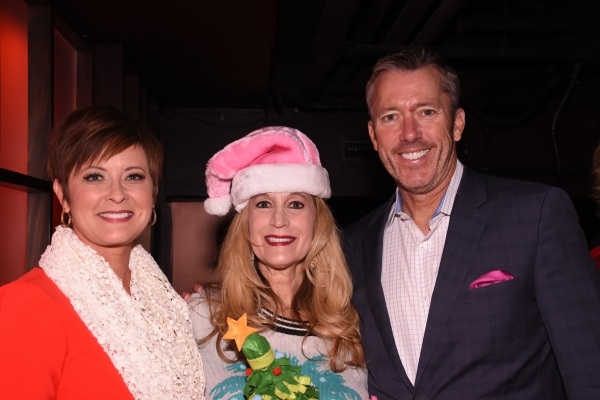 Census volunteers needed: Volunteers are needed to help with the 2016 Southern Nevada Homeless Census, which will count the homeless in the Las Vegas Valley on Jan. 26 and 27. Census volunteers are needed to help with the overnight count of the homeless population from 11:30 p.m. Jan. 26 to 6 a.m. Jan. 27. Volunteers are also needed to help with the homeless youth count from 7:30 a.m. to 2:30 p.m. Jan. 27. Any individual or community group interested can register at helphopehome.org/get_involved_volunteer.html.
Pet bed and blanket drive: Nathan Adelson Hospice's Pet Therapy Program is hosting its fifth annual Dog Bed & Blanket Drive through Feb. 28. All Nathan Adelson locations will serve as a drop-off point for new or gently used items, including: dog beds, blankets, towels, wash cloths, linens and unopened pet food. Locations are at: 4141 Swenson St.; in the MountainView Medical Office Building, 3150 N. Tenaya Way, Suite 350; 2270 E. Commercial Road, Suite A/B in Pahrump; and 1201 Nevada State Drive. Visit nah.org.
Adobe restoration complete: The city of Las Vegas this month completed restoration of the historic adobe hut at Floyd Lamb Park at Tule Springs, 9200 Tule Springs Road. The $98,000 project was funded by grants from the Nevada State Commission for Cultural Centers and Historic Preservation and the Commission for the Las Vegas Centennial. The entire project was completed for one-third of the estimated budget and in one half the time. The protective roof structure, installed when the park was owned by the state, has been removed. The structure is no longer needed now that a new roof with a water tight underlay has been installed. The building was also reinforced on the interior with hidden concrete beams to add stability should an earthquake occur, making the building fit for public access accompanied by city staff. Doors are closed and locked, but visitors may see inside through window openings with a wire mesh to keep animals out. A new fence surrounds the adobe, but gates are unlocked and can be reached via an accessible path. During the construction process, several historic artifacts were uncovered buried in the dirt in the interior of the adobe. Archaeologist Colleen Beck, also a member on the city's Historic Preservation Commission, provided volunteer assistance to monitor the removal and storage of the artifacts. The artifacts will be cataloged and placed back inside the adobe so that they may be viewed from the windows.
Recycle Christmas trees
— The Springs Preserve, 333 S. Valley View Blvd., and the Christmas Tree Recycling Committee are set to host the Annual Christmas Tree Recycling Program through Jan. 15. Drop off cut Christmas tree for free at more than 34 locations around the valley. For a list of drop-off locations, visit springspreserve.org/apps/location/tree_recycle.
— The city of Henderson is scheduled to accept holiday trees for recycling through Jan. 14 at eight sites: Acacia Park, 50 Casa del Fuego St.; Anthem Hills Park, 2256 N. Reunion Drive; the Arroyo Grande Sports Complex, 298 Arroyo Grande Blvd.; the Henderson Multigenerational Center, 250 E. Green Valley Parkway; Mission Hills Park, 551 E. Mission Drive; Morrell Park, 500 Harris St.; Pecos Legacy Park, 150 Pecos Road; and the Whitney Ranch Recreation Center, 1575 Galleria Drive. Participants must remove lights, ornaments, wires, tinsel and any other nonorganic material. The trees will be turned into mulch for parks and landscaping around Henderson municipal buildings and made available free for residents at Pecos Legacy Park and the Acacia Demonstration Gardens. Call 702-267-4000 or visit cityofhenderson.
— Las Vegas Cub Scout Pack 219 is set to collect Christmas trees for recycling in six ZIP codes in the Enterprise area from 8 a.m. to 1 p.m. Jan. 9 and 10. ZIP codes include 89139, 89141, 89118, 89113, 89148 and 89178 in an area that extends from Tropicana Avenue and Interstate 15 to Southern Highlands to Tropicana and the 215 Beltway and everything south. This project will earn the Cub Scouts a conservation badge and raise funds for Pack 219. Prospective recyclers can pre-schedule the date and time they would like to have their tree picked up at their home. Trees must be by the garage door or house before 8 a.m. on the morning selected. Do not place trees by the curb because they may be mistaken for trash. All lights, nails and ornaments must be removed prior to pick up. Flocked trees cannot be accepted. Tree pickups can be scheduled at pack219.org.
Trees of Hope results: Boyd Gaming has announced the winners of Trees of Hope, a nationwide tree-decorating contest benefiting nonprofits throughout the country. Twenty-six local nonprofits decorated trees at the California, Gold Coast, The Orleans, Sam's Town and the Suncoast. They include: California Hotel and Casino: Alzheimer's Association of Southern Nevada, Las Vegas Hawaiian Civic Club and Safe Nest; Gold Coast Hotel and Casino: the Nevada Childhood Cancer Foundation, the Shade Tree Shelter and Hero School Initiatives; The Orleans: the American Cancer Society, A Home 4 Spot and HELP of Southern Nevada; Sam's Town Hotel and Gambling Hall: St. Jude's Ranch for Children, The Animal Foundation and Three Square food bank; and the Suncoast: Cure 4 the Kids, Susan G. Komen Foundation of Southern Nevada and the American Heart Association. First, second and third places received $2,000, $1,500 and $1,000, respectively, and the remaining participants received $375.
Job fair: SpeedVegas is set to host its first job fair to fill 75 positions in time for its March 2016 opening from 3 to 8 p.m. Jan. 12 and from 8 a.m. to 1 p.m. Jan. 13 at Gaudin Porsche of Las Vegas at the 215 Beltway and Rainbow Boulevard. Multi-lingual candidates are encouraged to apply, and previous tourism-industry experience is a plus. Available positions include concierge, reservation/sales agent, driving coach, paramedic/fire/track safety, HR manager, controller and gift shop manager. Register to attend at speedvegas.com/en/careers/2016-job-fair/info.
Recycle used cooking oil: The Clark County Water Reclamation District asks residents to recycle their holiday cooking oil at four locations throughout the valley. The oil is recycled into biofuel. The cooking oil recycling program is a component of the Pain in the Drain outreach campaign, whose goal is to decrease the amount of sewer blockages and overflows caused by fat, oil, grease and grit disposed of in drains. Oil collection will be available through Jan. 15 during park hours at Desert Breeze Park, 8275 Spring Mountain Road; Pearson Community Center, 1625 W. Carey Ave.; Mountain Crest Park, 4701 N. Durango Drive; and Sunset Park's administration building parking lot, 2601 E. Sunset Road. visit paininthedrain.com.
New downtown retail project: Renovations are starting on the newest retail project in the downtown Arts District, dubbed the Corner Building at Main and California streets. Demolition has begun at the project, which will include almost 11,000 square feet of retail space configured to units as small as 720 square feet to as large as 7,000 square feet and featuring a large courtyard area and a 6-foot-wide raised platform on Main and California streets. The end date is slated for mid-2016. There will be more than $1 million spent in renovations between landlord and tenant expenditures to complete the project and dozens of jobs will be created downtown both during construction and afterward. While renovations are taking place, the developer plans to offer pop-up events and artist showings. Contact Metroplex Realty at 702-900-0350.
Nominate veterans for veteran of the month: Nevada's Veteran of the Month award recognizes veterans statewide who contribute their time and energy in support of veterans and the military, and/or who take pride in caring and nurturing their local communities. The program is managed by the Nevada Department of Veterans Services, which continuously seeks out potential honorees. Anyone can nominate potential candidates. Submissions must be on an official form and will be reviewed by members of the Veterans Service Commission at its quarterly meetings. The members then make final decisions on who is chosen. Submissions are accepted throughout the year, and nomination deadlines are three weeks prior to each VSC quarterly meeting. To nominate:
— Read the attached VOM guidelines at veterans.nv.gov.
— Download and complete VOM nomination packet under "Services." Nomination packets must include a copy of the nominee's DD-214 Form and a photo of the nominee. For assistance in obtaining a copy of a DD-214 form, call the Nevada Department of Veterans Services, VAST Section, at 775-321-4880.
— Nomination packets can be filled out online, saved, printed, signed and mailed to: Nevada Department of Veterans Services, Attn: Pamela Roberts, 6880 S. McCarran Blvd., Bldg. A, Suite 2, Reno, NV 89509
— Completed packets can also be scanned and emailed to Roberts at robertsp@veterans.nv.gov or faxed to 775-688-1656.
Mojave Max Emergence Contest: The contest opened Nov. 5 for Las Vegas Valley students to guess when Mojave Max, a tortoise at the Red Rock Canyon National Conservation Area Visitor Center, will come out of his brumation in the spring. The person who guesses as closely as possible to the correct day, hour and minute when Max will emerge from his burrow wins. Anyone can enter, but only one winner from Clark County in grades kindergarten through 12 who is enrolled in public, private or registered home schools is eligible to win. The grand prize winner and his or her entire class will win T-shirts, Mojave Max Olympic-style medals, a pizza party and a field trip to Red Rock Canyon to see Max. The winner also receives a laptop computer, a digital camera and an America the Beautiful yearlong pass to national parks and federal recreational areas. The winner's teacher will receive a laptop computer. To enter, visit mojavemax.com and click on the "Emergence Contest" button. Visit clarkcountynv.gov.