News from around the Valley, Nov. 12-18, 2015
November 12, 2015 - 4:00 pm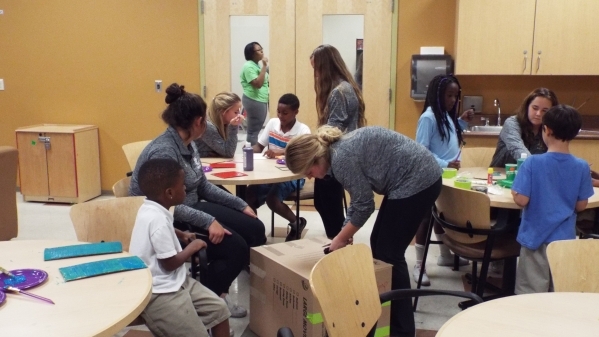 New Girl Scouts program: In October, the Girl Scouts of Southern Nevada launched What Did You Do Today?, a fall recruitment campaign to engage new volunteers and introduce more girls to scouting. The group offers many programs and activities to help girls discover their values, connect them with others and take action to make a difference in the world. Girls can earn badges for everything from first aid and camping to financial literacy and STEM activities. The group mission is to build courage, confidence and character in girls ages 5 to 17 years old. Visit girlscoutsnv.org.
Addiction support app: PrayerSpark.com, a website that allows anyone of any religious affiliation to send interfaith spiritual support and connection to others across the globe, is developing a business-to-business branded addiction and recovery app for iOS and Android. The new app aims to reduce the addiction relapse rate by providing a mobile support environment for those in recovery, including a "life saved" counter, virtual sobriety tokens for achieving milestones, a private social network to safely seek support from trusted members, and direct access to spiritual leaders of the world's many religious and spiritual faiths. The company plans to launch a crowdfunding campaign this month to help launch the addiction and recovery app and take it global. Contact chief marketing officer Christina Aldan at 702-900-3419 or christina@prayerspark.com.
Project Homeless Connect: Volunteers and donations are needed for the upcoming Project Homeless Connect, which helps thousands of people who are homeless and at-risk of becoming homeless connect with agencies and organizations that offer housing, job training, mental health counseling, substance abuse treatment and other services. More than 350 volunteers are needed for a variety of tasks, including check-in and escorting attendees around Project Homeless Connect Nov. 17 at Cashman Center, 850 Las Vegas Blvd. North. Volunteers are asked to arrive by 7 a.m. and stay until 4 p.m. but may spend a half-day at the event. Call 702-892-2300 or visit volunteercentersn.org.
Turf conversion incentive: Qualified property owners who enroll in the Southern Nevada Water Authority's Water Smart Landscapes Rebate program can receive $2 per square foot of turf converted, an increase from the current $1.50 per square foot incentive. The rebate program increased benefits for property owners who enroll in the program beginning Oct. 19, as well as those who have already enrolled but have not yet received their rebate check. Information about the program, including eligibility requirements, pre- and post-conversion resources, and sample landscape plans, is available at snwa.com. To enroll in WSL, call 702-258-7283 or visit snwa.com.
LOOK Style Society opens at Tivoli Village: With more than 16,000 square feet, LOOK Style Society at Tivoli Village, 440 S. Rampart Blvd., features hair, makeup and skin boutiques that require stylists to undergo extensive training by leading professionals in the industry. Services for hair, skin and nails are offered, including the Make Up Lounge; an Essie Nail Lounge; and the Loft, featuring hair services, as well as a cafe and The Beauty Boutique. Hours are from 8 a.m. to 9 p.m. Monday through Friday, 9 a.m. to 9 p.m. Saturday and 9 a.m. to 6 p.m. Sunday. A full-service medical spa is set to open in spring 2016. Visit lookstylesociety.com or call 702-712-4345.
Missing servicemen photo project: Vegas PBS launched a campaign to find photos of five fallen Vietnam veterans to complete Nevada's participation in the national Faces Never Forgotten project before Veterans Day on Nov. 11. The servicemen are: Joseph J. Gomez of Las Vegas; Robert. J Green of Las Vegas; Patrick G. Cartwright of Reno; Maxie R. Rice of Reno; and Richard H. Walker of Sparks. Organized by the Vietnam Veterans Memorial Fund, the project aims to display a photo for each of the 58,307 servicemen still missing or killed in action during the Vietnam War. The photos are set to be housed in a new education center that will be constructed near the Vietnam Veteran Memorial wall in Washington, D.C. To submit photos of the Nevadan servicemen or any Vietnam veterans, email Janna Hoehn at neverforgotten2014@gmail.com. Photos can also be submitted on the VVMF website or mailed with a submission form (found at vvmf.org/how-to-submit) to: Vietnam Veteran Memorial Fund ATTN: Call for photos, 2600 Virginia Avenue, NW Suite 104, Washington, D.C. 20037. Visit VegasPBS.org/thewall or call 702-616-3123.
Candy collection for troops: Through Nov. 12, Matt Smith Physical Therapy and Desert Valley Therapy are accepting donations of leftover or excess Halloween candy for the troops at each of the 15 Southern Nevada ATI Physical Therapy Company locations. The collected candy will be sent to Operation Gratitude, an organization that ships care packages to U.S. military, veterans, first responders and caregivers overseas. The physical therapy clinics are inviting former and current patients, employees and the general public to participate by donating new, wrapped candy and treats. Donations can be dropped off at donation boxes located inside all of the 15 ATI Physical Therapy Company clinics, at Matt Smith Physical Therapy or Desert Valley Physical Therapy. Call 702-256-9738.
Plastic Food Drive: The nonprofit Nevada Partnership for Homeless Youth is launching its annual Plastic Food Drive to provide the more than 11,000 Clark County homeless youths with a hot meal for Thanksgiving and the December holidays. To meet its goal, NPHY is asking the public to participate individually or through employee and customer drives by purchasing and donating fast-food restaurant and grocery store gift cards. The requested denominations are $5 or $10 for fast-food restaurants and $25 or $50 for grocery stores. Now in its ninth year, this year's Plastic Food Drive will culminate at a tailgate party with food, games and a raffle Nov. 21 before the UNLV — San Diego State football game at Sam Boyd Stadium, 7000 E. Russell Road. Entry is free, but donations are required for refreshments and the raffle. Those who bring fast food or grocery store gift cards or other donations will be eligible to win food, game tickets and other prizes. The event will be co-hosted by NPHY and UNLV and will take place on the north side of the stadium from 4 p.m. to 7:30 p.m. Visit gofundme.com/nphypickupthetab15 or nphy.org/pfd.
Donation collection at Miracle Mile Shops: In November, the Miracle Mile Shops at Planet Hollywood Resort, 3667 Las Vegas Blvd. South, will collect donations in its fountain for HELP of Southern Nevada to advance the organization's mission of assisting homeless or low-income families and individuals to attain self-sufficiency through direct services, training and referral to community resources. All change tossed in Miracle Mile Shops' fountain as well as the indoor rainstorm will benefit HELP of Southern Nevada through Nov. 30. The nonprofit provides numerous services and programs, such as homeless outreach, weatherization, holiday assistance and the Shannon West Homeless Youth Center. Miracle Mile Shops' partnership with HELP of Southern Nevada is part of its ongoing Caring, Giving, Changing campaign, which raises funds for nonprofit programs and organizations through community sponsorships, additional partnerships and a number of cash and in-kind donations. Call 702-369-4357 or visit helpsonv.org.
Chefs for Kids receives donation: Chefs for Kids received a $4,054 donation from Whole Foods Market Town Square following its 5 percent shopping day. Chefs for Kids supports nutrition education in the Clark County School District through the University of Nevada Cooperative Extension. The group works with second-grade students in underserved areas teaching children how to make healthier lifestyle food choices. Visit chefsforkids.org.
Susan G. Komen receives donation: On Oct. 30, the Susan G. Komen Foundation of Southern Nevada was presented $10,000 on behalf of Boyd Gaming properties The Orleans, the Suncoast, the Gold Coast and Sam's Town.
Nonprofit seeking volunteers for holidays: HELP of Southern Nevada is seeking volunteers for several of the nonprofit's holiday efforts, including its Holiday Program Intake, the HELP of Southern Nevada Thanksgiving Program Distribution, and its 17th annual 98.5 KLUC Chet Buchanan & The Morning Zoo Toy Drive. For more information or to volunteer, contact Joan Lima with HELP of Southern Nevada at 702-836-2114. Visit helpsonv.org.
Holiday decorating contest: The city of Henderson Commemorative Beautification Commission is accepting entries for its 2015 Outdoor Holiday Decorating Contest through Nov. 30. The program is open to the first 50 entries received. There is no cost to participate. The contest is open to residential single-family homes within Henderson city limits. There are six categories to choose from: patriotic; children's theme; best holiday theme; most innovative; Griswold, which includes homes decorated in the style popularized by the movie "National Lampoon's Christmas Vacation"; and street/neighborhood. The street/neighborhood category is for groups of homes within a neighborhood or on a street, with at least three homes participating together. Members of the CBC will tour and evaluate the entries on Dec. 7. Winners in each category will be announced at the city's annual WinterFest celebration at 6 p.m. Dec. 11 at the Henderson Events Plaza. Information about WinterFest and printable entry forms and contest details are available at cityofhenderson.com. After the winners have been announced, the city will post a map featuring the entries at cityofhenderson.com and on Facebook. The map enables residents to take self-guided driving tours at their leisure to view the holiday displays. Call 702-267-4027.
Three Square Thank-You Gift: Nevada Public Radio, with support from the Bennett Family Foundation and AARP Nevada, is offering listeners an opportunity to help feed food insecure individuals in Southern Nevada. During the fall membership campaign, the program's sustaining, renewing or new members at a level of $100 or higher who select the Three Square Thank-You Gift option can elect to have the Bennett Family Foundation and AARP Nevada pay for meals to Three Square food bank. Visit knpr.org, classical897.org or desertcompanion.com.