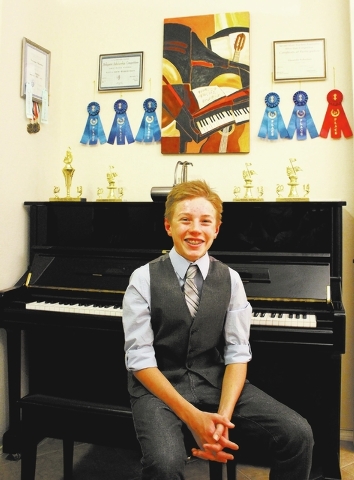 Brayden Robert Lewis of North Las Vegas assembled 53 emergency backpacks and water buckets for the classrooms at Somerset Aliante Campus. He is a part of Troop 128, and his parents are Cory and Debbie Lewis.
On March 6, Arlie Jones, 16, made a double-eagle with her driver on the par-four ninth hole at the Desperado/Diablo Course at Badlands Golf Club. Her albatross was witnessed by Tom Crow and Hunter Atherton. Jones was also recently called up to the U.S. National 18 and Under women's soccer team, and she won the Elite Clubs National League National Soccer Championship last year, playing as a starting striker/forward for the San Diego Surf soccer club. A sophomore at Bishop Gorman High School, Jones plays on the varsity girls' basketball team. Last month, she made a verbal commitment to attend the University of Southern California on a soccer scholarship. She is the daughter of Mark and Liz Jones of Las Vegas.
Jennifer Bradley, public relations consultant for Vegas PBS, has been appointed to the Board of Directors for the American Cancer Society — Las Vegas Chapter.
Alexander Dawson School student Alex Robertson was awarded the silver medal from the American Association for Development of the Gifted and Talented for his performance of Mily Balakirev's "Polka in F-sharp Minor." On June 14, Alex will have the opportunity to perform at the Passion of Music Recital Concert at Carnegie Hall in New York City. Alex has been playing piano since he was 5.
The Las Vegas Recovery Center announced the addition of John Seeland as its chief operating officer. Seeland held several positions at Martin Health System since 1998.
Kaushik Venkatesh of Henderson and Deaundre Lamar Riggins of Las Vegas graduated from Fort Hays State University in Hays, Kan.
Brett Toberman of Las Vegas graduated from the University of Iowa in Iowa City.
Air Force Airman Steven J. White graduated from basic military training at Joint Base San Antonio-Lackland, San Antonio. White is the son of Dana L. Holmes of Las Vegas.
Air Force Reserve Airman 1st Class Lazaro Silva Martinez graduated from basic military training at Joint Base San Antonio-Lackland, San Antonio. Silva Martinez is the husband of Candy Silva and the son of Lazaro Silva Cruz of Las Vegas.
Mountain View Presbyterian Church, 8601 Del Webb Blvd., announced that the Rev. David W. Dendy from Houston was to become its new senior pastor on April 1. Dendy brings more than 26 years of experience.
Jamie Ahlborn of Henderson made the fall 2014 dean's list at Emerson College in Boston.
Air Force Airman Ariel E. Aker graduated from basic military training at Joint Base San Antonio-Lackland, San Antonio. Aker is the daughter of Nancy Runyon of Tucson, Ariz., and sister of Jake Aker of Las Vegas.
Earnest Buffin of Henderson and Odis Tucci of Las Vegas graduated from Southwestern College in Chula Vista, Calif.
Emma Doney and Julia Eppes, both of Las Vegas, made the fall 2014 dean's list at the University of Delaware in Newark, Del.
The South Point Arena and Equestrian Center named Liam MacCall as events manager to oversee the day-to-day event management of the equestrian facility.
Share your news
View welcomes announcements of recent achievements by local students and adults. Please include student's name, age, local school attended, parents' names and city of residence. Send to View, c/o Favorites, P.O. Box 70, Las Vegas, NV 89125-0070, or by email with Favorites typed in the subject line to viewcalendars@viewnews.com. Photos cannot be returned.