Newsmakers, July 9-15, 2015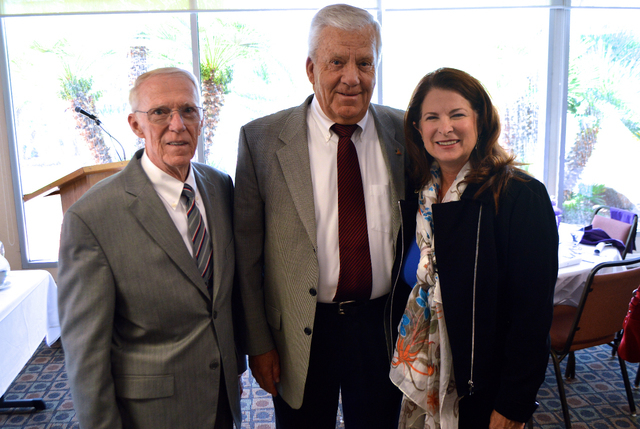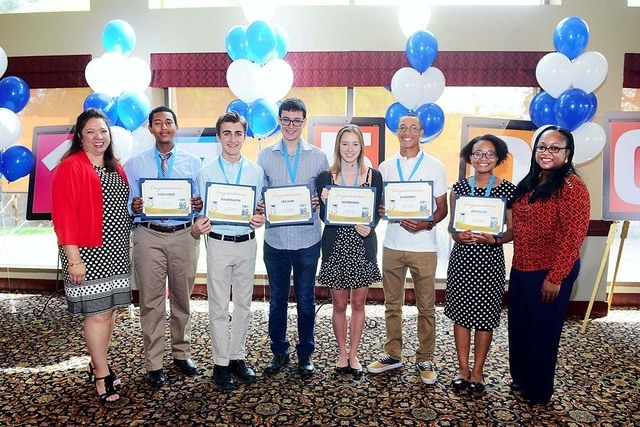 Henderson residents Blake Baumunk, 13, and Kendall Nether, 13, were chosen from more than 1,500 applicants to serve as delegates to the Juvenile Diabetes Research Foundation's 2015 Children's Congress. JDRF is a global organization funding type 1 diabetes research. The event brings together more than 160 children with type 1 diabetes from all over the U.S., the District of Columbia and six countries for three days.
On May 27, the Nevada Delegation of the National Silver Haired Congress and the Aging Services Directors Organization presented the Nevada Senior Citizen of the Year Award to Favil West, co-founder and president of the Foundation Assisting Seniors. This is the third year the award has been presented in Nevada.
In partnership with 10 local organizations, Cox Las Vegas presented $35,000 in higher education diversity scholarships on May 6 at TPC Summerlin. The presentation is part of a $175,000, five-year Cox commitment to fund higher education diversity scholarships that began in 2014. The 2015 Cox Diversity Scholarship Recipients include:
Cox and 100 Black Men of Las Vegas: Al Gourrier, Liberty High School
Cox and Fiesta Las Vegas Latino Parade: Gabriel Camacho, Clark High School
Cox and Ilocano American Association of Nevada: Claire Victoria Ong, Advanced Technologies Academy
Cox and Girl Scouts of Southern Nevada: Savannah Bowden, Rancho High School
Cox and Human Rights Campaign Las Vegas: Eric Lujan, Coronado High School
Cox and Junior League of Las Vegas: Isa Sirbegovic, College of Southern Nevada High School — West
Cox and OCA Las Vegas: Andrew John Cruz, Clark High School
Cox and the Puerto Rican Association of Las Vegas: Jade Roldan, Veterans Tribute Career & Technical Academy
Cox and Las Vegas Urban League: Eyasu Kebede, Valley High School
Cox and The Center: Benjamin Viton, Coronado High School
Las Vegas Kettle Corn, 110 N. Boulder Highway, Suite 110, was selected for the 2015 Best of Henderson Award for a popcorn store. Visit lasvegaskettlecorn.com.
Eynav Ovadia of Las Vegas was selected to receive the Polly Updegraff Champ '61 Scholarship as part of the University of Mary Washington's Washington Department of Art and Art History annual student art awards. Ovadia is the daughter of Guy Ovadia and Rena Berman-Ovadia of Las Vegas and Kibbutz Amiad of Israel.
Tiffanie Thuc Trang Tran of Las Vegas graduated May 16 from Juniata College in Huntingdon, Pa. She is the daughter of Tam Tran and Cindy Nguyen.
Army Pvt. Shadon A. Anter graduated from Basic Combat Training at Fort Benning, Ga. Anter is the son of Chris Anter and stepson of Josie Feleti of Henderson. He is a 2014 graduate of Green Valley High School.
Army Pvt. Henry L. Robinson graduated from basic combat training at Fort Jackson, Columbia, S.C. Robinson is the son of Robert Robinson of Sacramento, Calif., and Maria Vllio and stepson of Phil Vllio, both of Las Vegas.
Kayla Connick of Las Vegas made the spring 2015 dean's list at Maryville University in St. Louis.
Army Pvt. Andrew J. Alarcon graduated from basic combat training at Fort Jackson, Columbia, S.C. He graduated in 2013 from Del Sol High School.
Nevada bicycling and pedestrian supporters were recently recognized by the Nevada Bicycle and Pedestrian Advisory Board's awards program, the 13th annual Nevada Bicycle and Pedestrian Summit in Henderson. They included:
Advocacy/Activist: Annette White — Elko Velo Cycling Club; Nevada State Senator Mark Manendo
Event Planning/Promotion: Park to Park Pedal — Extreme Nevada 100, Lincoln Community Action Team/Nevada Division State Parks
Individual Employee-Agency: Mike Janssen, city of Las Vegas; Nevada Division of State Parks Eastern Nevada Event; Planning Team: Cody Tingey, Dawn Andone, Andrew Porter, Josh Rhein, Shaylen Budreau and Ben Johnson
Agency: city of Las Vegas
Bicycle/Pedestrian Organization: Outside Las Vegas Foundation
Special Achievement: Sherie Moore and Traci Traasdahl — Clark County School District Nevada Safe Routes to School coordinators
Nevada Bicycle and Pedestrian Advisory Board Member of the Year: Loy Hixson, Nevada Highway Patrol
Lifetime Service Award: Chas Macquarie, Lumos and Associated/Muscle Powered
Groups and individuals who have participated in preserving the history of Las Vegas were recognized for their efforts during the May 20 Las Vegas City Council meeting. Historic Preservation Commission Chairman Robert Stoldal joined Mayor Carolyn Goodman in presenting the annual awards as part of National Preservation Month festivities. This year's awards are:
Bricks and Mortar category:
Bunnyfish Studio — for the rehabilitation of the historic John E. Carson Hotel.
The Springs Preserve — for the rehabilitation of four historic railroad cottages.
The National Society Daughters of the American Revolution, Francisco Garces Chapter — for the preservation of the Padre Francisco Garces monument at historic Lorenzi Park.
Preservation and Education category:
The Daughters of the Utah Pioneers — for their fourth-grade history outreach and education program.
Advocacy category:
Helen Mortensen – for her lifetime of advocacy for archaeological and paleontological resources in Southern Nevada and for her contributions toward the designation of the Tule Springs Fossil Beds National Monument.
Career achievement category:
Historic Preservation Commission Chairman Robert Stoldal — for years of dedicated volunteer service and leadership in preserving and promoting Nevada's history.
Share your news
View welcomes announcements of recent achievements by local students and adults. Please include student's name, age, local school attended, parents' names and city of residence. Send to View, c/o Favorites, P.O. Box 70, Las Vegas, NV 89125-0070, or by email with Favorites typed in the subject line to viewcalendars@viewnews.com. Photos cannot be returned.