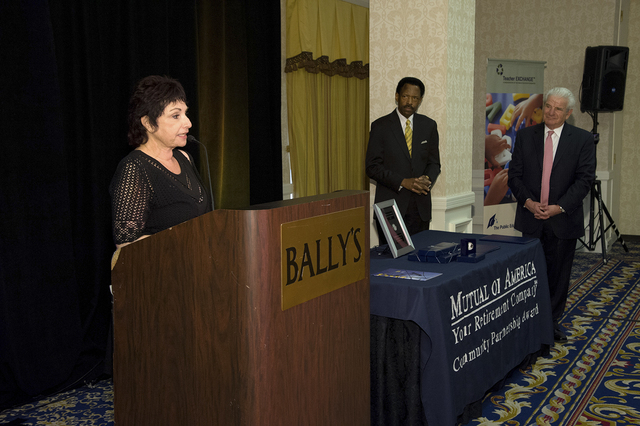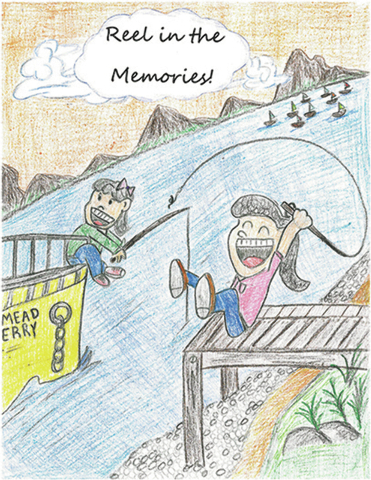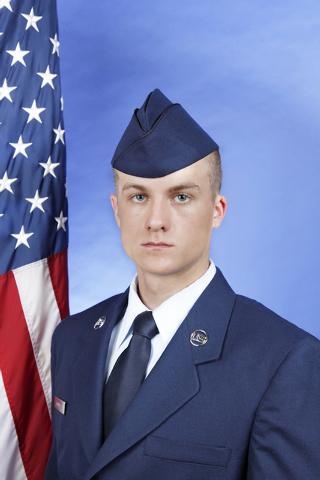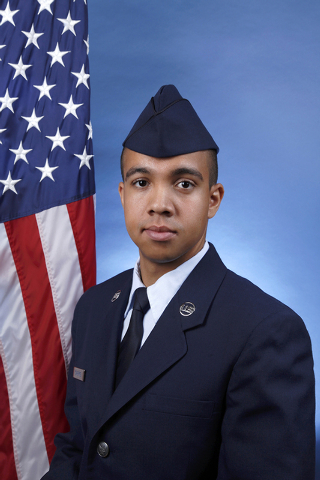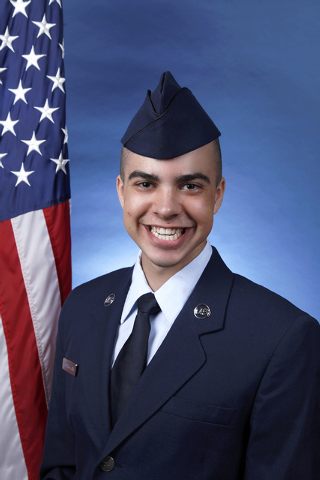 Air Force Airman Phillip L. Barragan graduated from basic military training at Joint Base San Antonio-Lackland, San Antonio. Barragan is a 2007 graduate of Liberty Baptist Church & Academy. He earned a bachelor's degree in 2012 from Pensacola Christian College.
Air Force Airman Malcolm A. Conduff graduated from basic military training at Joint Base San Antonio-Lackland, San Antonio. Conduff is the son of Gary Conduff of Las Vegas and Kimberly Conduff of Henderson. He is a 2013 graduate of Coronado High School.
Air Force Airman Derek D. Crabtree graduated from basic military training at Joint Base San Antonio-Lackland, San Antonio. Crabtree is the son of Yvonne and Russell Mecham of Las Vegas and is a 2010 graduate of Arbor View High School.
Air Force Airman Gabriel M. Garcia graduated from basic military training at Joint Base San Antonio-Lackland, San Antonio. Garcia is the son of Sonia and Manuelito Garcia of Las Vegas and is a 2013 graduate of Shadow Ridge High School.
Air Force Airman Nicholas A. Hendrickson graduated from basic military training at Joint Base San Antonio-Lackland, San Antonio. Hendrickson is the son of Stephen Hendrickson and Catherine Alonso of Henderson and is a 2013 graduate of Basic High School.
Beverly Salhanick, esq., was elected and installed as chair of the Board of Directors for the Benevolent and Protective Order of Elks, Lodge 1468. Salhanick, an 18-year Lodge member, is also co-chair of the Whiskerino Committee of Helldorado, a community event since 1934 that celebrates Las Vegas' heritage and raises funds to benefit Las Vegas organizations for children.
Dr. Linda Miller of Henderson, a Helen J. Stewart interpreter, and Ken Stewart of Las Vegas, and great- grandson of Helen J. Stewart, founding mother of Las Vegas, celebrated the 160th birthday of the pioneer on April 12 at the Old Las Vegas Mormon Fort State Historic Park. Sixty people gathered to hear a first-person interpretation by Miller and tea etiquette by Betty Miller of the Mesquite Club, followed by a Victorian tea drinking. Rep. Dina Titus and Chauncey Chau-Duong of Lt. Gov. Brian Krolicki's office made opening remarks at this Nevada 150 Sesquicentennial event.
Daemont Yates of Centennial High School is the third-week winner of the Supreme Court of Nevada's Law Day 2014 Easy Essay Contest. Yates won a $100 cash card for his entry. In addition, Taylor DeRose of Centennial High School and Sky Pintacsi Thompson of Spring Valley High School were awarded $50 and $25 cash cards, respectively, for taking second and third place in the writing contest. Previously, Zachary James Soukup and Danica Cross, both of Centennial High School, were awarded $50 and $25 cash cards, respectively, for taking second and third place in Week Two's contest. Shelby Riddle of Centennial High School won a $50 cash card in Week One.
The American Architectural Foundation and The United States Conference of Mayors announced that Las Vegas Mayor Carolyn Goodman and former Mayor Oscar Goodman will share the fourth annual Joseph P. Riley Jr. Award for Leadership in Urban Design. The Riley Award is issued each year to a mayor whose commitment to excellence in urban design has helped elevate the quality of life for that mayor's constituency.
Dr. Rutu Ezhuthachan, local pediatrician and medical director for UnitedHealthcare, has been named Nevada's 2014 CDC Childhood Immunization Champion for her efforts to promote childhood immunization. This annual award, given by the Centers for Disease Control and Prevention and the CDC Foundation, honors childhood immunization advocates across the country.
Ten children were baptized at Westminster Presbyterian Church on Easter Sunday, April 20, thought to be the largest number ever to take the sacrament on a single day at the 50-year-old northwest Las Vegas church. It was also equal to the number baptized by Pope Francis during a vigil Saturday at St. Peter's Basilica in Rome. The newly baptized include Amara Mae Galloway, 11 months, daughter of Timothy Galloway and Tamika Jackson; J'mari Moore, 2, and Za'Shawn Brown-Moore, 1, sons of Olivia Bell Moore; Aniya Taylor, 2, Na'Laiya Taylor, 1, and Zhaire Taylor, 2 months, daughters and son of Ivoney Montgomery; Quardell Wilson, 5, Armanii Michael Anderson, 2, and Madisynn Mallen Anderson, 1, sons and daughter of Cedric Anderson and Mercedes Mallen. Also baptized was Aubrey Ann Griner, 2, daughter of Lindsey and Michael Griner of Oceanside, Calif., and granddaughter of Tim and Kathy Huston of Las Vegas.
Opportunity Village announced the launch of OV Nation, an auxiliary committee comprised of rising Las Vegas professionals who are committed to expanding the organization's reach to future generations by identifying, developing and engaging a new generation of Opportunity Village brand ambassadors, donors, board members, volunteers and supporters. OV Nation's Board of Directors include:
Co-Chairs: Eve Breier, Ed.D., Campus College Chair at University of Phoenix; and Robert Charles Barton II, Medical Student at Touro University
Finance Chair: Barry Bosacker, assistant principal of Williams Elementary School
Events Chair: Kelly Ann Gorman, Luxury Concierge and Pro Makeup Artist
Recruitment Chair: Jennifer Breed, marketing manager for Las Vegas Monorail
Membership Chair: Erin Morrissey, agent at Morrissey Insurance
Media Chair: Glen Scott, founder of Scott & Company
Promotions Chair: Loren Jobe of Emeril's New Orleans Fish House
Public Relations Chair: Gina Yager, vice president of Preferred Public Relations
Board Members: Brittany Anderson, account executive for Lotus Broadcasting; Jason Demuth, marketing manager at Trump International Hotel of Las Vegas; Jennifer Mahar, managing partner of Eventure; Jim Reding, senior director at Robert K. Futterman & Associates; Marty Weinberg, financial advisor at UBS Financial; Michelle Dahan, marriage & family therapist with Harmony Healthcare; Rachel Feinberg, account executive for Kirvin Doak Communications; and Cydni Hornsby, director of billing/operations supervisor at Nevada Alternative Solutions.
Share your news
View welcomes announcements of recent achievements by local students and adults. Please include student's name, age, local school attended, parents' names and city of residence. Send to View, c/o Favorites, P.O. Box 70, Las Vegas, NV 89125-0070, or by email with Favorites typed in the subject line to viewcalendars@viewnews.com. Photos cannot be returned.