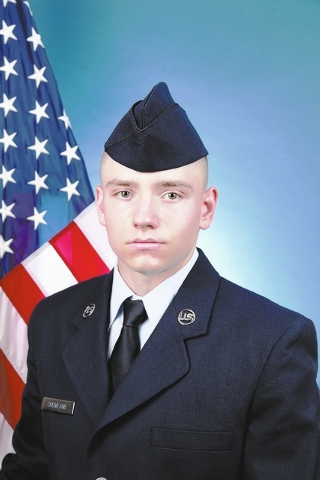 Jay Samuel Bernstein, a graduate of Green Valley High School, was promoted to the rank of lieutenant colonel in the United States Air Force. An F16 pilot (and also a qualifed B-1B bomber pilot), Bernstein has served tours of duty in Iraq twice and Afganistan and Korea. Bernstein is the son of Dr. Lee and Charlotte Bernstein of Las Vegas.
Air Force Airman Kyle M. Cremeans graduated from basic military training at Joint Base San Antonio-Lackland, San Antonio. He is the son of James W. Cremeans of Lawton, Okla., and Kim M. Kostka and Phil A. Kostka of Las Vegas. He is a 2013 graduate of Centennial High School.
On Sept. 10, officials of the National Merit Scholarship Corporation announced the names of approximately 16,000 semifinalists in the 60th annual National Merit Scholarship Program. Area students include:
Henderson:
Basic High School: Alexandria R. Bush; Coronado High School: Shannon L. Chao; Abigail A. Franklin; Eric M. Lujan; Spencer R. Messina; Cesia A. Ng; Rachel L. Oshiro; Kyra N. Sciabica; Crystal J. Wang; Foothill High School: Rachel Oehler; Green Valley High School: Sean Berman; Steven J. Chacko; Matthew S. Chen; Aidan P. Cortney; Jake H. Lee; Amar Shah; Liberty High School: Oscar Torres; Nevada State High School: Jessica L. Peterson; Silverado High School: West E. Wagner; Amy Warling.
North Las Vegas:
Centennial High School: Hannah N. McDonald; Arbor View High School: Kaitlynne C. Thornton; Northwest Career & Technical Academy: Dakota D. Jones; Shadow Ridge High School: Gary Yan.
Las Vegas:
The Adelson School: Brenna R. Mishlove; Advanced Technologies Academy: Noah A. Bachir; Anthony L. Godlewski; Claire C. Ong; Clark High School: Cameron P. Both; Michael Castle; Sean E. Dycaico; Sourav Gupta; Sabrina Ho; Chaitanya R. Ingle; Alex Luwang,; Leda Morochina; Lucille C. Nual; Deepal M. Patel; Aubrey S. Pickett; Steven M. Roldan; Wei Z. Tang; Sabrina D. Wang; Coral Academy of Science: Clara L. Buck; Arbab Khalid; Desert Oasis High School: Daniel J. Winik; Durango High School: Fadi M. Azar; Bishop Gorman High School: Juliana C. Adams; Lisa M. Borzage; Evan M. Link; Alexander S. Perron; Skylar R. Westbrook; homeschool: Tristan Sun; Las Vegas Academy of International Studies and Performing Arts: Elizabeth Linstruth; Rachel M. Long; Kristen N. Muller; The Meadows School: Alexandra C. Bailey; Audrey L. Chang; Connor M. Chapkis; Daniel Chen; Tessa DeJong; Aliya S. Farmanali; Robert G. Netzorg; Palo Verde High School: Foster L. Truman; Rancho High School: Ryan R. Cho; Marien C. Fontano; Annabelle L. Shattler; Timothy Shaw; Giorgio R. Zaghen; Sierra Vista High School: Jessica M. Vallin; Valley High School: Eli R. Gaer; Lydia M. Haile; West Career and Technical Academy: Alison Ryu; Conor P. Safbom.
The Public Education Foundation's Board of Directors elected seven new board members and re-elected 20 members during its annual board meeting Sept. 4. New board members are Lee M. Amaitis, president and chief executive officer of CG Technology; Jennifer Carleton, a shareholder in the Brownstein Hyatt Farber Schreck law firm; Shelley Gitomer, vice president of philanthropy & community engagement of MGM Resorts International; Guy Martin, vice president of procurement of the Martin-Harris construction company; Susan Nelson, human resources manager for Community Banking West of Wells Fargo; Michael E. Newman, managing director of the Las Vegas office of CBRE; and James T. Rimpo, senior vice president, corporate relationship manager of Nevada State Bank.
On Sept. 5-7, the annual Las Vegas Rock N Soul Music Awards & Hall Of Fame Inductions honored Lillian McMorris with the Legend Award, Sherry Gordy with the Entrepreneur Award, The Tap House with the Entrepreneur Award, Malo as a Hall of Fame Inductee, El Chicano as a Hall of Fame Inductee, The Scintas as a Hall of Fame Inductee and Derek David (Platters) with a Music Icon Award.
Niah Anson of Las Vegas is one of 422 first-year students to enroll at Lake Forest College this fall. Anson was awarded a Forester Social Justice Scholarship. Anson is a graduate of The Adelson Educational Campus.
Share your news
View welcomes announcements of recent achievements by local students and adults. Please include student's name, age, local school attended, parents' names and city of residence. Send to View, c/o Favorites, P.O. Box 70, Las Vegas, NV 89125-0070, or by email with Favorites typed in the subject line to viewcalendars@viewnews.com. Photos cannot be returned.