North Las Vegas boxing club's specialized programs help fight Parkinson's disease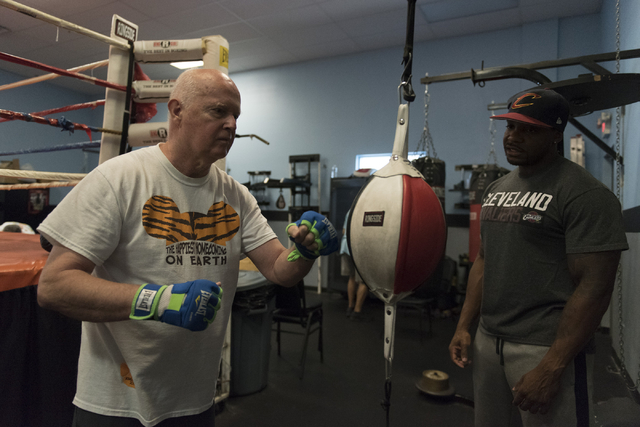 It's been said that Muhammad Ali's biggest opponent was Parkinson's disease, which many attribute to boxing, but it turns out what made and ultimately led to the death of the former heavyweight champion could help others in their fight against his deadly opponent.
Twice a week, people living with Parkinson's disease meet at the Richard Steele Boxing Club, 2475 W. Cheyenne Ave., Suite 110, for the Rock Steady Boxing program. With oldies music jamming in the background, participants set out to fight this progressive disorder.
"We're challenging the stereotype that boxing only results in brain damage," said Steele, a former referee and a member of the International Boxing Hall of Fame. "This program gives participants a new beginning for life."
Parkinson's disease is a progressive, incurable deterioration of the part of the brain that produces a chemical needed to carry signals to the regions that control movement.
About 15 participants ages 48 to 82 come in and set their canes, walkers and sometimes wheelchairs inside Steele's office. After the 90-minute class is over, some of them forget to take their walking aids.
"They tell me, 'We don't need them anymore,' " Steele said. "That makes me really happy. To see that they have that confidence in themselves is worth it."
Started by Steele at his gym in 2014, the specialized sessions are designed to use every part of the body. When participants join, they are evaluated by Steele and his group to see what level of Parkinson's they have, and based on their evaluation, they customize the workouts.
Their spouses and caretakers are also invited to participate in the program to learn about exercises and tricks that can help their loved ones cope with the disease.
The group begins by stretching and then spreads out to do different exercises. Some ride the bikes, and others do obstacle courses or walk on the treadmill. Then they all put on a boxing glove and hit the speed bags, heavy bags and hand mittens.
"Our goal is to help them improve their condition," Steele said. "We can't cure it, but we can stop it from reaching another level."
There aren't any risks associated with the program because participants engage in noncombat boxing. They are taught how to get up after falling and to speak up, creating confidence and a social atmosphere.
Every now and then, special guests are also invited to assist with the program, such as referee Tony Weeks.
"We're really like a family," said Donche King, assistant at the boxing club. "These guys are my heroes because they do amazing things. I'm just here to assist them. That is a payment in itself for me."
Parkinson's disease affects nearly 1 million people in the U.S., and approximately 60,000 Americans are diagnosed with the disease each year. This number does not reflect the thousands of cases that go undetected, according to the Parkinson's Disease Foundation.
Despite decades of intensive study, the causes of Parkinson's remain unknown. Many experts think the disease is caused by a combination of genetic and environmental factors, which may vary from person to person, according to the foundation.
Many participants are referred to the program by the Cleveland Clinic Lou Ruvo Center for Brain Health or by other health professionals, according to Steele.
In a study of Rock Steady Boxing, participants who complete 12 weeks of training had measurable improvements in gait, balance and quality of life. Boxing addressed more than 20 areas affected by Parkinson's, including agility, coordination and mental focus. Boxing is empowering and helps relieve depression, according to the Lou Ruvo Center for Brain Health's website, clevelandclinic.org.
Don Parks and his wife Anna were referred by their doctor in Pahrump. Don, 78, was diagnosed with Parkinson's disease last year.
"When I came in here, I had to use a cane and a walker, and probably two months after I started coming in two times a week, I started walking without that cane," Don said. "Now that cane is in the trunk."
"What I noticed with Don is that this program has thrown depression out the window," Anna added, who comes to every class with Don. "He sees other people with this condition doing great things. They encourage each other."
Former Indiana prosecutor Scott C. Newman, who is living with Parkinson's, founded the national program in 2006.
After being diagnosed, Newman began intense, one-on-one boxing training and noticed dramatic improvement in his physical health, agility and daily functioning, according to the program's website, rocksteadyboxing.org.
Jerry Solan, 78, was diagnosed with Parkinson's disease eight years ago and has been participating in the program for two years.
"The disease screwed up my life big time," he said. "I did all the right things. I worked out, so I don't know why I have this disease. I felt sorry for myself. Now I'm doing whatever I can to get better. I haven't noticed any major changes, but it hasn't gotten worse, and that's something."
The Rock Steady Boxing program meets from 10:30 a.m. to noon Mondays and Wednesdays. The program costs $100 a month for twice-weekly sessions.
Call 702-638-1308 or visit richardsteelefoundation.org.
To reach North View reporter Sandy Lopez, email slopez@viewnews.com or call 702-383-4686. Find her on Twitter: @JournalismSandy.
Rock Steady Boxing Program
The Rock Steady Boxing program meets from 10:30 a.m. to noon Mondays and Wednesdays at the Richard Steele Boxing Club, 2475 W. Cheyenne Ave., Suite 110. It costs $100 a month for twice-weekly sessions.
Call 702-638-1308 or visit richardsteelefoundation.org.