Numerous summer camp opportunities available across Las Vegas Valley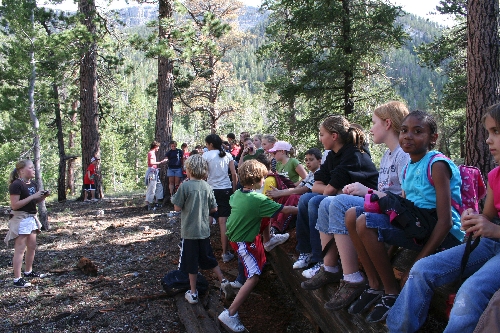 Maybe you've seen outdoors survival expert "Bear" Grylls on the Discovery Channel's "Man vs. Wild." Grylls is dropped by helicopter into remote jungles, deserts and mountain ranges and uses only his wits and a strong stomach for raw creepy crawlers to survive.
This summer, your kids can do the same thing — sort of.
A new program, Camper vs. Wild, is being offered by the city of Las Vegas Durango Hills Community Center, operated by the YMCA at 3521 N. Durango Drive
The program will teach safety and survival techniques June 20-24 at Mount Charleston.
Don't worry about your kids' breath smelling like beetle juice, though.
Kids will be transported to and from the mountain daily and can pack their own lunches.
City of Las Vegas official Jace Radke said summer camps can benefit kids and give parents peace of mind during the day.
"The camps provide a safe place for children to be involved in fun and educational activities, " Radke said.
For more traditional camps in Summerlin, the Durango Hills center also plans to offer weekly day camps for kids 5 to 15.
The traditional camps, scheduled from June 13 to Aug. 22, cost between $133 and $147 per week, depending on age.
Specialty camps cost between $163 and $189 per week and include themes such as hip-hop, cheer and magic.
Off-site specialty camps, such as Camper vs. Wild and Field Trip Frenzy, cost between $183 and $220 per week. In that camp, kids can expect trips to Crystal Palace Skating Center, Ethel M Chocolate Factory and Lied Discovery Children's Museum.
For more information, call 240-9622 or visit lasvegasymca.org.
Indoor camps
For those looking to enjoy the fine arts, music and theater camps are available.
The Las Vegas Philharmonic plans to host ExploreArts June 20-24 and June 27 to July 1 at Alexander Dawson School, 10845 W. Desert Inn Road.
The camp will feature performances by professional musicians and costs $325 per five-day session. Children 5 to 12 can attend, and they don't need to play an instrument to attend.
For more information, call the Las Vegas Philharmonic at 258-5438, ext. 221.
The Nevada School for the Arts, 401 S. Fourth St., Suite 125, plans to offer camps for kids 4 to 14 with previous training in piano, violin or cello. For more information, call 384-2787.
Neon Venus Art Theatre, 1404 S. Third St., plans to offer a camp to teach kids 6 to 16 about live theater.
The first two-week session runs June 13-24 and will feature emphasis on improvisation. Other themes will include Shakespeare, script writing, musicals and sketch comedy. Each two-week session costs $300 and is set for 9 a.m. to 5 p.m. Monday through Friday.
For more information, call 787-2481 or visit neonvenustheatre.com.
Lied Discovery Children's Museum, 833 Las Vegas Blvd. North, is offering weekly camp programs this summer beginning in June. Sessions are available 9 a.m. to noon or 1 p.m. to 4 p.m. beginning the week of June 13 through Aug. 15. The program is for children 6 to 12.
Camp prices are $155 per week for museum members and $180 per week for nonmembers. For complete camp schedules, details and registration visit ldcm.org. Parents can register by calling 382-5437.
Southwest camps
In the southwest, Good Samaritan Lutheran Church, 8425 W. Windmill Lane, plans to offer a camp for those interested in surf and sand .
The Youth Beach Camp is scheduled June 20-24 and will include a trip to Huntington Beach, Calif., and Knott's Berry Farm in Buena Park, Calif.
The trip costs $75 and is open to middle and high school students.
Vacation Bible School will keep the kids closer to home for $20 and is scheduled from 5:30 to 7:45 p.m. June 27-July 1, and 9 a.m. to 12:30 p.m. July 2.
Camp Hope Day is a Monday through Friday camp, scheduled from 9 a.m. to 3 p.m. Aug. 1-12 for children in kindergarten through fourth grade.
It costs $100 per week or $75 per week if attendees register by July 15.
The day camp is taught by adults and student volunteers from local middle and high schools. Students can expect to read Bible stories, play games and make crafts.
For more information on Good Samaritan's summer camps, call 873-3589 or visit gslclasvegas.org.
Athletic camps
If you have a future Olympic hopeful on your hands, consider one of the valley's athletic-themed camps.
The UNLV athletic department offers summer camps including boys' basketball, girls' basketball, football, baseball, soccer, volleyball, softball swimming and tennis.
For more information, visit unlvrebels.com/camps/unlv-camps.html.
Desert Breeze Community Center, 8275 W. Spring Mountain Road , plans to offer Athletic Adventures on Mondays, Wednesdays and Fridays this summer for teens 13 to 17.
Groups will participate in sports and other physical activities. The first week begins June 13. The cost is $50 per week.
For more information, call 455-8334.
Recreation area camps
The Clark County Parks and Recreation Department plans two six-day sleep-away camps for kids 8 to 15 at Camp Lee Canyon in the Spring Mountains National Recreation Area.
On the Edge Camp is scheduled for July 17-22 for campers 13 to 15, and Omni Camp is schduled for July 24-29 for kids 8 to 12. Both camps cost $400.
For more information, call 455-1905.
Another sleep-away camp, also at Camp Lee Canyon, is Leadership Camp, hosted by Issues Concerning Adolescents of Nevada, scheduled for June 20-26.
Youngsters 11 to 17 can learn from guest speakers, workshops and curriculum to empower them to be role models and resist peer pressure.
The camp costs $250. For more information, call 451-4226 or visit icanlv.org.
Scout camps
Girl Scouts of Southern Nevada offers a plethora of camp options for scouts in grades 4 through 12.
For more information, call camp manager Axa Aguilar at 385-3677, ext. 260, or visit girlscoutsnv.org.
The camps listed above represent a sampling of those available. For a more complete listing, visit viewnews.com.
If you plan to host a summer camp and would like your listing added to View's website, email the information to jmosier@viewnews.com.
Contact View education reporter Jeff Mosier at jmosier@viewnews.com or 224-5524.