Ovation at Green Valley Ranch Resort to host "Sweeney Todd"
October 10, 2011 - 11:16 pm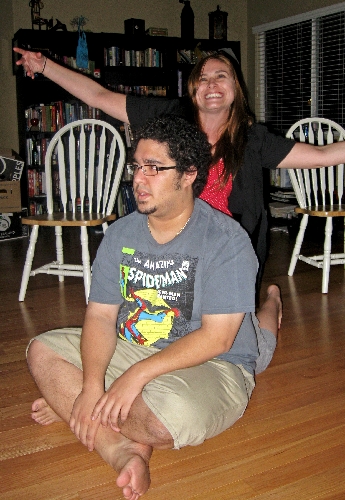 The serial killer, a barber known as Sweeney Todd, has strolled Fleet Street in productions on Broadway and on film . But for three nights, the tragic character is set to appear in Henderson .
"People can expect lots of blood," director Shawn Hackler said jokingly. "People can expect incredible music, lights, set and sounds. I don't think any body will be disappointed."
Hackler has been wanting to do a version in Las Vegas since he saw the Tim Burton film, which came out in 2007.
After connecting with RagTag Entertainment, they decided to bring "Sweeney Todd: The Demon Barber of Fleet Street" to Henderson. It is scheduled to be performed at 8 p.m. Oct. 18, Oct. 25 and Nov. 1 at Ovation inside Green Valley Ranch Resort, 2300 Paseo Verde Parkway.
"Just in time for Halloween," said Tobie Romzek, the assistant director.
Even though the performance might take elements from some other productions, Hackler wants to make the show different.
"Tim Burton did an amazing job with his style and made a distinct mark on it," Hackler said. "You almost have to say, 'I'm not doing that production.' After a while, you start looking for your own thing and own style."
Hackler sought actors who could make the production different from the shows he had seen.
That is when he found 25-year-old David Andino, who is set to play Sweeney Todd.
"I am a little young compared to everybody else who has played the role," Andino said. "The character is supposed to be 15 years older than I am. It is pretty intense, and it raises the bar for me to work extra hard. It pushes me to go further."
But Andino said he is excited to play the character because he is the opposite of a one-dimensional character.
"He has a lot of back story that draws me to the show," Andino said. "The character just has so much pain inside."
Joining the killing spree on stage is Ariana Miner, who plays Mrs. Lovett.
"She is the crazy lady who makes the pies after Sweeney brings her the
'meat,' " Miner said. "She has been tricky. Most characters are straight forward. Mrs. Lovett is the total opposite."
Actresses such as Angela Lansbury and Helena Bonham Carter have dived into the complexities of the character.
"Some go darker," Miner said , " and some just make her completely nuts."
Miner said for her performance, she will try to balance what great acting has been done for the character while making it her own.
"I want to pay homage," Miner said. "It is important to make it my own. I'll watch other performances to try to figure out what makes me love (that performance)."
Miner said she has been fortunate because Hackler has let her explore the character.
"He will reel me in if I go too far off base," Miner said.
During the performance, each character has found her favorite scene and song. Miner's is the song "A Little Priest."
"It's probably the darkest song in the show," Miner said. "It's where Sweeney and Mrs. Lovett sing about all the people they are going to kill. But the way they do it is really hilarious. It would be like hanging out with your co-workers and shooting the breeze but in a much darker way."
Andino is excited for the audience's reaction the first time it sees Sweeney's razors up close.
Even though it is dark at times, Hackler thinks the audience will enjoy the show because of the comedic undertones.
"It's a subject matter that you wouldn't think would be funny," Miner said. "But it is funny and fun."
Tickets are $15, and all proceeds are slated to go to Golden Rainbow, an organization that benefits people with HIV and AIDS.
For more information, visit green
valleyranchresort.com.
Contact Henderson/Anthem View reporter Michael Lyle at mlyle@viewnews.com or 387-5201.