Over 2,000 march in downtown Las Vegas for end to gun violence
Updated March 24, 2018 - 9:56 pm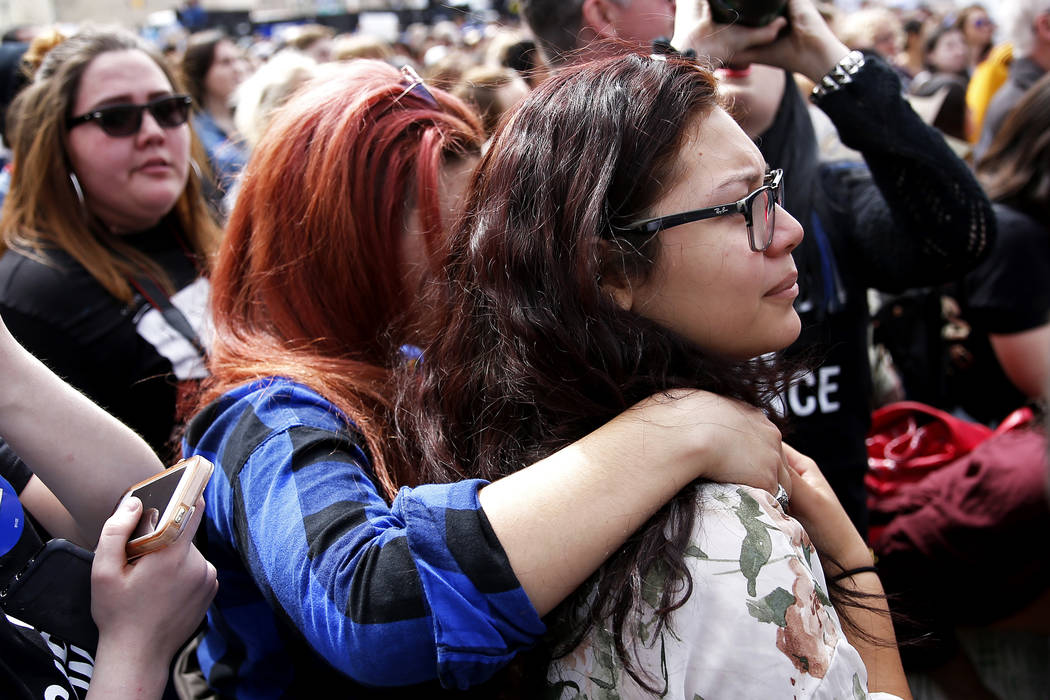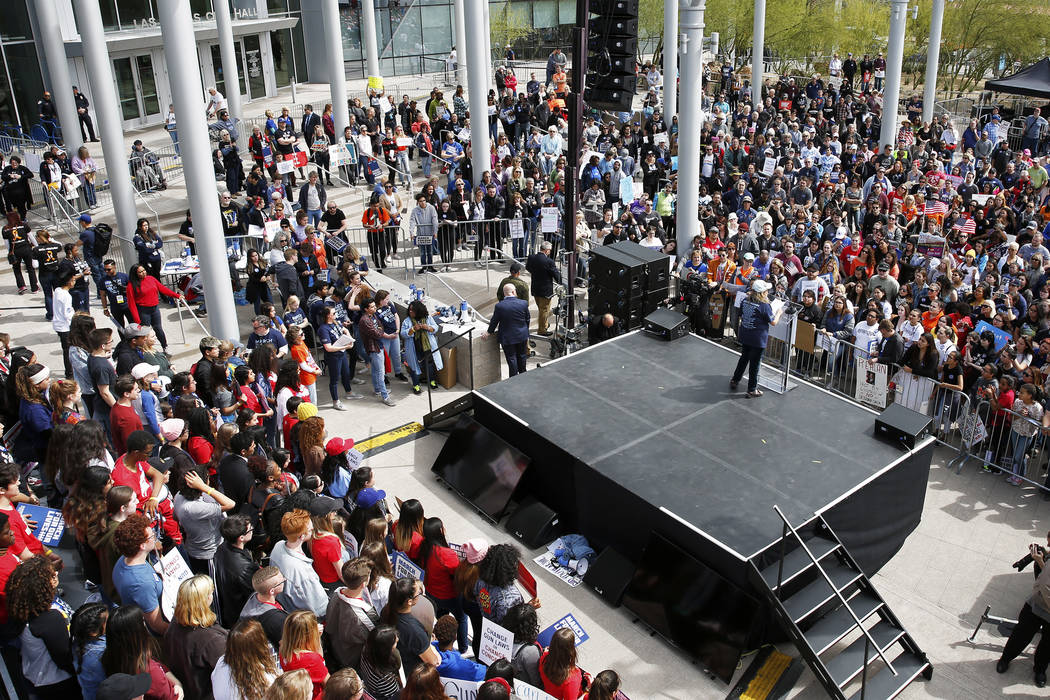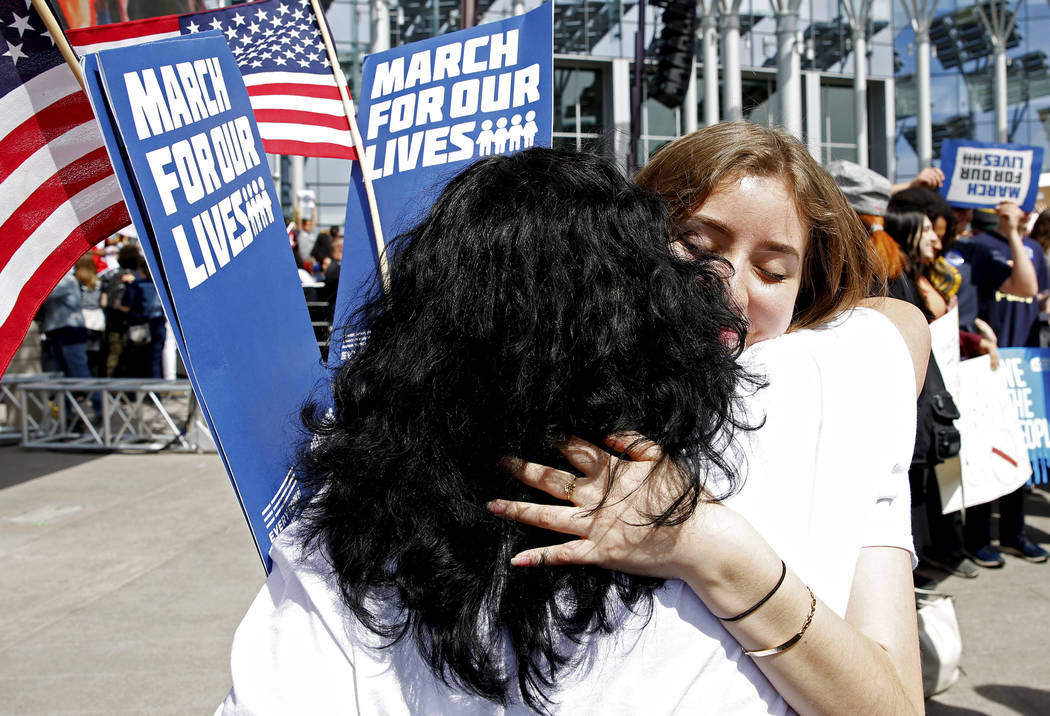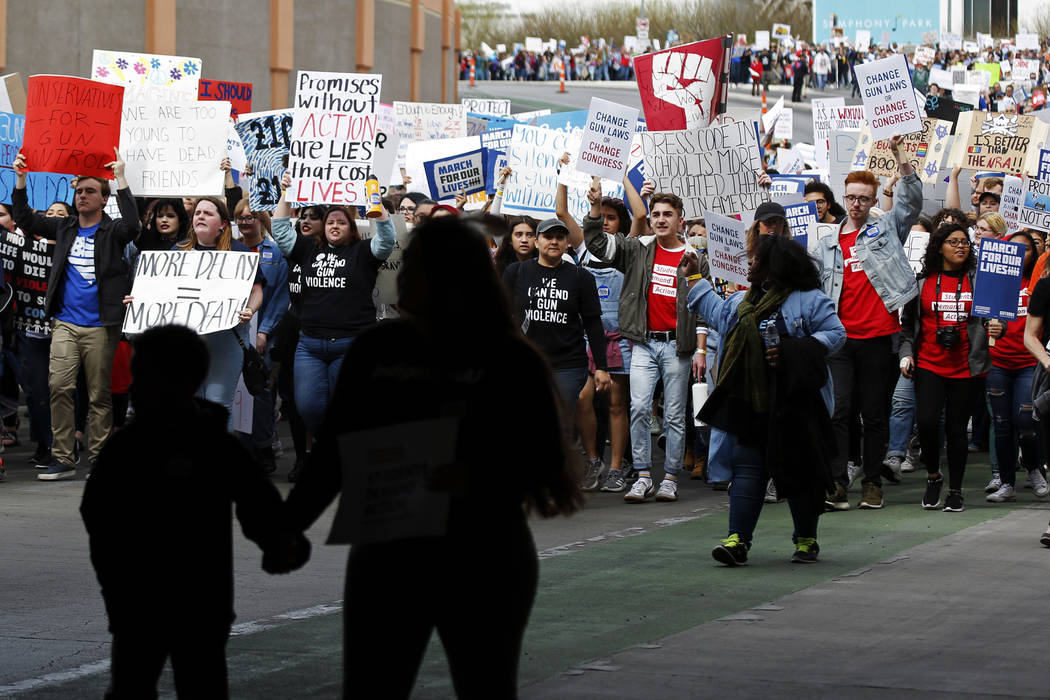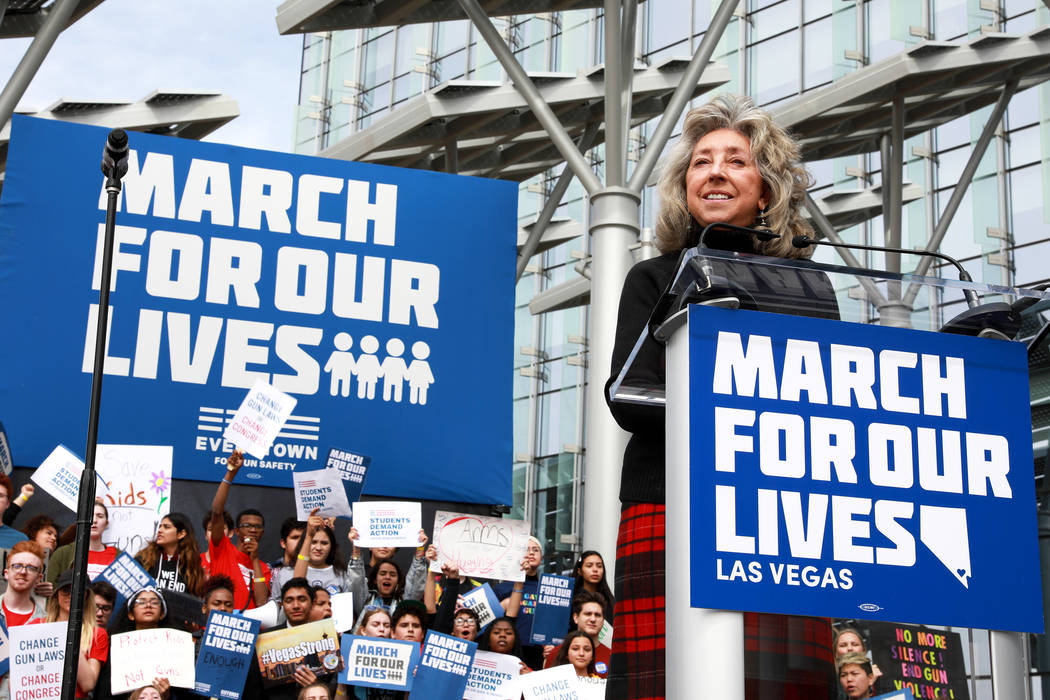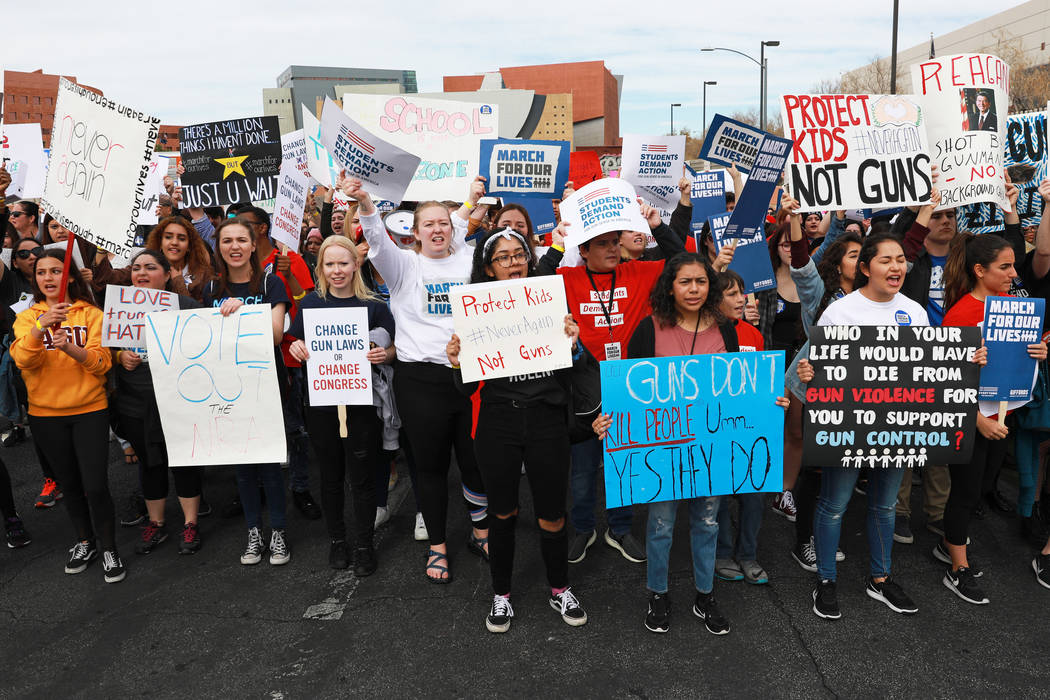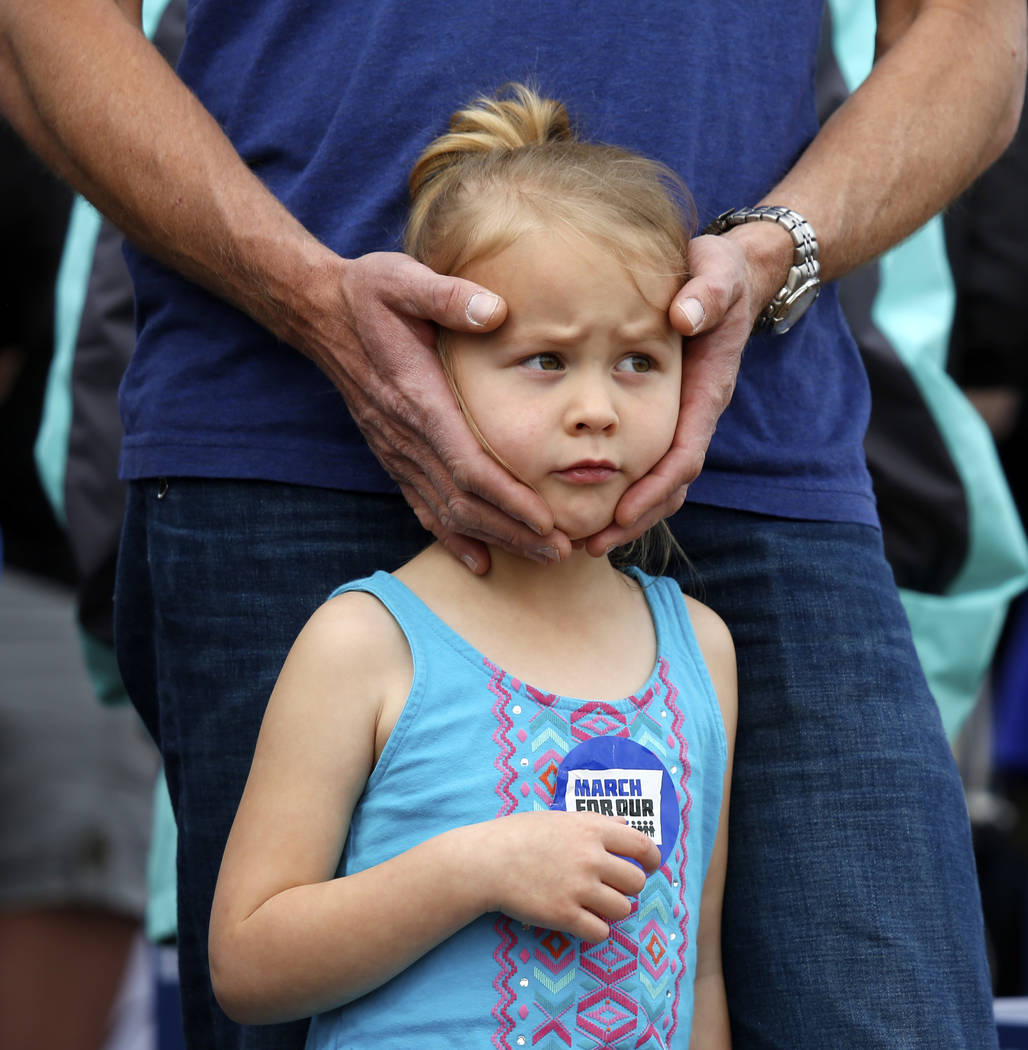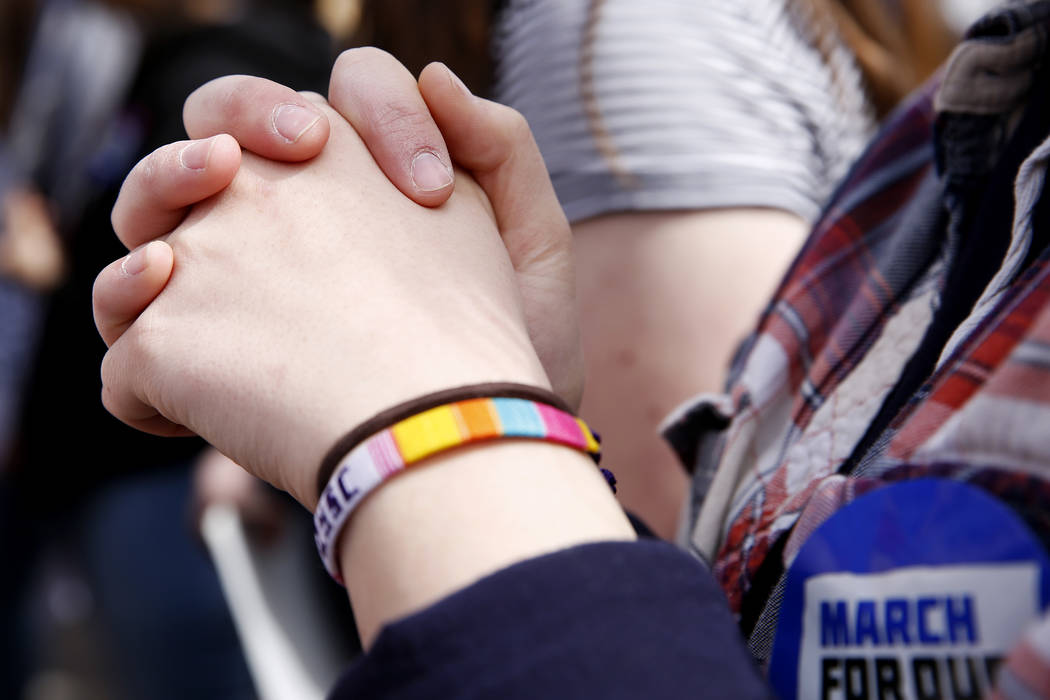 The backdrop of Las Vegas City Hall disappeared Saturday morning behind a wall of raised fists clenched in anger, optimism and solidarity.
Her fist in the air, too, Denise Hooks stood under the warm downtown Las Vegas sun Saturday morning before a crowd of more than 2,000 people of different backgrounds united for one cause: an end to gun violence.
As she surveyed the sea of black, brown and white fists, a big and powerful voice exploded through the speakers from the small-framed woman.
"Today we march forward. We lead with truth toward a kinder future and we build our movement to end gun violence and death by firearms," the 26-year-old Capella University graduate student and community organizer yelled over the cheering crowd. "We're all well aware that ending gun violence is more than about stopping mass shootings in schools. We have to make sure that when we are having conversations about gun violence, we are consistently advocating for the most disenfranchised communities affected by gun violence."
The call to action was part of March for Our Lives, a student-led national movement demanding stricter gun control. A sibling to the main event in the nation's capital, the Las Vegas march began at The Smith Center for the Performing Arts and concluded with a rally at City Hall, where students and Oct. 1 shooting survivors called on lawmakers to pass comprehensive gun reform.
The movement was sparked by the students from Parkland, Florida, after a shooting at their high school left 17 people dead on Valentine's Day, less than five months after a massacre at a Las Vegas country music festival took 58 lives.
Students in the front, adults in the back
"Adults haven't been taking care of business so the students are, and I commend them for that," Democratic Clark County commissioner Chris Giunchigliani told the Las Vegas Review-Journal on Saturday. "In the long run we need gun reform, and as a candidate for governor it's on the top of my priority list."
At the Las Vegas march's scheduled start time Hooks yelled for parents and adults to move to the back of the protest line.
"Students in the front, adults in the back," she instructed through a speakerphone. "Remember that this is a student-led march."
Among those leading the pack through downtown Las Vegas was 20-year-old Karl Catarata. The UNLV student and gun violence survivor helped plan Saturday's march, as well as the university's national school walkout about a week earlier, which similarly protested against gun violence.
"This movement and this type of activism yields student leadership. You won't find what we do out in the streets in a normal leadership class," he said. "In terms of activism, this is the best way to mobilize the new generation of change-makers in America."
Christine Caria, a Las Vegas shooting survivor and president of the local Brady Campaign chapter, a nonprofit group advocating for the prevention of gun violence, praised the student activists.
"The shift that's been able to happen because of these students has been amazing, and I'm so proud of them," she said. "You could never even talk about gun control before, even after our shooting. It took Parkland for people to start talking about it."
An issue for all people
As the protesters inched closer to city hall on Saturday, one sign stood out from the rest.
It read: Conservatives for gun control.
Behind the large red sign was Connor Leeming, an 18-year-old Republican and Palo Verde High School's student body president.
Standing alongside UNLV's Black Lives Matter chapter, he said, "I'm here to show that people from different political backgrounds can come together to solve problems that all Americans face."
Coronado High School student Sara Ross, 16, agreed.
"One misconception about this march specifically is that people think it's just a Democratic side. They think we're saying no to guns, to get rid of all the guns. But that's not what we're fighting for," she said, "because the students understand that people do need guns, people do want these different types of things. And although some of us don't agree with that, what we want to make sure is that they know we're not trying to push them out."
Why they march
"It's for them that we march today," Las Vegas shooting survivor Stephanie Dobyns Wellek said of the 58 victims killed on Oct. 1.
She paused for a moment before continuing in one breath, "And for Parkland, for Columbine, Orlando, Sandy Hook, Virginia Tech, San Bernardo, Sutherland Springs."
Wellek gasped for air. "I could go on but I shouldn't be able to."
Like most speakers, Wellek called for a ban on assault rifles and an expansion on background checks.
At the end of the rally, the wall of fists punctuating the clear skies over downtown Las Vegas had been lowered. But not the resolve of those who marched.
Hooks' earlier message still resonated.
"This fist represents hope. This fist represents change. This fist represents you as an ally. These fists will lead to a better and brighter tomorrow for my community and yours."
Contact Rio Lacanlale at rlacanlale@reviewjournal.com or 702-383-0381. Follow @riolacanlale on Twitter.