Paradise/Downtown Neighborhood News
November 6, 2012 - 12:19 am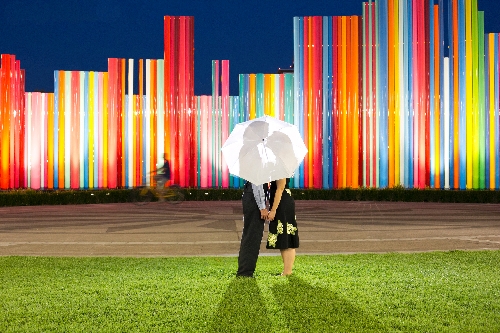 CHURCH TO PROVIDE CLOTHING, BLANKETS AND MORE TO VALLEY'S LESS FORTUNATE
The Greater New Jerusalem Church, 1100 D St., plans its annual winter outreach program from 10 a.m. to 2 p.m. Saturday.
Since 1995, the church's outreach program has provided winter clothing, personal hygiene products, blankets, food and spiritual guidance to the homeless and the "working poor."
"Not only do we help these people physically, but we show them how they can be successful, get off the streets and get a job," outreach coordinator and church minister Barbara Drew said.
She estimated that the program will accommodate 2,000 to 3,000 people. The church is seeking donations and volunteers for the event. Drew said she needs at least 75 additional volunteers.
The items most in demand, Drew said, are clothes for children, but any new or gently used items will help.
For more information on the church and its outreach program or to donate or volunteer, call 702-648-1784.
VETERANS TO BE HONORED
DURING FLAG CEREMONY
Ward 5 Las Vegas Councilman Ricki Y. Barlow is scheduled to host an outdoor flag ceremony and drill team exhibition by the Rancho High School ROTC at 10:30 a.m. Thursday at the Dula Gymnasium, 441 E. Bonanza Road.
The event will honor military veterans and their families. For more information, call 702-229-6307.
WALK TO CURE DIABETES SET FOR SATURDAY
The Juvenile Diabetes Research Foundation's Nevada Chapter is expecting to raise more than $500,000 for Type 1 diabetes research during its Walk to Cure Diabetes.
More than 3,000 walkers are expected to attend the event, planned Saturday at the campus of the University of Nevada, Las Vegas, 4505 S. Maryland Parkway, beginning at the north field.
On-site registration for the three-mile walk is set for 9 a.m. For more information, visit jdrflv.org.
FLAG FOOTBALL LEAGUE FORMING
The Cambridge Recreation Center plans to host a five-on-five flag football league for boys and girls ages 7 to 10.
Registration for the Clark County Parks and Recreation Department activity is scheduled for 6 to 8 p.m. Friday at Paradise Field, 4775 S. McLeod Drive. A mandatory meeting for all participating parents is scheduled for 6:15 p.m. that day at the field.
A skills test is scheduled for Nov. 16 and will determine how players are drafted. Training camp is set to begin Nov. 30, with the season slated to start Dec. 14. Games are scheduled for 6 to 8 p.m. Fridays.
The cost to join the league is $75. The league will be divided into two age groups: 7-8 and 9-10. Six-year-olds can play as long as they are 6½ by Dec. 14.
Players will need to provide their own protective mouthpieces and shorts with no pockets. Cleats are optional. A game jersey and flag belts will be provided.
For more information, call 702-455-7169 or visit clarkcountynv.gov/parks.
SECONDHAND CHILDREN'S CLOTHING
TO BE SOLD THIS WEEKEND AT STORE
I Second That Consignment is scheduled to host its sale of gently used children's items from Friday through Sunday at its store, 4600 Meadows Lane.
Shoppers can also volunteer to work two four-hour shifts during the sale in order to shop before the general public on Wednesday.
For more information and to register, visit isecondthatconsignment.com.
SUNCOAST TO HOST FREE HEALTH FAIR
FOR FEDERAL EMPLOYEES
A free health fair for current and retired federal government employees and their spouses or survivors is scheduled for 9 a.m. to noon Friday in the second-floor ballroom at the Suncoast, 9090 Alta Drive.
The event is sponsored by the National Active and Retired Federal Employees Association.
Representatives from the Federal Employees Health Benefits Program, including Blue Cross-Blue Shield, GEHA, Mail Handlers, United Healthcare and the Health Plan of Nevada, are expected to attend and answer questions about 2013 health benefits.
For more information, contact Jerry Mork at jmork26621@aol.com.