Paradise/Downtown Neighborhood News
December 27, 2011 - 12:20 am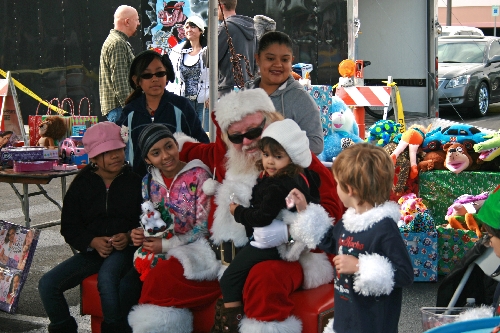 FOUNTAIN COINS AT PLANET HOLLYWOOD
TO AID CHILDREN'S MIRACLE NETWORK
Miracle Mile Shops at Planet Hollywood, 3667 Las Vegas Blvd. South, is set to launch its Caring, Giving, Changing campaign Jan. 1, beginning with a monthlong fundraiser for Children's Miracle Network Hospitals.
Change from the mall's outdoor fountain and indoor rainstorm will be donated to the charity. Other charities that will have fountain fundraisers this year include local organizations such as Communities in Schools of Nevada, Ronald McDonald House Charities of Greater Las Vegas, the United Way of Southern Nevada and more.
For more information, call 888-800-8284 or visit miraclemileshopslv.com.
GLITTERING LIGHTS ON DISPLAY
AT LAS VEGAS MOTOR SPEEDWAY
The Las Vegas Motor Speedway, 7000 Las Vegas Blvd. North, plans to host Glittering Lights, a drive-through display of more than 400 twinkling lights, through Sunday.
Admission is $15 per car and $1 per person in a bus with a 20-person minimum. Discounts are available with donations to Goodwill of Southern Nevada and on tickets at participating Walgreens stores.
The display is open from 5:30 to 9 p.m. Monday to Thursday and from 5:30 to 10 p.m. Friday to Sunday.
For more information, call 888-926-7402 or visit vegasglitteringlights.com.
GO ONLINE TO REGISTER FOR HOSPITAL VISIT
Residents can now preregister online through the Sunrise Health hospital websites for upcoming procedures. This includes patients who already have a procedure scheduled, expectant women needing to preregister for their baby's delivery and anyone requesting a screening mammogram appointment.
By improving the preregistration process in this way, patients now have greater flexibility in the preregistration process, hospital officials said.
To preregister online or to request a mammogram appointment, patients can visit sunrisehospital.com, mountain
view-hospital.com, southernhills
hospital.com or sunrisechildrens
hospital.com.
COMEDY PET THEATRE TO RAISE FUNDS
FOR THOSE LEFT BEHIND FOUNDATION
Gregory Popovich's Comedy Pet Theatre is playing at the V Theater at Miracle Mile Shops in Planet Hollywood Resort, 3667 Las Vegas Blvd. South, through the rest of 2011 in part to benefit the Those Left Behind Foundation.
Performances are set to begin at 4 p.m. daily, and tickets purchased with the supplied promotion code from the Those Left Behind Foundation's website, tlbfoundation.org, include a $1 or $2 donation to the organization.
For more information, call 260-7200 or visit vtheater.com/cpt.htm.
Help out with Earn it
Keep it Save it collaborative
The United Way of Southern Nevada is looking for more than 400 volunteers for its Earn It Keep It Save It collaborative, which provides complimentary tax preparation to low-to-moderate income families, individuals and seniors.
Volunteers are needed from Jan. 15 to April 17 to serve as tax preparers, greeters, quality reviewers and site coordinators. Those donating their time will receive tax law, e-file training and IRS certification at training locations throughout Southern Nevada.
For more information, visit uwsn.org/eks or call 892-2300.
GRANT TO HELP THOSE WITH HIV/AIDS
Nonprofit group Golden Rainbow has received a $25,000 grant from MAC Cosmetics' AIDS Fund for 2012. The donation will be used to support the organization's Affordable Housing Program.
The 25-year-old program is designed for people living with HIV/AIDS in Southern Nevada who would otherwise have no place to call home.
For more information, visit goldenrainbow.org.
TOYS 4 SMILES NEEDS FACILITY
FOR WORKSHOP
Toys 4 Smiles, a nonprofit, all-volunteer group that makes wooden toys for needy children, is in need of a new donated facility in which to work.
The facility should have air conditioning and heat. A donated space would provide tax advantages for the donor.
For more information, visit toys4smiles.org or call Rex Doty at
218-4582.
NEW VIDEO PUTS FACES TO AIDS AWARENESS
In recognition of World AIDS Day, the Southern Nevada Health District has created a video series, "Facing AIDS," available at youtube.com/snhealthdistrict.
Ivan, Lane, Maryanne and Tracy share their stories to prevent just one infection and encourage others to get tested.
More than 3,000 Southern Nevadans are living with HIV, and there are more than 2,800 AIDS cases locally.
About 33 million people worldwide are living with HIV, according to a study by UNAIDS, a United Nations program.
For more information, call the health district at 759-0702.
FRIENDS OF RED ROCK CANYON
PLANS TRAIL MAINTENANCE DAY
Friends of Red Rock Canyon plans to host a trail maintenance day Jan. 14 at the Red Rock Canyon National Conservation Area.
Volunteers will pick up litter and help maintain the trails.
Friends reminds residents that winter snow and inclement weather can make for good pictures, which could result in a $100 first-place prize in its 2012 Red Rock Canyon Photo Contest.
For more information on either event, visit friendsofredrockcanyon.org.
OPEN A BUSINESS WITH
THE CLICK OF A MOUSE
People interested in opening a business in the city of Las Vegas can do so by visiting the city's website, lasvegasnevada.gov.
The city of Las Vegas is the first government agency in Southern Nevada to offer customers the ability to apply for a business license online.
Customers also can pay their application fees or renew their current business license online.
These new features are part of the city's priority to make it easier to do business with the city of Las Vegas.