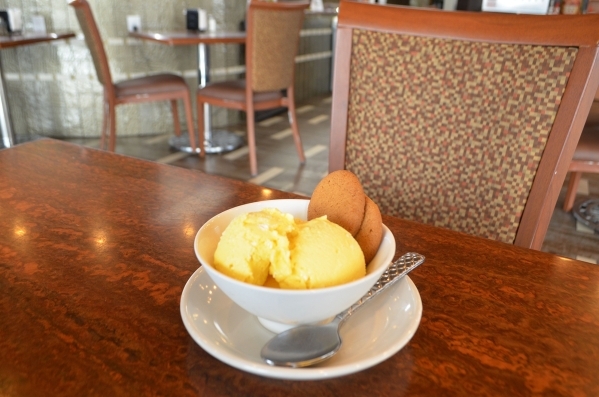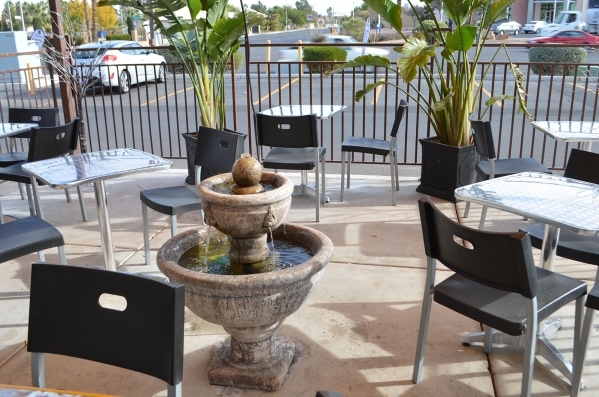 Even if you think you hate Mediterranean food, Chickpeas Mediterranean Cafe, 6110 W. Flamingo Road, is worth a visit.
The breakfast menu features a plate-sized waffle or two pancakes backed up by a bowl of fresh fruit and warm maple syrup for less than $5. Or for about $8, try the omelettes with fried potatoes and fruit. And if it's too late in the day for breakfast, consider the artisan meat lover or vegetarian pizzas or the cheese steak sandwich.
But if you're looking to break beyond tried-and-true comfort foods, Chickpeas has plenty of Persian specialties to please.
For those still seeking the familiar, grilled kabobs are offered with a choice of marinated chicken breast, filet mignon, ground beef or ground chicken, served alongside grilled tomatoes and seasoned long-grain basmati rice, or for the more adventurous, there are kabob sandwiches.
While most diners are familiar with kabobs, the restaurant's Persian stews are not as common. Ghaimeh bademjan is a Persian stew made from grilled eggplants, tomatoes, yellow split peas, onion and chunks of beef. Khoreshteh fessenjoon is a tangy Persian stew made with pomegranate molasses, ground walnuts and chicken breast served with rice. Or there's ghormeh sabzi, a tangy, tart stew with herbs, dried Persian lime and chunks of beef.
The star of the menu are the shwarma dishes. To make shwarma, meat is marinated, seasoned with a mix of savory and sweet spices, stacked on a vertical spit and roasted as it rotates for hours. As customers order, the staff slices the meat off the spit and adds it to pita sandwiches, rice bowls or even pizzas. A shwarma plate features rice and a salad alongside the slow-roasted meat. The chicken shwarma plate portion at Chickpeas is big enough to feed two if not three.
For those who manage to save room for dessert, the menu features familiar dishes such as baklava alongside more exotic offerings, such as Persian roll up cake, Persian saffron rice pudding and fresh Persian ice cream flavored with saffron and rose water. It smells like perfume, but tastes sweet, which is a nice contrast with the spiced ginger cookies that accompany it.
The atmosphere at Chickpeas is fast-casual with counter service ordering and self-serve drinks but upscale with white stoneware dishes delivered to the table and real silverware. Most dishes are prepared on open grills visible from the dining room.
A flat-screen television airs silent CNN while Persian pop tunes play in the background.
Food is available to go, or diners can stick around and sit inside or outside near the bubbling fountain on the patio.
Chickpeas is open from 9 a.m. to 10 p.m. Mondays through Fridays and 9 a.m. to 11 p.m. Saturdays and Sundays. Visit chickpeaslv.com or call 702-405-6067.
Chickpeas
6110 W. Flamingo Road
Open: 9 a.m. to 10 p.m. Mondays through Fridays; 9 a.m. to 11 p.m. Saturdays and Sundays
chickpeaslv.com
702-405-6067