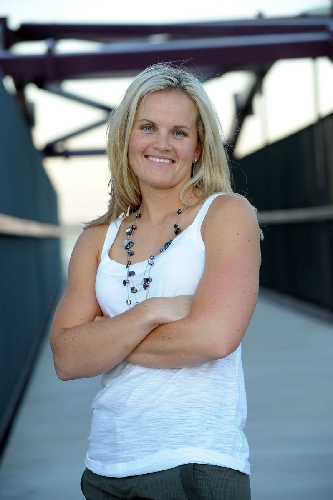 Some people learn their path in life earlier than others. Summerlin resident Hayley Hollander, 31, found hers at gym class.
"I played sports as a kid, and around the age of 14 or 15, my youth adviser was a personal trainer, and one of our activities was to go to the gym," she said. "It sparked my interest to where I asked for a gym membership for Christmas. Ever since then, I was always conscious of how important sports and fitness were in my life."
Now, she's been named one of 10 finalists for World's Top Personal Trainer To Watch. She was chosen from a field of more than 1,000 entrants.
The contest was through Life Fitness, a major commercial fitness equipment manufacturing company, and FitPro North America, which provides educational resources for fitness professionals.
"The trainers we are honoring embody the same mission Life Fitness stands for —- helping people live healthier lives —- and we're pleased to help them further that mission in their individual communities," Chris Clawson, president of Life Fitness, said in a press release.
Hollander's selection came with a fitness package of exercise items such as exercise mats, a pedometer, workout bands and a waterproof camera. It brought her new clients, too.
Hollander earned her degree in physical education from the University of Nevada, Las Vegas in 2003. That same youth adviser, eighth-grade teacher Joy Burleson, then became her master teacher when she underwent student teaching.
Burleson recalled how Hollander stood out as a gifted athlete when they first met at Johnson Junior High School, 7701 Ducharme Ave., years ago.
"What I remember most was how generous she was," Burleson said. "She always made sure that kids who didn't get a chance to score got the ball so they'd have a chance to do it. She was just very generous in those terms. In basketball, she could have easily have just kept taking shot after shot, but she gave it off to those kids and made sure that they had fun while they were playing."
As she earned her degree and got more involved in fitness, Hollander sought opportunities to learn more, approaching sports companies and asking about their products. Her company, Advanced Training Performance, was established in 2006. She attended a fitness convention sponsored by the International Health, Racquet & Sportsclub Association that same year.
"As I was walking through the expo hall, I spotted this booth in the back corner, and there were these black and yellow straps hanging, and at first I was kind of skeptical, you know, wondering, as a consumer, 'What is this product going to do for me?', she said. "I was rather hesitant to go over and try it. But they 'sorcer-ed' me over, and I tried it, and after I got on it, I immediately was like, 'I need to buy one.' "
The straps are secured with a metal X-mount that requires drilling into a ceiling beam or wall studs. It also comes with an over-door mount. She opted to use the latter method but soon ran into trouble.
"I had no idea how to use it, and I almost ripped the door off my house," Hollander said.
Undaunted, she went online, researched it a bit more and learned of a full-day workshop. She signed up. There, she was so impressed, she decided to buy 15 for her company. They cost $189.95 each.
"Luckily, they gave me a 20 percent discount," she said.
She has 33 clients. They are trained either in her home or their homes, and she is affiliated with the Las Vegas Athletic Club at Flamingo Road and the Las Vegas Beltway.
A week after learning of her selection as a finalist, PTA Global, a certification company for personal trainers for which she is the training and education coordinator, sent her to Dubai, United Arab Emirates, for 10 days.
There, she helped launch its education program in the Middle East, Asia, and South Pacific regions. The trip resulted in 12 more Master Trainers from across the globe being assigned to her for continued development.
"It's ironic that my job was to go and lead and teach, but I feel like I learned more from all the students than they could ever learn from me," Hollander said. "The most valuable thing I learned was that, regardless of the information we know, if we cannot connect with people, our message is never delivered."
Contact Summerlin/Summerlin South View reporter Jan Hogan at jhogan@viewnews.com or 702-387-2949.