Pinot's Palette instructors team with Crazy Pita for Paint-Drink-Dine to benefit Las Vegas nonprofit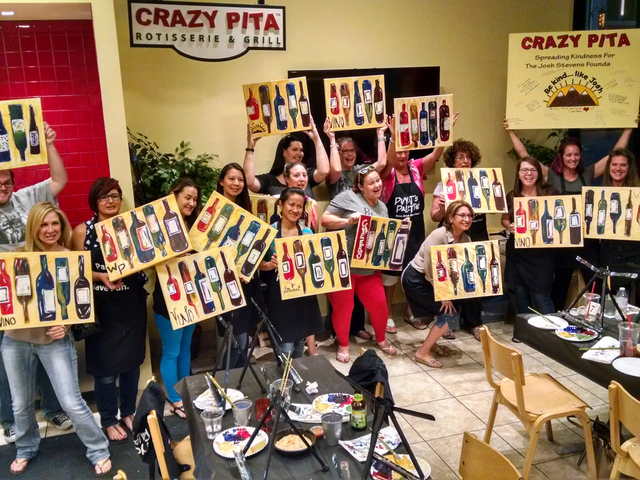 Would Bob Ross have painted even happier trees with a brush in one hand and a glass of pinot in the other? Maybe, but a local business is doing that and helping out a Las Vegas-based charity at the same time.
Paint-Drink-Dine is scheduled from 6 to 8 p.m. Aug. 11, 25 and Sept. 8 at Crazy Pita Rotisserie & Grill at Town Square Las Vegas, 6587 Las Vegas Blvd. South. Instructors from Pinot's Palette are set to show attendees how to create their own version of that session's painting, while drinking and eating food from Crazy Pita priced half off.
Additionally, $10 of the $39 class fee goes to the Josh Stevens Foundation.
"The foundation was born in the heart of a young boy who died tragically a month before his 13th birthday," said Jennifer Morss, executive director for the Henderson-based nonprofit. "His parents decided that the kindness that existed in his heart needed to be celebrated by others."
To that end, the foundation has distributed cards with a lime green bracelet attached to over 350 schools in 12 states and two schools in Africa. The bracelets are awarded to children caught engaging in genuine acts of kindness.
"It doesn't cost the schools anything," Morss said. "There are only two employees, so 91 percent of every dollar that you donate goes directly to our programming and education."
Pinot's Palette has two locations in the valley: one at Boca Park in Summerlin and the original location, which opened two years ago at The District at Green Valley Ranch. The staff at Crazy Pita suggested the art instruction company bring the summer program to the Town Square location, and Reed Alewel, who co-owns the local franchise of Pinot's Palette with his wife, suggested that the classes benefit the charity.
Everything is supplied for the participants to create their painting, including a painting apron — although just in case, it might be wise not to wear your finest outfit during the class (acrylic paint is difficult to get out of clothing once it dries) .
At the beginning of class, two canvases are on easels at the front of the room. One is blank, and the other features the painting the class is attempting to replicate. Getting all of the blank canvasses in the room to resemble the example is the job of instructors such as Mel Badger, who has been painting for 15 years and has been with Pinot's Palette for a year.
"Our goal is to get the painting to look as close to the painting on stage as possible," Badger said. "I teach a little differently because I encourage people to 'go rogue' and make it their own a bit if they want."
For example, at a recent session, the class was painting a row of wine bottles. Badger suggested that the students might change the color of the bottles in their paintings to better go with the decor of their house or to put family names or something else on the labels.
"Just because you come in here and say you can't draw a stick figure doesn't mean you're not artistic," Badger said. "For instance, if you're a mechanic or a baker, that's an artistic ability."
The Alewels got into the business when they both became disenchanted with corporate jobs. They wanted to get into a franchise business but had no idea which one until they attended a franchise expo in New York City.
"We sort of tripped over the paint-and-sip business and said, 'This looks like fun,' and now we're looking to open up a third location after just two years," Alewel said. "I never want to work for somebody else again."
The paintings are drawn from an ever-expanding library of over 1,000 field-tested and established designs. Artists are encouraged to develop new designs and receive rewards from the parent company any time one of their designs are used for a class.
Alewel said that Pinot Palette's instructors arepart time, with some of the artists working a few nights a month and others working four or five times a week.
Badger feels her mission isn't just to show people how to paint but also how to relax and escape.
"My goal is to help you forget about life for a few hours," Badger said. "If you can come in here, and for a couple hours, forget the bills that aren't paid, the neighbor's barking dog or all the negativity on social media, then I've reached my goal. Life is too short for all that negativity."
Visit pinotspalette.com or joshstevensfoundation.org.
To reach East Valley View reporter F. Andrew Taylor, email ataylor@viewnews.com or call 702-380-4532.
Paint-Drink-Dine
Address: At Crazy Pita at Town Square Las Vegas, 6587 Las Vegas Blvd. South.
When: 6 to 8 p.m. Aug. 11, 25 and Sept. 8
Information: $10 of the $39 class fee goes to the Josh Stevens Foundation. Visit pinotspalette.com or joshstevensfoundation.org.