Power of one: Nonprofit links individuals with community voluneering
December 9, 2014 - 10:00 am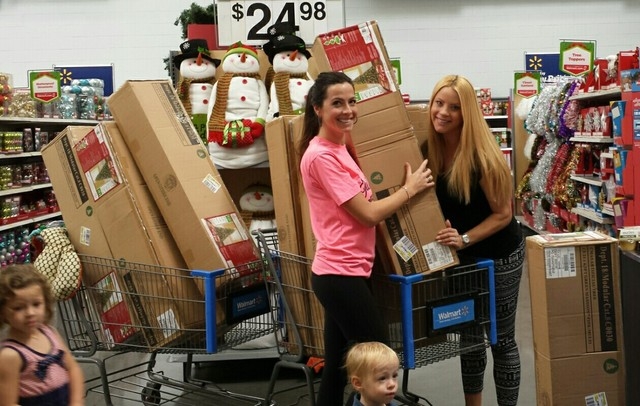 Brooke Neubauer is out to prove that just one person can make a difference. She has organized The Just One Project, which impacted 52 children and 24 parents recently.
"I wanted to show people that it takes only one person, one thing, to make a difference," she said. "I believe that good deeds are like a domino effect. I believe if I make a project easy for someone to get involved in, they will join in and feel the rewards of giving back and be hooked."
That said, she added that it takes a team of dedicated helpers to pull it together. Helping her were Taraesa Cohen, Juli Garcia and Ruth Gray, members of her church, Grace in the Desert Episcopal Church, 2004 Spring Gate Lane.
Neubauer and her husband, Nicholas, live in the Summerlin area, and he is a priest at Grace in the Desert. Besides her involvement there, she is the mother of three children: Jaxon, 11; Ava, 4; and Nevada, 21 months.
Gray said Brooke Neubauer is "always doing something. Earlier this year, it was a shoe drive so kids had shoes for school. She had a turkey drive for Thanksgiving for families and the Christmas thing."
The Just One Project brought together the children and their parents, nominated by the Department of Family Services and the Clark County School District for a Christmas party on Dec. 6 at Christ Church Episcopal, 2000 S. Maryland Parkway.
"The reason we chose to do a project like this was because, oftentimes, these families sign up for programs where they are sponsored for gifts like an angel tree drive, and yet these families don't even have a Christmas tree," Neubauer said.
At the Christmas party, referred to as Santa's Workshop, there were seven booths for the attendees, including one where children made reindeer out of candy canes, a cookie decorating booth and an ornaments booth, as well as snacks and the chance to meet Santa. The families "shopped" for a Christmas tree and selected decorations.
"My personal favorite part is that each child will get some time to spend on Santa's lap," Neubauer said.
Even that portion of Santa's Workshop had an ulterior motive. An eavesdropper took notes so that the wishes of each child can be known for its own angel tree effort, to be delivered later.
The children got to make their parents a gift, snow globes, so that they may know how it feels to give. That feeling was echoed by the volunteers.
"I like doing things during the holiday," Gray said. "I have a 3½-year-old, so I've started bringing him to events so he realizes what it means to give back and how important it is. I want to instill these values in him so he does the same with his children one day."
Companies stepped up, too. Sponsors included The Sugar Factory, Lululemon, Sage Health Services, Timely Tutor and MyVegas magazine.
"All of my extra energy and spare time — whether it's the five minutes at the car line as I wait to drop my son or daughter off at school, the free time after I put the kids to bed and any free moment in between — it's definitely a sacrifice for my family. The laundry gets piled up, dishes stay in the sink a little bit longer. But I am so grateful that my family supports me donating my time to these other families."
The Just One Project hopes to serve as a liaison for people looking for volunteer opportunities in their community. For more information, visit thejustoneproject.com.
Contact Summerlin Area View reporter Jan Hogan at jhogan@viewnews.com or 702-387-2949.