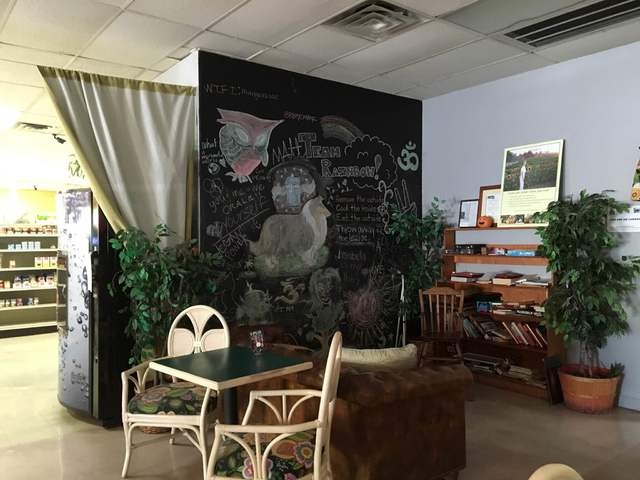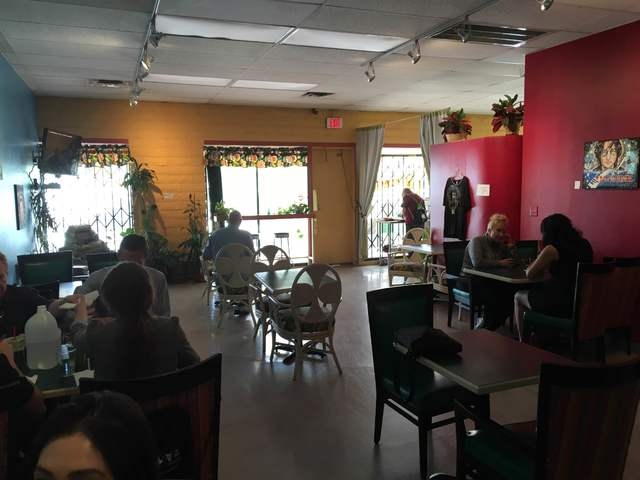 Since 1977, Rainbow's End, 1100 E. Sahara Ave., No. 120, has been serving a variety of foods to the vegetarian and vegan community in the Las Vegas Valley. While the store is known for its natural supplements, herbs, vitamins and rare vegan finds, its cafe offers a delectable assortment of raw and cooked meals, smoothies and fresh juices.
To start, appetizers include a kale and sundried tomato hummus with pita bread and vegetables for dipping ($8), chips and guacamole ($6) or salsa ($5) and cucumber chips ($8) topped with hummus, feta cheese, avocado and drizzled with olive oil (it can also be made vegan).
Veggie burgers ($8 to $9) include vegetarian and vegan patties and come with Vegenaise (a vegan mayonnaise) with the choice of a classic lettuce, tomato and onion burger, bacon cheeseburger or avocado sprouts burger.
Soups are served in two sizes — cup ($3) and bowl ($5) — and include vegetarian tomato tofu, vegan vegetable quinoa and bean chili.
Of course, no vegetarian restaurant is complete without its share of salads, which include the Rainbow Salad, Apple Walnut Salad and Greek Salad ($8).
Among the cafe's popular items is the Marinated Chick Burger ($10), which comes with a soy and vegetable-based patty marinated in roasted balsamic ginger dressing and served on a whole wheat bun with avocado cream cheese, vegan cheese, Vegenaise, onions, tomatoes, romaine lettuce and sprouts. The burger is filling and offers a chicken-like consistency that is paired nicely with all of its toppings. It almost makes one forget about the absence of french fries.
Another favorite is the Green Goddess ($8), which comes with avocado, cucumber, tomato, carrots, beets, red onion, sprouts, cheese and Vegenaise stuffed inside locally made whole wheat pita bread and served with a dressing.
The Rainbow Burrito ($8) is also a filling choice and is made with a sprouted grain tortilla, organic basmati rice and black beans with avocado, romaine, tomato, red onion, salsa and vegan sour cream.
The cafe's raw menu offers the usual suspects: raw kale salads, avocado fries, raw romaine wraps and raw tacos.
One unique item that stands out is the Raw Portobello Burger ($10) made with portobello mushrooms stuffed with avocado, jalapenos, spinach, tomato and sprouts sprinkled with sea salt and spices.
The juice bar offers a mixture of spicy and fruity mixtures, such as the Spicy Tomato Mary ($7) made with bell pepper, lemon, tomatoes, celery, cayenne and freshly ground peppercorn.
Smoothies include four fruity flavors, such as the Super Green Machine ($8), made with spinach, kale, pineapple, banana, coconut milk and hemp heart powder.
Dragon herb tonics are also available for an additional $2 for smoothies and juices.
The store's natural and holistic lifestyle creates a hippie-esque atmosphere with a sitting area that stands out for its beautiful artwork, plants and community chalkboard.
Rainbow's End is open from 10 a.m. to 6 p.m. Monday through Friday, 11 a.m. to 5 p.m. Saturday and 11:30 a.m. to 4 p.m. Sunday.
Call 702-737-1338 or visit lvrainbowsend.com.
Rainbow's End
Address: 1100 E. Sahara Ave., No. 120
Hours: From 10 a.m. to 6 p.m. Monday through Friday; 11 a.m. to 5 p.m. Saturday; and 11:30 a.m. to 4 p.m. Sunday.
Call 702-737-1338 or visit lvrainbowsend.com.