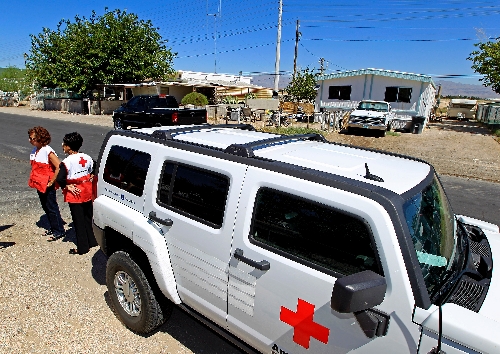 Families displaced by home fires face several challenges, from losing pets and precious belongings to finding a place to sleep overnight.
These challenges often take long-term emotional and financial tolls on victims. The American Red Cross of Southern Nevada, however, aims to help those who are displaced through its Fire Hurts, Red Cross Helps campaign.
Lloyd Ziel, public information officer, said the organization plans to raise more than $250,000 for the campaign through donations.
"Through the campaign, we want to raise money for general dispatch response, specifically for local Southern Nevada victims," Ziel said. "It pays for volunteers to be able to show up and help (victims) get on their feet."
Chapter volunteers respond to a disaster every 30 hours on average, with a house fire being the most common situation, according to the American Red Cross of Southern Nevada website.
Ziel said campaign money provides a myriad of resources for victims in these fires. Resources range from a couple of nights at a nearby hotel to food and clothing, depending on victims' needs. Volunteers are required to be on call at least twice a month with another team member in shifts from either 8:30 a.m. to 4:30 p.m. or from 4:30 p.m. to 8:30 a.m. the following day.
American Red Cross volunteer Zoe Albright said working with the Disaster Action Team as part of the Fire Hurts, Red Cross Helps campaign makes her realize the impact her assistance has on those affected.
"It's heartbreaking to see people lose everything," Albright said. "Sometimes it's a pet, sometimes a family member. You really want to do so much for them and help them at a raw time."
Albright said that victims often receive "comfort kits" through the American Red Cross. These kits usually include general hygiene items, such as toothbrushes and razors, and a change of clothes, and for children, a stuffed animal. Those affected are usually assigned a Fire Hurts, Red Cross Helps case worker who can work with individuals one-on-one and assess their situations.
Ziel said volunteers and American Red Cross officials extend services beyond what people might expect.
"This campaign is about neighbors caring for other neighbors in town," Ziel said. "If they live in an apartment, and it burned down, we try to liaison with apartment managers about moving into other apartments in the complex. We go to Pahrump or Moapa sometimes when we get a call out there. We just go out, take care of people and don't ask questions about it."
With the Disaster Action Team run by volunteers, Ziel said those willing to help are among the organization's most valuable assets.
"We used over 40,000 hours of volunteer time last year," Ziel said. "That's got a value. These people leave their loved ones and help other people at any given time. We couldn't do this without our volunteers."
Ziel said in addition to volunteer hours, donations are equally important. According to Ziel, 94 cents of every dollar goes toward victims in the year-round campaign.
Albright said that with the help of donors, volunteers can better serve those affected by home fires.
"The Fire Hurts (Red Cross Helps) campaign is really important to the community," Albright said. "If it wasn't for the public generosity, we wouldn't be able to help the people we help."
For more information on the Fire Hurts, Red Cross Helps campaign or to volunteer, call 791-3311 or visit redcrosslasvegas.org.
Contact Paradise/Downtown View reporter Lisa Carter at lcarter@viewnews.com or 383-4686.