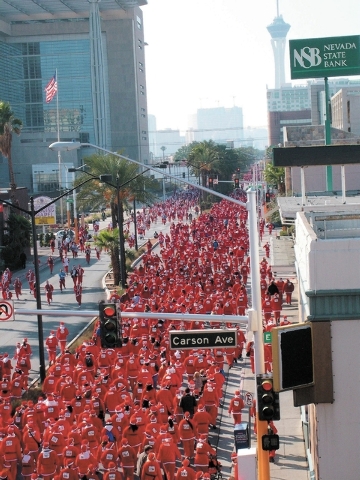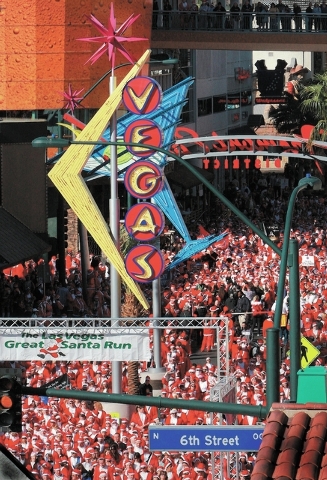 In a city full of unusual sights, few outshine that of several thousand Santas ambling down the street en masse.
The Las Vegas Great Santa Run is set to return to downtown Dec. 7, and organizers hope for a record number of attendees to the event, which benefits Opportunity Village.
"We're looking for 15,000 Santas because last year we had a little over 10,000, and we're really looking to blow that number out of the water," said Dawn Newburg, chief development and operations officer for Opportunity Village. "We're part of the World Santa Alliance. We compete with other Santa runs, including ones in Liverpool (England), Osaka (Japan) and Tasmania (Australia)."
This is the ninth year for the Las Vegas Great Santa Run. The event began when staff members from Opportunity Village befriended people involved in the Liverpool Santa Dash and recognized it as an interesting and effective way to raise money for a charity. This year, Linda Smith, associate executive director of Opportunity Village, is set to be on hand at the Dec. 1 Liverpool run to represent Opportunity Village and the Las Vegas community.
"Liverpool had the Santa Run Cup in their possession for quite a while, but we won it the last two years," Newburg said. "It's a friendly competition but one we'd like to win again. We're already ahead of last year's registrations."
Representatives from Tasmania and Liverpool are set to attend the Las Vegas run and appear on the stage in the prerace rally.
For the past three years, the run has taken place at Town Square Las Vegas, 6605 Las Vegas Blvd. South. Las Vegas Mayor Carolyn Goodman said she is excited about the return to downtown, which she had a hand in. "I asked," Goodman said. "Everyone's so energized about downtown. We're thrilled to death it's coming back here."
Registration is underway for the 5K run and a 1-mile walk. "Participants can register as individuals or on a team of five or more," Newburg said. "The price includes a Santa suit and a backpack of goodies, including tickets to the Magical Forest."
There's a price break for being on a team. The mayor is helping sponsor a team made up of city officials and employees.
"I've got my staff running all around the office looking for people to be on the team," Goodman said. "It's a fun event, but most importantly, the money goes to Opportunity Village and all the good they do and the wonderful people they serve."
Participants can register on-site starting at 8 a.m. on the day of the run. The entry fee is more on the day of the race. The run is scheduled to start at 10 a.m.
"I go every year," Goodman said. "I've got my hat and my little red jacket with faux fur around the neck. I kick off the race. Oscar used to use a blank gun, but he could never get it to work. I think we're using a horn now. You don't have to run. You can go at your own pace and enjoy the view of our beautiful downtown."
The route is set to begin at the 3rd Street Stage at the Fremont Street Experience and loop past The Smith Center for the Performing Arts, 361 Symphony Park Ave. Entertainment is planned at the staging area and along the route.
"We'll have Christmas carolers in front of The Smith Center," said Crystal Kovacs, assistant director of resource development for Opportunity Village and event manager for the Las Vegas Great Santa Run. "Shania Twain is our grand marshal this year, and we're thrilled to have her."
For more information or to register, visit opportunityvillage.org or call Kovacs at 702-880-4038.
Contact Paradise/Downtown View reporter F. Andrew Taylor at ataylor@viewnews.com or 702-380-4532.