Reporter test rides new Bike Share system through downtown Las Vegas — VIDEO
October 27, 2016 - 11:59 pm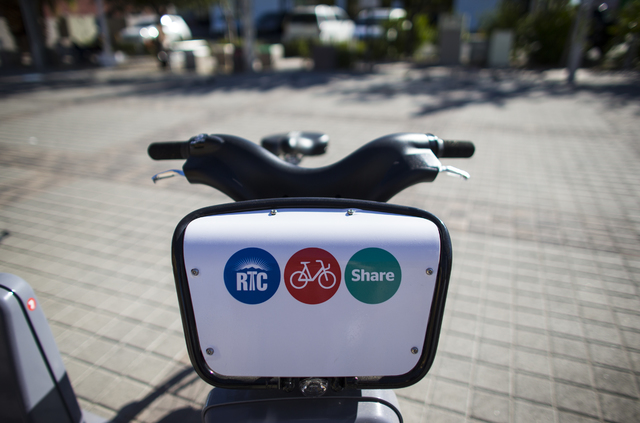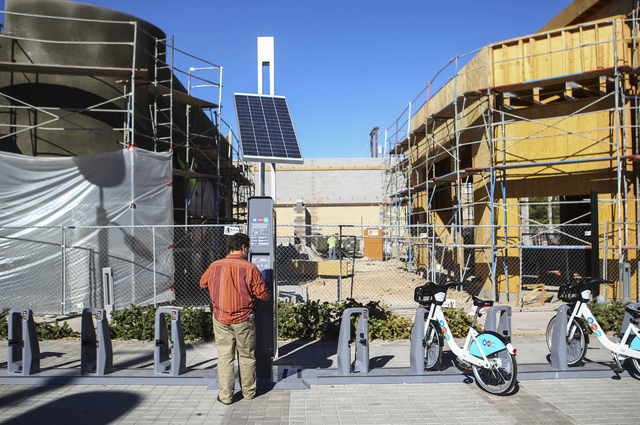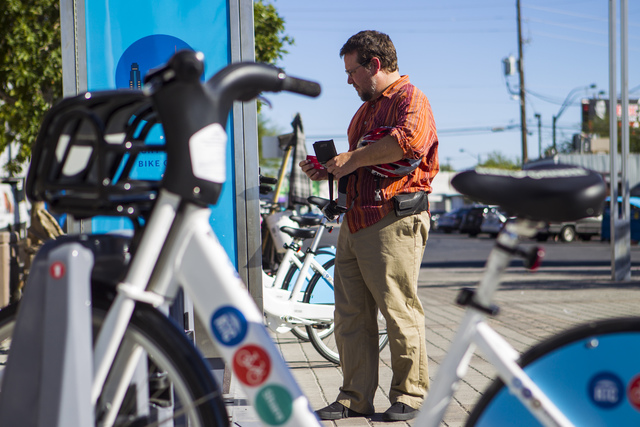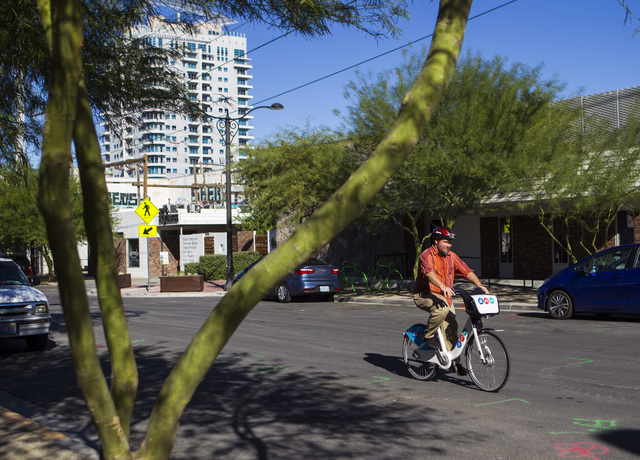 For many years when I was younger, a bicycle was my main mode of transportation around town. So, of course, I was intrigued by the Regional Transportation Commission's new Bike Share system.
When I arrived in Las Vegas 25 years ago, I learned that not only wasn't this a bicycle-friendly town, it was a downright bicycle-antagonistic town.
That was a long time ago, and the city is now crisscrossed with bicycle routes and bicycle lanes, many of them painted green so they're unmistakable. Laws have passed requiring drivers of motor vehicles to give cyclists a wide berth or the whole lane if traffic allows. Additionally, with the Bike Share system, repairs are not your problem, presuming any damage is simple wear and tear.
The system has been in place since late September and includes 21 Bike Share stations spread out over 1 1/2 miles of downtown Las Vegas, from Sahara Avenue to the Mob Museum and from the Las Vegas Premium Outlets North to Maryland Parkway. The locations were chosen in part by surveying community members.
"The system isn't designed for transportation; it's designed for transit," said Ron Floth, bicycle and community outreach coordinator for the RTC. "This isn't the bike you would take to Red Rock."
A 30-minute bicycle rental costs $4. For $8, you have 24 hours in increments of 30 minutes or less. For $20, you get a monthly membership card that not only gives you the most bang for your buck, but speeds up the rental procedure. There is no cash payment at the kiosk; everything is by credit or debit card. The process is simple. Once you've paid, you just pull the bicycle from the docking rack and get going.
The 45-pound, three-speed bicycles are sturdy and utilitarian. No one is going to win the Tour de France on one of these, but they'll get you to where you're going comfortably. A basket with a spring lid provides a place to stow gear in front of the handlebars. It isn't big enough to haul groceries, but it will hold most purses, some take-out bags and carefully selected small art works.
For my test ride, I left from The Arts Factory. The bicycles accommodate most adult riders, and the height of the seat can be adjusted in seconds. It took me a bit to figure out how to change the speed, which is done via twisting a ring around the right handlebar grip. Twisting the left handlebar results in a cute little bell sound that will completely undermine any posturing you might have been attempting on your ride.
Downtown Las Vegas has many bicycle routes and paths, but not as many as it might feel like when you're driving a motor vehicle. It's a good idea to go to rtcsnv.com and familiarize yourself with the routes. There are also several long alleys that are good for riding through with minimal chance of traffic but a maximum chance of unusual smells. An app downloadable from the RTC's website shows the 21 stations at which you can drop off the bicycles. Clicking on the station in the app will let you know how many bicycles are available and how many empty docks there are.
For those who work downtown, the bicycles could make having lunch at a distant restaurant a more reasonable option. It could also be an option for transportation to special events such as Life is Beautiful and First Friday, both of which saw heavy Bike Share use in the first weeks of the program. For tourists, the bicycles could be an easy way to explore downtown more quickly and economically. I've spoken with many tourists on Fremont Street who were daunted by the distance to spots such as the 18b Arts District or the Gold & Silver Pawn Shop. Both of those landmarks are near stations.
"I just assumed that 'Pawn Stars' was right in the middle of things," said Eric Simmons, who was visiting from Madison, Wis. "I suppose I could have walked it, but it was so much easier to just grab the bike and roll on down. I was really stoked when I saw they had this here."
A company has been subcontracted to do upkeep on the bicycles and clean up graffiti on them and their stations. It also ensures the bicycles don't end up clustered at one station.
"We have a company called Bicycle Transit, and they're our operator," Floth said. "They will position folks at events and busy stations and pull bikes out of busy stations and take those bikes and rebalance them through the system. They're doing that on a constant basis every day."
When you near the end of your 30 minutes, a text message will be sent to your phone telling you it's time to return the bicycle. It can be returned at any of the stations, so if you picked one up at the Bonneville Transit Center, you could ride it to the Bonanza Gift Shop and dock it. After buying a dice clock and a large foam cowboy hat, you could grab another bicycle for a ride to PublicUs for a bite and wrap the night up by taking another bike to the rack on 11th Street and Garces Avenue and walk across the street to the Huntridge Tavern for a nightcap or five.
On my test ride, I simply drove up to the Downtown Container Park and back. It's likely I'll pick up a 30-day pass and try another route sometime soon.
Visit rtcsnv.com.
To reach East Valley View reporter F. Andrew Taylor, email ataylor@viewnews.com or call 702-380-4532.