Resident changes his life after arrests, 50 years of alcoholism
October 30, 2013 - 9:04 am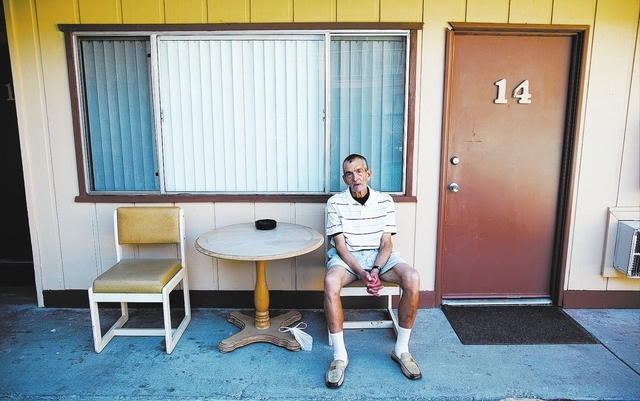 After nearly 50 years of alcoholism, which resulted in divorce, being estranged from his family, losing his real estate business and facing homelessness, Stewart Meyer plummeted from his cozy lifestyle to rock bottom.
In a stupor last year, Meyer, then age 65, lay down on a bench on Water Street outside the Rainbow Club Casino.
His 2 a.m. wakeup call from a Henderson police officer turned out to be a sobering experience.
"He was going to send me on my way until he saw all the warrants I had," Meyer said.
In the last five years, Meyer had accumulated 71 charges for misdemeanors including shoplifting, vagrancy and trespassing.
The officer arrested Meyer in July 2012, which led to him entering the Assistance and Breaking the Cycle court headed by Henderson Municipal Court Judge Douglas Hedger. The program is offered to repeat offenders who have committed misdemeanor crimes related to long-term drug and alcohol addictions.
After a grueling year of turning his life around, Meyer was willing to share his story about how the alternative sentencing program changed his life.
"I have been 15 months sober," said Meyer, who graduated from the program in July. "I wanted to find the arresting officer to thank him and invite him to my graduation, but I guess he had transferred. I don't know where I'd be without the program."
HIS BEGINNING
Meyer was born and raised in an upper-middle class family in Wisconsin.
After graduating from high school, he attended the University of Wisconsin for a semester in 1967. That's also where his love of alcohol started.
"I liked the way it made me feel," he said.
With his drinking, he couldn't keep up with his schoolwork.
"I had a very low grade point average because I was partying all the time," he said. "It was well below a 2.0. It's because of that Uncle Sam picked me up."
He was drafted and sent to Vietnam in 1967.
"If I would have had a higher average, I would have been exempt from the draft," he said.
When his two years in Vietnam were up, he was discharged in California, where he started the next phase of his life.
"I met my future wife the day after I was discharged," he said. "It was love at first sight."
They fell in love and got married.
She had a secure job with AT&T, which provided enough financial security that allowed him to get his real estate license.
"I made a great living," he said. "I was a natural salesman."
His first few years, Meyer said he sold $1 million in homes and pocketed a profit to afford a cozy lifestyle, which included traveling, shopping and his continuing drinking habit.
His business grew, and so did his addiction.
"I was a functioning alcoholic, but I didn't know it," he said. "I could do as well with vodka in my system as I could do sober."
Even with success, things couldn't stay positive forever.
His relationship with his wife started on a downward spiral.
"We would argue a lot," he said. "I couldn't see the trees through the forest. I couldn't see my addiction, and things started decaying. I was never physically abusive, but my mouth caused enough problems."
His wife left him after more than 30 years of marriage.
Meyer turned to his money and love for alcohol as forms of comfort, not knowing his alcohol addiction would outlast his spending.
"I went on traveling sprees and shopping sprees," he said. "I started liquidating my houses to support my lifestyle."
When things got worse, he turned to his ailing father, a move that put him at odds with his brother and sister.
Before his dad died, his brother and sister convinced their father to write Meyer out of the will, forcing him to take responsibility for his own actions.
"It was a cold move," he said. "I thought I'd live off my inheritance. That was probably the best thing that happened to me."
Meyer made it to Las Vegas, where his bank account ran dry.
For the first time in his life, he was sleeping on the street.
"I would sleep at a shelter occasionally," he said. "It was on the nights I could pass a breathalyzer, which wasn't often."
He made his bed behind store properties and on park benches.
Meyer reached the apex of his drinking and now relied on a quart of vodka a day. He was willing to do anything to support his insatiable appetite, including shoplifting.
"I wasn't very good at it," he said.
When he wasn't thrown out of stores for stealing, he would land in jail.
It was about 15 months ago that Meyer found two crisp $100 bills on the street. His luck had turned, he thought.
He headed to the Rainbow Club Casino where he had another night of heavy drinking.
But early that morning when the officer shook him awake is when Meyer's luck truly started to turn.
"It would blow (the arresting officer's) mind if he could see me now," he said.
ABC COURT
Meyer can hardly recognize himself in his mug shot. The bearded man with glazed-over eyes looks different than the clean-cut man who has replaced him today.
But it is the change inside that everyone in the court is proud of.
"He came into the court totally broken," Hedger said. "He also came in ready to change and hasn't had any setbacks since."
ABC Court started in 2008 after seeing the number of habitual offenders who cycle through the criminal justice system.
"We were seeing a lot of the crimes were related to drugs or alcoholism," Hedger said, "so we wanted to address the underlying issues."
The program not only changes lives and reduces recidivism rates, it makes fiscal sense, Hedger said.
It costs about $100 a day to house a person in jail.
"As a society, we know it's a necessary cost as taxpayers to spend this money to keep violent offenders in jail," Hedger said. "When the underlying problem is alcohol or drugs and that is at the root of criminal behavior, it doesn't make fiscal sense to keep them in jail."
The program costs about $7 per day to operate.
Each prospect who comes before Hedger is evaluated. If the judge recommends him for the program, the person is sent through a program that includes detox, sober living, job training, access to GED certification if needed and a chance for change.
"The program is a minimum of one year and done in four cycles," he said.
The court has had 25 graduates, one of the more recent being Meyer, who is the program's oldest person.
"The first week of it was hell," he said. "I was detoxing in jail. I was shaking so bad I couldn't eat for three days. I couldn't hold a fork or knife."
The first part of Meyer's cycle was at the Salvation Army's Adult Rehabilitation program, where he worked and lived at the facility for nearly five months.
"It was a good first step for me," he said. "I needed structure."
He worked in the warehouse in the mornings and went to sobriety meetings in the afternoon. He met with Hedger once a week and continued with random drug tests.
Meyer admits that he didn't know if he would make it or even wanted to stay sober at first. But he stuck with it.
"Once I started to train my mind on sobriety, things began to fall into place," he said.
Meyer was also able to begin collecting Social Security and veterans benefits from his time in the Army.
"I had never thought about it before," he said.
After his time at the Salvation Army was over, he transitioned to Freedom House Sober Living.
The nonprofit has been in existence for three years and helps people transition to a drug- and alcohol-free life. It also is open for those who are on parole or probation.
People are expected to follow strict guidelines that include not only sober living but also other disciplines such as making their bed each morning, maintaining hygiene practices and full participation in one 12-step meeting per day.
"Stewart made for a great client," said Reade Hulburd, the director of Freedom House. "He came in, went to his (sobriety) meetings and I never had any problems."
Hulburd added that Meyer repaid the contribution spent on him.
"That is a rarity," he said.
LIFE AFTER GRADUATION
On July 24, Meyer was one of two people to graduate from ABC Court.
"It was a very proud moment for me," he said.
Meyer said he feels THAT things continue to improve for him. He has his own apartment in Paradise. He has repaid debts to those who have helped him along the way, such as his caseworker who gave him money to get a driver's license.
Since Freedom House is down the street from his apartment, he is able to walk there to attend daily support meetings and still catch up with the staff.
"I have to go to meetings every day," he said. "I'm just getting my feet wet and don't want to forget where I've come from. I've come from the depths of despair to where I am now."
Even though he has his pension, he hopes to get a part-time job to keep busy.
He hasn't been in touch with his family for years, but he hopes to somehow reconnect with them and repair the damage he has done.
"I never thought I could become sober and turn my life around," he said. "Now I'm just starting my climb back up. And it doesn't matter if I get back to the top."
Contact Henderson/Anthem View reporter Michael Lyle at mlyle@viewnews.com or 702-387-5201.