Resident's ministry cares for needy near downtown neighborhood
December 20, 2011 - 12:19 am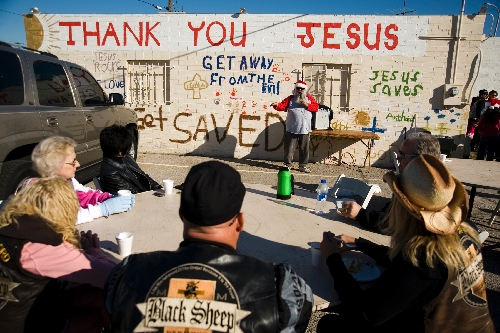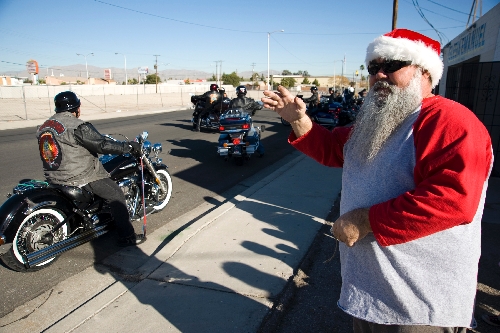 Starting something small can often make a big difference. In Brady Bowles' case, this idea holds true.
Bowles is the founder of His Hands Ministry, which he runs out of an old church building on Roosevelt Street in North Las Vegas, just north of downtown Las Vegas. Bowles spends most of his time and little income hosting Bible studies and community outreach events for people of all ages. Bowles is known in his neighborhood, and he hopes to stay that way.
"I don't need to save Las Vegas or the world," Bowles said. "I just need to concentrate on one neighborhood."
Bowles ministers and provides food, clothing and other necessities to the residents in the neighborhood between Lake Mead Boulevard and Owens Avenue and Stocker Street and Las Vegas Boulevard. Bowles said this area receives little assistance from nearby churches and felt he needed to fill the void.
"I believe the need is your call," Bowles said. "Whatever the need is, meet it. That's what I'm trying to do."
The Sunrise resident started his ministry 10 years ago when he recognized that neighborhood residents were in dire need of basic items and guidance.
"I went over (to the area) with open eyes and an open heart," Bowles said. "I committed on the first day to either go at this full force or not at all. I saw the need, and it was like a fire in me. I knew I had to do something."
Bowles acted on this feeling, holding informal religious services in nearby parks and giving necessities to families that attended. Now, he hosts recurring events each week, such as an adult Bible study beginning at 6 p.m. Tuesdays and a church service for children at 11 a.m. Sundays . Bowles has a teen night beginning at 6 p.m. on the second Friday of each month, and a couple of weeks ago, he began hosting a Spanish-speaking Bible study Wednesday evenings.
Bowles' largest event is a community outreach, which he holds at 9:30 a.m. every third Saturday of the month. He invites families to brunch in a park, usually provided by members of various biker organizations, and distributes clothing to those in need. However, he tries to make the event exclusive to those in the neighborhood.
"The outreach is for the community we deal with on a weekly basis," Bowles said. "I don't really let people from other parts of town come because I think it's like stealing from the community here. It's not right to take from people helping the ministry."
"Brother Brady," as most people call him, transports residents to Sunday services using a school bus and two 16-passenger vans he purchased from a River of Life Church pastor. He hopes to utilize the vehicles in delivering Christmas gifts to the children of families who regularly attend services.
"All I ask is for one family member to participate and we'll come to their house," Bowles said. "It just takes one child."
Although Bowles works with residents of all ages, he focuses primarily on children and teenagers. He often opens the old church building to youths after school, using it as a recreational center with small pool tables, foosball tables and a basketball goal outside.
Bowles also tries to bring in Christian hip-hop artists for concerts during the year and take youths on trips to a bowling alley or movie theater. He said having these opportunities for children to hang out after school and providing a 30-minute lesson during the weekly events help keep them out of trouble.
Many residents have been involved with His Hands Ministry since its beginning stages, either as children or by volunteering with the youths. Maser Menchevulavan has worked with children since 2002, which led to her involvement in other parts of the ministry.
"I kept coming on Sunday to help with the children … but now I try to be involved with extending possibilities in the ministry," Menchevulavan said. "I'm really interested in (comprehending) what is being spoken and taught."
Bowles said people such as Menchevulavan who have been with him since the beginning have been instrumental in keeping the ministry going. He recruits some of the teenagers to work with the younger children and receives some financial assistance from family members.
Aside from this assistance, he said, keeping the ministry running this year has been tougher than in the past. Bowles' as-needed electrician work barely covers his cost of living, items that he provides for the ministry and gas for the vehicles. Regardless, Bowles does what's needed to maintain His Hands Ministry's services and knows he is helping residents in need.
"I've had a lot of people over the years say, 'We don't know what we'd do without you here,' " Bowles said. "Starting this ministry is the hardest thing I ever did, but it's the best thing I ever did."
Contact Paradise/Downtown View reporter Lisa Carter at lcarter@viewnews.com or 383-0492.