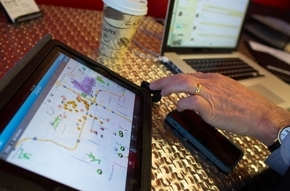 Throughout the valley, cities are using social media and other high-tech tools to help keep residents informed and the community safe. Moreover, social media gives locals a chance to interact with law enforcement and send anonymous tips, proponents say.
ALERTID
Nevada-based AlertID sends emails, text messages or push notifications to its members about crime, terrorism, sex offenders, natural disasters, missing children and severe weather, among other things, that can threaten the safety of families and neighborhoods.
The company has established partnerships with the Las Vegas, Henderson and North Las Vegas police departments and provides a free mobile application and website to help connect law enforcement personnel and residents.
"Having an involved and aware community will make any city safer, and this has had an impact on the city," said Kathleen Richards, Henderson public information officer. "The application has a plethora of things that people want to know about."
Residents can sign up to receive alerts of any suspicious or criminal activity.
However, Richards said people should call 911 for emergencies or 311 for nonemergencies if they want to report suspicious activity.
The application also features an interactive map that displays potential threats in the surrounding neighborhood, schools and the community at large. An electronic neighborhood watch helps users warn neighbors.
To sign up for the free service, users input an address and select the information they want to receive at alertid.com.
NEXTDOOR
Since launching the application nationwide in 2011, Nextdoor has become a useful tool for neighborhoods to improve communication.
By creating a user name on nextdoor.com, residents can create private neighborhood websites to share safety tips, such as recent home burglaries, stolen items and animal cruelty.
"In the beginning, I noticed that criminal activity was being posted on the site by victims of crime in the neighborhood," said Janis Cramer, who uses the app. "That information was very helpful and made everyone more alert about their surroundings and home security."
When people sign up, they have the option to send a postcard invite to surrounding neighbors asking them to download the application.
In addition, local officials can post information regarding important news, services, programs, free events and emergency notifications to Nextdoor neighborhoods within the city.
Neighborhoods establish and self-manage their Nextdoor websites. All members must verify that they live within the neighborhood before joining a Nextdoor website by providing an address through their mobile phone or land line, credit or debit card, Social Security number or postcard.
Information shared on Nextdoor is password-protected and cannot be accessed by Google or other search engines, according to the website.
TEXTING CRIME TIPS
As part of the See Something, Say Something program, which relies on residents to be the eyes and ears of the community to keep everyone safe, the Metropolitan Police Department has an easy way for community members to report suspicious activity.
Southern Nevadans can report crime tips to Metro by texting information to lvmpd80477.
Capt. Chris Jones of the Southern Nevada Counter-Terrorism Center said in a press release that the new text number is a precursor to an app under development by Metro that will give residents even more power to help fight crime. The app will allow Metro to receive photos and videos from residents.
Community members must still dial 911 for an emergency.
OTHER SOCIAL MEDIA WEBSITES
Residents can also stay in touch with Metro through Facebook at facebook.com/lasvegasmetro and Twitter @lvmpd, which have proved helpful in disseminating information to the public, police said.
"We can reach more than 100,000 people through our social media pages," said Steve Crupi, public information officer for Metro. "Almost everyone is on Facebook or Twitter, and we can use it to post breaking news updates, safety tips or other (nonemergency) messages."
Crupi said the department uses social media to post photos of events, news updates, breaking news, announcements and to ask the public for help in locating an individual.
Metro ranks in the top 10 for the most social media-friendly police departments in the nation's largest cities, according to the International Association of Chiefs of Police's Center for Social Media website, www.iacpsocialmedia.org.
In addition, various Metro bureaus and area commands operate specialized pages such as a one for recruiting officers, 911 dispatch and the Northwest Area Command.
Contact North View reporter Sandy Lopez at slopez@viewnews.com or 702-383-4686. Find her on Twitter @JournalismSandy.