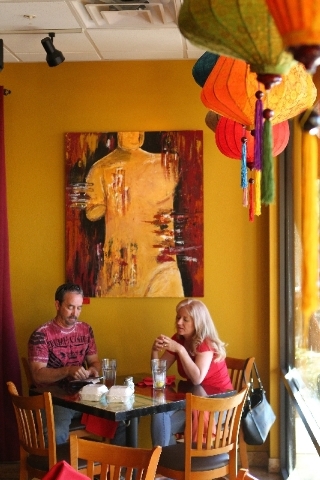 The Pasta Shop Ristorante & Art Gallery, 2525 W. Horizon Ridge Parkway, was one of 51 restaurants that participated in the inaugural Restaurant Week in 2007.
For the seventh annual Restaurant Week scheduled from Aug. 23-30, the Pasta Shop is set to be one of 99 restaurants.
"Each year, I've seen the list of restaurants participating grow and grow," said Pasta Shop owner David Alenik. "At first, it was mostly the big-name Strip restaurants participating. As the years have gone by, I've noticed the local restaurants have jumped on the bandwagon. It's refreshing to see it's a communitywide effort besides the Strip, which gets all the publicity."
Organized by Three Square food bank, locals and tourists get a chance to taste the best Las Vegas has to offer for a good cause.
Participating restaurants will craft a special menu with prices between $20 and $50, with a portion of the proceeds benefiting Three Square.
A dollar in proceeds provides three meals, according to Three Square director of marketing and communications Paula Pettit.
"Being in the food business, it's always nice to give back to people who don't have enough to eat," Alenik said. "We're so fortunate being in the food business. We eat well and serve people all day and night who can afford a sit-down dinner. But we also have to be aware of those who are less fortunate."
Alenik's restaurant, specializing in fresh gourmet pasta, is one of many neighborhood restaurants participating.
While restaurants along the Strip grab much of the attention, neighborhood restaurants aren't forgotten.
"It has its challenges, but there's definitely a clientele out there that doesn't want to battle the traffic and tourists on the Strip," said Wes Kendrick, executive chef at the American cafe Table 34, 600 E. Warm Springs Road, Suite 180. "We capitalize on that with comparable food and a lower price point."
The success of Restaurant Week compelled Three Square to hold it twice a year, with events taking place in spring and fall the past two years.
This time Restaurant Week is expanding an extra day. The event will launch on a Friday instead of Monday, which was the norm in the past.
"We found launching it on Friday really builds the momentum, and a lot of the folks who love to dine out will start doing so that weekend," Pettit said.
A year ago, Restaurant Week raised more than $73,000 for Three Square, providing more than 219,000 meals.
"Las Vegas can have a reputation of being a cold and transient town; I don't agree with that," Alenik said. "This is a warm, giving, caring community. I'm in the middle of it. I see it with my two eyes. And that's why they're so successful with Three Square."
For more information and a list of participating restaurants and menus, visit helpoutdineoutlv.org.
Contact reporter Eric Uribe at euribe@reviewjournal.com or 702-383-4642.