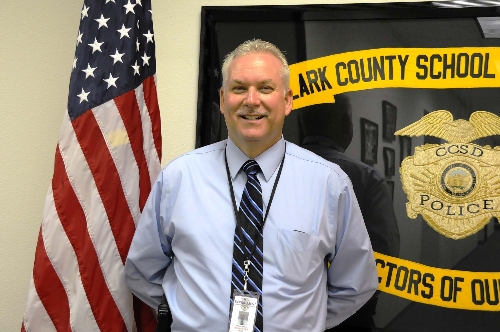 The Clark County School District's new chief of police says he wants to rebuild relationships with the community that have suffered in recent years.
James Ketsaa was named to the position May 1 after spending much of the past year as acting chief. Ketsaa replaced Phil Arroyo, who resigned in January because of allegations that the department covered up an underage drinking incident in 2009 that led to a traffic fatality.
Ketsaa said he wants to regain the public's trust.
"We need to connect back to the community and the kids," Ketsaa said. "… We want media transparency. We don't have anything to hide. We don't do anything underhanded. There are really no secrets."
Ketsaa grew up in New York, moved to Las Vegas in the 1970s and was part of Eldorado High School's first graduating class. He moved back to New York and worked as a firefighter and a police officer for about 10 years before returning to Las Vegas and joining the Clark County School District Police Department in 1991.
Ketsaa said the district police were a part of the maintenance department since the 1960s and "basically security guards."
After the first campus shooting that resulted in a student's death in 1990 at Eldorado, "there was a push to create an actual police department," Ketsaa said. "When I started here, there were 20 officers. Now we're at 163."
Ketsaa started as a campus officer, visiting with kids at elementary, middle and high schools. He said patrols at elementary and middle schools have dropped significantly because of cuts in funding, but he wants officers to take time to visit those schools.
"We used to have one officer at every middle school," Ketsaa said. "Officers can be positive role models. If you have a good relationship with your kids, they'll tell you anything and everything, and we've lost that.
"I'm mandating they build the bridge back up at the middle schools and elementary schools. I truly believe we underserved them over the years."
The district's director of threat evaluation and crisis management, Bill Miller, has worked with Ketsaa through the years and believes he will fulfill his promise to the community.
"He understands what school policing is all about," Miller said. "In school police, it's a neighborhood model. It's an emphasis on building relationships, making sure you interact with the kids as much as you can. As chief of police, that's what's going to make him such a valuable piece."
Ketsaa has a son who attends Clark High School, and after years of drop-offs and pick ups, he said he understands the traffic problems that plague many schools.
"For that 30 to 40 minutes in the morning and afternoon, it's hectic," Ketsaa said. "It's sad because it's the parents. It's us. We need to get everybody to relax and slow down and pay attention."
Ketsaa hopes that outreach programs and more education of traffic safety at schools will improve things.
The department hosted community forums last school year on the topics of drugs and alcohol, gangs and more. Ketsaa said the response was positive, and he plans to continue those programs during the next school year.
The department hosted a safety fair at Decker Elementary School this month and plans a back-to-school safety fair Sept. 7 at Monaco Middle School, 1870 N. Lamont St.
For more information, visit ccsd.net/departments/police-services or call 799-7830.
Contact View education reporter Jeff Mosier at jmosier@viewnews.com or 224-5524.