School's showgirl event helps keep entertainment icon alive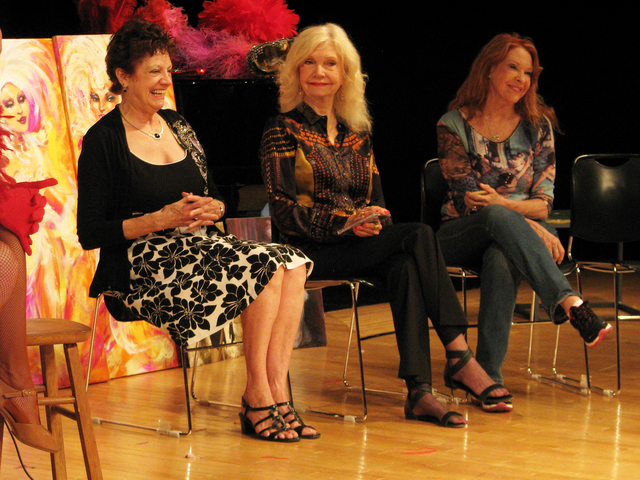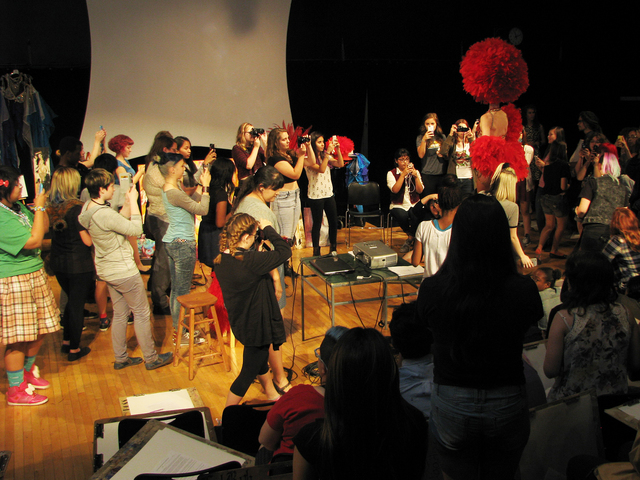 Las Vegas is a city known for, among other things, its larger-than-life characters and over-the-top productions.
Showgirls, once a staple of entertainment in many places, are a living icon of that spirit, and the eighth annual Showgirl Art Presentation on May 1 at Las Vegas Academy of the Arts, 315 S. Seventh St., celebrated them and what they mean to the city.
This fall, the Las Vegas Showgirl Art and Costume exhibition, a touring art show with creations likely inspired by the groundwork laid that day, is set to come to several venues across the state, featuring pieces by Las Vegas Academy students and other local artists.
"I was inspired when I organized a reunion a month before the Stardust was imploded," said the Showgirl Art Presentation's founder, former showgirl Lou Anne Chessik. "It brought together 650 dancers, singers and stagehands from 'Lido (de Paris),' which was there 33 years, and 'Enter the Night,' which was there eight years. I realized that we were becoming history. All these shows were disappearing, and the Las Vegas showgirl is still the icon of the city."
From the 1950s forward, most of the city's casinos featured entertainment with showgirls, but as the city continued to be reinvented, the staple performer began to fade away.
Chessik could think of only two shows in town with showgirls. "Jubilee!" at Bally's, almost a time capsule of the classic Las Vegas showgirl production, and "Vegas! The Show" inside the V Theater at the Miracle Mile Shops, a smaller production that relies on classic showgirls to evoke iconic Las Vegas entertainment.
Cathy Colbert retired from "Jubilee!" in March after 7 1/2 years there and several years with the Nevada Ballet Theatre.
"It was a difficult decision to make," Colbert said. "I got out while my body was still in good shape, but I miss it."
The guidelines for being a showgirl are stringent. Different shows looked for different body types, but all of them hired only athletic, tall dancers. The short dancers were 5-foot-8 or 5-foot-9; the tall ones were 5-foot-10 to 6-foot-3. They had to be able to dance and not appear overly muscular, despite the fact that their job often required wearing a 30-pound headdress, 60 pounds of feathers and 40 pounds of beads.
Colbert has been the model at the Showgirl Art Presentation many times and returned this year. The presentation on May 1 was the culmination of lessons and lectures taught the previous two days by art instructor Kelly Mabel to her students at Las Vegas Academy.
"On (April 29), I talked to the kids about real versus reel, the perception of showgirls as portrayed in the media compared to their actual experience," Mabel said. "Showgirls worked hard at odd hours but found it very rewarding work. It provided financial support but also mental and emotional support. They loved going to work every day."
Mabel mixed in discussions of female performers over the last century and how the role has changed over the years. On April 30, she discussed the showgirl in art, with special attention to the work of Henri de Toulouse-Lautrec and other luminaries who spent time at the Moulin Rouge in Paris.
"In Paris, showgirls were revered," Mabel said. "They were seen as icons, and multiple artists portrayed them that way. Others chose to focus on them as people, painting them backstage as individuals."
On May 1, the students gathered in the Black Box theater on the school's campus while Colbert posed in two showgirl outfits while other retired showgirls regaled them with tales of their past. A video showing archival footage of Las Vegas shows was screened, too.
"The session is required for sophomores and juniors and optional for seniors," Mabel said. "They're required to shoot photo references and do figure drawing. They need to create a piece of art celebrating the showgirl and turn it in for a grade by June 2. If they want to work on it more and refine it before submitting it to the competition, they have until July."
The Las Vegas Showgirl Art and Costume exhibition is open to students and artists. An artist may submit a digital image of one original work, a traditional drawing or a painting, no larger than 24-by-36 inches, to Chessik at louanne@showgirlLegacy.com, or arrangements can be made to submit work in person by calling 702-630-5399. The artwork must be ready to hang, and the deadline for submissions is July 24.
To reach East Valley View reporter F. Andrew Taylor, email ataylor@viewnews.com or call 702-380-4532.