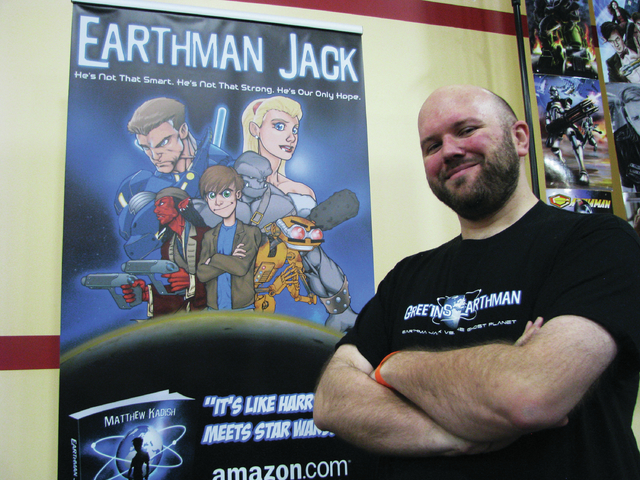 Matthew Kadish released "Earthman Jack vs. The Ghost Planet," his first young adult book, as an e-book on Amazon.com on Fourth of July weekend last year. He didn't think about it during his three-day vacation, but when he got back, he was pleasantly surprised to find he had sold more than 600 copies.
He decided to stick with his plan of continuing the series.
"I just posted it and told some friends and family it was out there," he said. "I couldn't believe it when I saw the sales."
Kadish describes the book as "kind of like Harry Potter meets Star Wars," and he is part of a growing segment of authors who are eschewing traditional publishing in favor of self-publishing and e-books.
"Those kind of sales on a first week for a new author are very unusual," said Jonathan Sturak, who began publishing his books online in 2009 and has nine under his belt. "I imagine there's much less than 1 percent that start out with sales like that."
Sturak's latest book, "Geek vs Vegas" is available free as an e-book at barnsandnoble.com and for $1 at Amazon.com.
"Some people are leery about giving a book away for free, but one of the hardest things to do as a new author is get people to discover you," Sturak said. "One of the best ways to promote yourself is to keep writing books. I'll have the book for free for a month or two and then bring it back to the regular price, $2.99. It will get some people to read it, and hopefully, they'll recommend it. Maybe they'll look to see what else I've written and buy that."
Kadish moved to Los Angeles and attended film school, intending to be a filmmaker and screenwriter. While working on that, he started an Internet marketing company, which he ran for a decade.
"It went under during the recession, around 2010, 2011," Kadish said. "It was about then I moved to Las Vegas, bought a house and started working on some books I'd been thinking about for a while. Films require a lot of other people and money. Books you can write from home, and you don't need anybody else to do it."
Kadish pondered trying to find a traditional publisher, but after some research, he decided to go the self-publishing route.
"Every writer has this dream of writing a book and making 'Twilight' money," Kadish said. "Unless you're already a big name, authors end up doing most of their promotion themselves and then have to split that with the publisher."
From June 20-22, he brought about 1,000 books to sell at a table at the Amazing Las Vegas Comic Con at the South Point, 9777 Las Vegas Blvd. South. He sold out.
"It was a great convention for me," he said, "not just selling the books but meeting the readers and seeing people getting excited about the series."
Kadish plans for "Earthman Jack vs. The Ghost Planet" to be the first of a series of seven books, with a new title published annually. He plans to release "Earthman Jack vs. The Secret Army" in November 2015.
Kadish is scheduled to have a booth at the Star Trek Convention, set for July 31-Aug. 3 at the Rio, 3700 W. Flamingo Road.
Contact East Valley View reporter F. Andrew Taylor at ataylor@viewnews.com or 702-380-4532.