Seniors often pay hefty price for relying on payday loans
September 1, 2016 - 5:25 am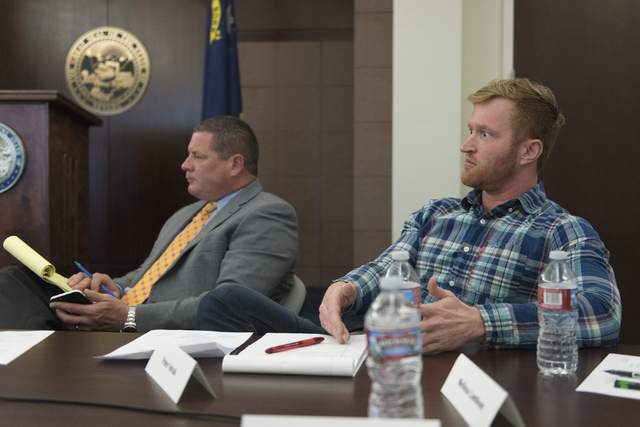 (This is the third story in a series about the payday loan industry in Las Vegas.)
Don Miller has heard the same story many times: Seniors on a fixed income have an emergency come up — be it a medical bill or car problem — or when money runs tight and the fear of not having enough food takes over, they turn to their last resort, a payday loan.
"For the most part, our seniors get about $700, maybe $900, of income per month to pay rent and utilities," said Miller, the seniors program manager for HopeLink, 178 Westminster Way, which provides assistance and resources to low-income people and families in Henderson and parts of Las Vegas.
"So when a crisis happens, they will take out $150 to buy food," he said. "They don't realize they might be paying on that for the next year or two."
Miller joins a list of critics of payday lenders who argue that companies are targeting vulnerable communities, such as seniors. AJ Buhay, a field director for Progressive Leadership Alliance of Nevada, said it's also true for communities of color.
"They target low-income families and communities," he said. "You see more payday lenders set up in those communities. As a result, they are siphoning money out of communities of color."
According to The Pew Charitable Trusts, roughly 12 million Americans use payday loans each year. Each borrower takes out an average of eight loans of $375 per year and spends about $520 on interest.
"We are seeing interest rates as high as 400 percent," Buhay added. "When you're unable to pay off the first loan, you take out another one. It puts you in a debt cycle."
People without a college degree and those with incomes below $40,000 have a higher likelihood of taking out payday loans, according to The Pew Charitable Trusts, which also said blacks are more likely to take out loans than other races.
The Pew Charitable Trusts also looked at average ages for lenders. The highest rate of users is between 25 and 29. The percentage gets smaller over time. About 4 percent of people between 60 and 64 and 3 percent of people between 65 and 69 use payday lenders, according to the organization.
However, Miller has still seen a lot of the population he works with go into debt.
"I see about 80 to 100 seniors per week," he said. "At least half have taken out a payday loan."
Miller said HopeLink has helped seniors with food assistance, including delivering fresh fruit throughout the month. Even with assistance, he said emergencies happen and seniors don't always know where to turn. When they meet with a payday lender, they don't always realize the high interest rates that come attached to a loan.
Miller added that many end up defaulting on loans, which sometimes leads to harassing phone calls.
"These people are 80 years old, and they get someone calling them, threatening to send lawyers to their door," he said.
While HopeLink can't get them out of debt to a lender, the organization might try to find other ways to assist a senior.
"We try to catch (seniors) before they turn to payday lenders," Miller said.
But he added that many feel they have no other choice, so they take out the loan anyway.
Organizations such as PLAN are collecting stories from people who have had bad experiences with payday loans. Visit the Center for Responsible Lending at responsiblelending.org to share stories. The organizations will be sharing stories with the Consumer Financial Protection Bureau in order to encourage the organization to make changes to the payday loan industry.
To reach Henderson View reporter Michael Lyle, email mlyle@viewnews.com or call 702-387-5201. Find him on Twitter: @mjlyle.
View payday loan series
xxxx