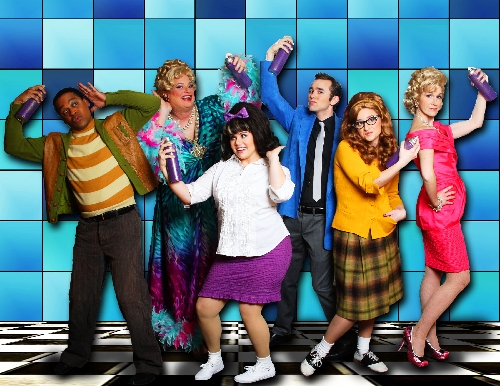 "Hairspray" enjoyed a six-year run on Broadway beginning in 2002 and was nominated for 13 Tony Awards, winning eight. Film versions were released in 1988 and 2007. Now, "Hairspray" comes to the Summerlin stage.
Signature Productions plans to perform the musical at 7:30 p.m. Mondays, Thursdays, Fridays and Saturdays through April 28, with 2 p.m. matinees planned for April 14 and 21, at the Summerlin Library and Performing Arts Center, 1771 Inner Circle Drive.
Karl Larsen, president of Signature Productions, said of the musical, "It's new for us … it's edgy and a fun show, plus there's a lot of fun music."
It's directed by Steve Huntsman, with musical direction by Shannon Winkel and choreography by Rommel Pacson.
"Hairspray," set in 1962, tackles teenage popularity and racial discrimination. Pleasantly plump Tracy Turnblad hurries home from school each day, desperate not to miss her favorite dance program, "The Corny Collins Show."
When there's an opening for a new dancer, she finagles her way onto the show, angering the evil dance queen Amber Von Tussle and her mother, Velma, in the process. Tracy sets out also to change a policy that allows black dancers on the show only once a month.
Jessica Crilley plays Tracy in Signature Productions' version. She has been a fan of the show since seeing a touring version in 2006, when she was a senior at Centennial High School. While pursuing her acting career in the years since, she was up for the part in two other companies' productions but didn't make the final cut.
With the Signature Productions part, she has been learning the dances from that era, such as the Pony, the Monkey, the Twist and the Stricken Chicken.
"This is one of the most dance-heavy shows I've ever done," Crilley said. "I don't know how I'm going to make it through the finale. It is so intense. The dance is really quick, and the song is really quick, and we're all singing and dancing at the same time … I think our energy and excitement is what gets us through it."
Also in the show is David McFarland, who, as a child actor in Los Angeles, worked with the likes of Fred Astaire and Gene Kelly. He takes on the role of Tracy's mother, Edna, playing an oversized woman. It requires an hour in the makeup room, stuffing himself into a fat suit, donning tights to hide the hair on his legs and forcing his feet into high heels.
The latter proved hard to find, as most women's shoes are stocked only up to size 10. He needed a size 11.
"I have a whole new respect for women in heels," he said. "Half the show, I'm in heels dancing and singing up a storm, and my feet are killing me, and my back aches all the time."
The show also features Jordan Fenn as Link Larkin, Carly Presher as Penny Pingleton, Kayla Hamblen as Amber Von Tussle, Kelly Ward as Velma Von Tussle, Steve Matthews as Wilbur Turnblad, Nakaze Harris as Motormouth Maybelle, Keith Dotson as Seaweed J. Stubbs and Paul May as Corny Collins.
Larsen said the level of professionalism of Signature Productions was commendable. He told of the company producing "West Side Story" years ago and learning that a touring version would bring it to the Aladdin in overlapping dates.
After numerous phone calls to assure the traveling company that tourists would be unlikely to trek to the suburbs and affect their sales, the director and producer took in the Signature Productions show.
"A couple weeks after we opened," said Larsen, "I got another call from the publisher, who said, 'The producer and director called me' and I said, 'What are they mad about now?' She said, 'Now they're mad because your show is going to be better than theirs.' "
Tickets for "Hairspray" are $20 for adults for Monday and Thursday performances and $25 for Friday and Saturday performances. Tickets for children 3 to 12 are $15 for all performances. Seniors 60 or older and students 13 or older pay $23 for Friday and Saturday performances. For tickets, visit signatureproductions.net or call 878-7529 from 1 to 5 p.m. Monday through Friday.
Contact Summerlin/Summerlin South View reporter Jan Hogan at jhogan@viewnews.com or 387-2949.
'Hairspray'
Signature Productions plans to perform the musical "Hairspray" at 7:30 p.m. Mondays, Thursdays, Fridays and Saturdays through April 28 and at 2 p.m. April 14 and 21.
For tickets, visit signatureproductions.net or call 878-7529 from 1 to 5 p.m. Monday through Friday.