Singer Frankie Moreno combines Rat Pack-era style, technology for new Las Vegas Strip show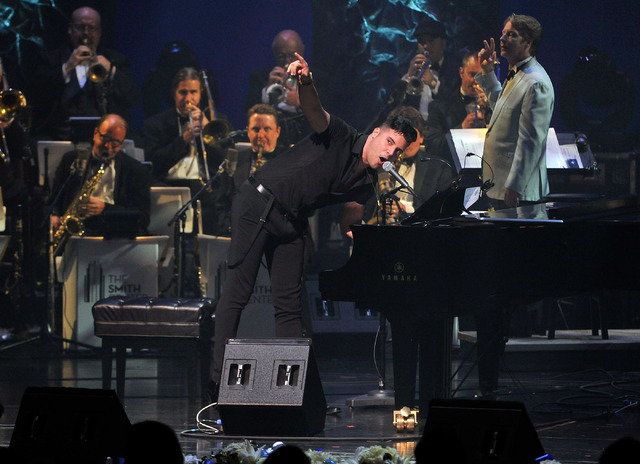 What would it look like if Frank Sinatra was at the top of his game today and performing in Las Vegas? Frankie Moreno thinks it would look a lot like his new show "Frankie Moreno — Under the Influence," which began April 20 at Planet Hollywood Resort.
"What we call 'vintage' now and what we think is cool was brand new at the time," Moreno said. "The way Sinatra dressed, the songs he sang; that's what was going on at the time. Rather than cloning what he did and becoming just a tribute act, what we want to do is re-create what Frank Sinatra would be doing in a showroom right now with the new technology, sound and music that's out."
What Moreno, his band and producers are trying to create is the new cool in Las Vegas: a show that mixes vintage sensibilities with the latest tools — something that calls back to the classic Rat Pack era and honors Moreno's influences without looking like colorized newsreel footage.
The show features Moreno's original songs mixed with new arrangements of the songs made popular by the artists who influenced him — performers such as Sinatra, Dean Martin, Jerry Lee Lewis, Bobby Darin and Elvis Presley.
"What would Elvis have done if he was performing today?" Moreno asked rhetorically. "He wouldn't be wearing a jumpsuit. That's not cool anymore. If they gave him pyro and laser lights, he still would have been Elvis. He still would have worked the crowd and made that personal connection."
Moreno feels that, more than anything, it's the strong connection between the performer and the artist that made performers of classic-era Las Vegas great. While he's a fan of the huge production shows with acrobats, artistic clowns and spectacular stages, he believes audiences are clamoring for the one-on-one connection that those shows don't focus on.
"They're fantastic shows, but they don't have a guy with a microphone in his hand talking to a guy in the front row who's ordering a drink," Moreno said. "What I'm trying to do is make each show something that everyone in the audience can walk away remembering."
Vincent Marini, creative director and executive producer for BASE Entertainment, which owns and operates the showroom in the Planet Hollywood Resort, 3667 Las Vegas Blvd. South, said the company had been looking for many years for a show to put on there that would appeal to a broad audience. As soon as he heard Moreno, he was sure they'd found it.
"Frankie has everything that old-school Vegas is about," Marini said. "He has incredible charisma, talent and a real rapport with the audience. He has the ability to relate to an audience and make an audience member feel like he's performing just for them. That's a special gift."
Moreno said his wide appeal comes from the music, which sounds new and hot to the younger generation but reminds the older generation of the music they remember and love from their youth.
His seemingly overnight success came about the old-fashioned way: years of hard work and perseverance.
He took to music at a young age and discovered that he had an affinity for the piano.
"Once I touched a piano for the first time, I totally understood it," Moreno said. "If someone played something for me, then I could play it on the piano."
He moved to Las Vegas about 15 years ago and started playing lounges, bars and clubs. At the same time, he was touring with several acts, including some country bands, Sting and Air Supply. Word of his talent spread, and one night, violinist Joshua Bell came to hear Moreno perform, which resulted in Moreno recording with the classical performer on an album.
Soon, Moreno found himself performing at larger venues for bigger crowds.
"It got to the point where we were doing really well, but we didn't have time to tour or sell our records," Moreno said. "So we took a year off and toured. We were gone just long enough that it feels fresh, but not so long that the locals forgot about us."
Not long after returning from Europe and Asia, with stops along the way at Carnegie Hall and the John F. Kennedy Center for the Performing Arts, they began working on the new show with Marini.
"It was a big undertaking, and it required a tremendous team of professionals from around the world," Marini said. "When you add it all up, there were somewhere around 100 people working to make this happen. The special effects are designed to be the show. They're designed to frame Frankie's performance in a really special way."
For all the hype and bluster, Moreno said what he really wants to do is combine art with entertainment and touch the audience.
"We're separated by the stage, but it's not like it's a show and an audience," Moreno said. "The audience is part of the show. I know this sounds cliche, but without an audience, what are we doing? The audience makes the show."
Moreno is looking forward to the performances and hopes that he can be part of bringing the best parts of vintage Las Vegas back.
"Maybe we can start a new Rat Pack," he said.
"Frankie Moreno — Under the Influence" is scheduled at 9 p.m. Tuesdays through Sundays at Planet Hollywood Resort. Tickets are $33 to $88 at ticketmaster.com or by calling 800-745-3000.
Visit frankiemoreno.com.
Editor's note: Old-School Vegas is a periodic series in the East Valley View that looks at entertainers and venues embodying the vintage feel of Las Vegas entertainment.
To reach East Valley View reporter F. Andrew Taylor, email ataylor@viewnews.com or call 702-380-4532.
'Frankie Moreno — Under the Influence'
The show is scheduled at 9 p.m. Tuesday through Sunday at Planet Hollywood Resort, 3667 Las Vegas Blvd. South.
Tickets are $33 to $88 at ticketmaster.com or by calling 800-745-3000.
Visit frankiemoreno.com.