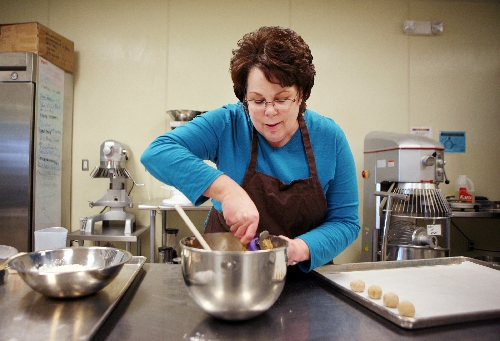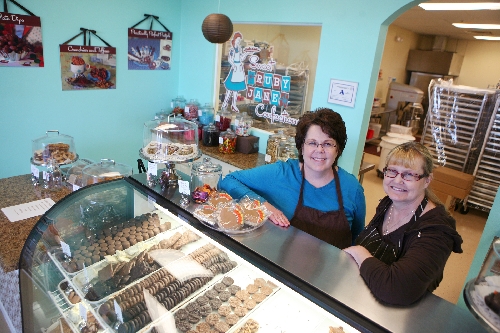 What began as a childhood dream has turned into a reality for the two sisters who own old-fashioned candy store and bakery Sweet Ruby Jane Confections, 8975 S. Eastern Ave.
Susan Philipp and Patty McCormick talked about opening a sweet-treat business for more than 20 years. In fact, Philipp indicated in a Mother's Day card to her mom as a child that she would one day own a bakery. That day came in April 2010, when the two launched Sweet Ruby Jane Confections, named after their grandmother, as an online candy store.
The plan, McCormick said, was to start the business online and slowly move toward opening a retail location. However, the process sped up when Philipp was laid off from her full-time job in February, and the duo opened their brick-and-mortar store in September. McCormick said the acquisition of a physical location has allowed the sisters to provide a "fun family place" for after-dinner treats and an opportunity to sell baked goods, such as cakes and cookies, which were are not available for online orders.
Philipp views owning a small business as an advantage in connecting with customers.
"What's nice about being small is you can customize what a client wants for parties or gifts," Philipp said. "I like the creativity, but I really enjoy getting to talk to people. It's a lot more fun getting to talk to people and putting a smile on their faces."
Philipp and McCormick customize gift baskets and jars filled with fudge and various candies . The business also offers chocolate pretzel wreaths, gourmet popcorn and cookie platters. The confections served inside the blue walls of the retail store are named after a family member, including the sisters' two cocker spaniels.
Among some of the top sellers are Natalie's Nut Crunchies, which are macadamia nuts and cashews mixed with butter toffee in a dark chocolate base, and Wyatt's Wacky Pretzel Sticks, which are dipped in dark, white or milk chocolate and covered in sprinkles, nuts or chocolate drizzle. Several confections, such as chocolate-dipped Molly's Marvelous Marshmallows and Paige's Cookie Pops, are served on a stick.
"Everything's better dipped in chocolate," McCormick said.
"Or on a stick," Philipp added.
The family theme comes from Philipp and McCormick's upbringing in which they learned to make confections from scratch, using real sugar and butter, just like their mother and grandmother did in the 1950s and 1960s. Their grandfather and uncles also worked in a bakery when the sisters were younger.
McCormick said she and Philipp often would taste samples that their family brought home, which inspired some of the treats made at Sweet Ruby Jane Confections.
With McCormick's previous experience working in food safety and Philipp's work in commercial real estate, combined with their passions for cooking, the duo knew that opening an old-fashioned bakery was a no-brainer.
"I've always dealt with the science side of food, and Susan was always on the business side," McCormick said. "We felt our two skill sets matched up, and I think it's turned out to be a good move."
McCormick said the sisters aim to give customers inspiration to bake goods with all-natural ingredients in the home kitchen. "I think people cooking for themselves is lost," McCormick said. "We're trying to bring that era and that comfort kind of feeling back where Mom used to wear an apron and cook those treats in the kitchen."
The duo has other goals, too . Philipp said she and McCormick are working to put together special events, such as candy-making classes for children; girls' night out events, which would include wine and chocolate samplings; and corporate workshops. The women hope to grow the business in Paradise and eventually open a store in Phoenix, where McCormick lives.
One route they don't plan to take, however, is building a large franchise.
"We're not interested in becoming the next Mrs. Fields," Philipp said. "This is a dream we had, and we just want to be successful and happy."
Contact Paradise/Downtown View reporter Lisa Carter at lcarter@viewnews.com or 383-0492.