Small table hockey club fueled by a big love for the game
November 6, 2012 - 12:19 am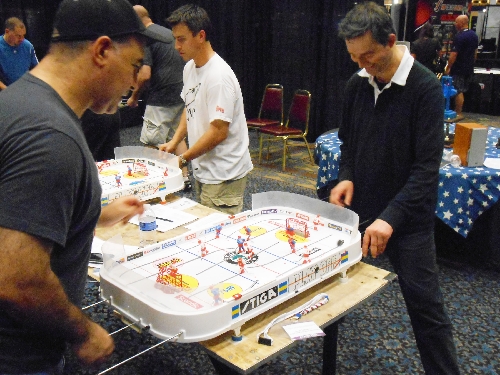 Some friends may enjoy blowing off some steam by having a couple of beers and maybe watching some sports. One group of Las Vegas residents and longtime buddies does that, too, but they also play table hockey – lots of table hockey.
John Labianca, 44; Jay Petrick, 41; and Bill McNeill, 34, make up the Las Vegas Table Hockey Club.
On Oct. 16, the club's members competed in the 2012 International Table Hockey Championships as part of the Let's Play Hockey expo at the LVH, 3000 Paradise Road.
"I had to ask my boss for the day off so I could come to this," said Labianca, an optician for the Department of Veterans Affairs in Southern Nevada. "He just kinda rolls his eyes, but he's a hockey fan, too."
The tournament was sanctioned by the United States Table Hockey Association, the sport's governing body . It's the real deal. In fact, Labianca is ranked No. 8 in the nation by the association.
The club's love affair with the game began as kids. All three played hockey growing up.
"It's a fun time socializing with friends, kind of just a goofy hobby," Labianca, a Staten Island, N.Y., native, said of his love for table hockey. "We'd always play when hockey was on TV."
Members of the Las Vegas Table Hockey Club did not fare as well in the tournament as they hoped they would. Labianca, Petrick and McNeill finished seventh, eighth and ninth, respectively.
McNeill, a contractor for the Department of Defense, said last year's event was his first tournament and he had a similar finish.
"I got slaughtered," the Boston native said, laughing. "But it's been more of a learning experience."
With table hockey being a niche hobby, the club is always looking for more members.
For more information on the United States Table Hockey Association, visit ustha.com.
For more information or to get in touch with the Las Vegas Table Hockey Club, visit its Facebook page at tinyurl.com/lasvegastablehockeyclub.
Contact Paradise/Downtown View reporter Nolan Lister at nlister@viewnews.com or 702-383-0492.