Smoke's brings poutine to Pawn Plaza
January 13, 2016 - 2:10 pm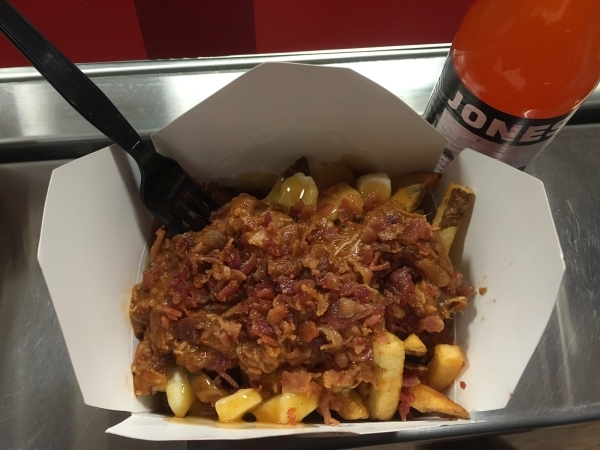 Inside Smoke's Poutinerie, the Quote of the Day reads, "You'll think you've died and gone to Canada."
Well, isn't that the truth?
The Ontario-based restaurant chain opened in the Pawn Plaza — a concept similar to Downtown Container Park — in October. With more than 100 locations in Canada, the Las Vegas Smoke's was the second in the U.S., opening just after one in Berkeley, Calif.
So what exactly is poutine? It's french fries and cheese curds topped with brown gravy. It might sound unappetizing at first, but it definitely pays to be open-minded: Poutine unlocks a world of unique flavors that are bound to shock your taste buds, but in a good way.
In addition, Smoke's offers a variety of specialty creations, including chicken chili (chicken, cheese sauce and homemade chili); chipotle pulled pork; bacon cheeseburger (bacon, ground beef and cheese sauce); and Philly cheesesteak. There are also vegetarian dishes, such as the veggie nacho (salsa, guacamole, sour cream and jalapenos) and Veggie Rainbow (Sriracha, cheese sauce, guacamole and sour cream). Each option comes in three sizes: snack ($5.99 to $6.99); meal ($7.99 to $9.99); and Wow ($10.99 to $12.99).
Although the eatery has no indoor seating, there's never a bad day to eat poutine. Because — holy smokes — who knew Canadian food could taste so good?
Smoke's Poutinerie is open from 11 a.m. to 9 p.m. Monday through Thursday, 11 a.m. to midnight Friday and Saturday and 11 a.m. to 8 p.m. Sunday. The restaurant also delivers through Bite Squad and GrubHub apps.
Visit smokespoutinerie.com or call 702-823-4555.
Smoke's Poutinerie
Pawn Plaza, 725 Las Vegas Blvd. South
Open 11 a.m. to 9 p.m. Monday-Thursday; 11 a.m. to midnight Friday-Saturday; 11 a.m. to 8 p.m. Sunday
702-823-4555
smokespoutinerie.com