Spirit of recovery to propel Pink Paddlers at Henderson's regatta
October 3, 2013 - 11:30 am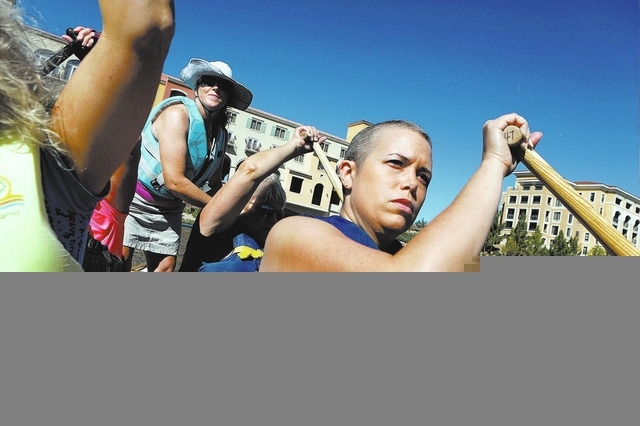 With one hand wrapped firmly on the base of the paddle and the other gripping the top, the 20-woman team pushes the dragon boat off the marina wall of Lake Las Vegas and begins another Sunday morning practice.
"One, two, three, four, five, six, seven, eight, nine, 10," Terry Maurer, the dragon boat's coach, counts to the beat of a drum trying to keep the pace.
All the commands Maurer yells are essential for the racers as they steer the waters.
"Keep your eyes forward," she said. "If you get tired, it's OK to take a break. Let it ride."
But to the crew, all breast cancer survivors, many of those commands have carried them through not just another early morning practice but also diagnoses, chemotherapy, radiation treatments, single or bilateral mastectomies and recovery.
"We start by pushing off from the dock," Maurer said. "It's like we are pushing off from our troubles. We keep our eyes focused forward so we know where we are going. It's all a metaphor."
The team plans to take part in the fifth annual Rose Regatta Dragon Boat Race & Festival, scheduled for Oct. 5 at Lake Las Vegas, 10 Costa Di Lago.
There are 67 teams from across the country competing, with four teams made up of breast cancer survivors.
Maurer is coaching the Southern Nevada survivors' team, known as the Pink Paddlers.
The event is expected to raise money to help breast cancer patients with no insurance.
Holly Lyman, director of Women Who Care-Community Outreach for St. Rose Dominican Hospitals, said the event raises about $100,000 each year.
"We also have surgeons and radiologists who donate their time," she said. "It helps stretch that money as far as possible."
More than 200,000 women are expected to be diagnosed with breast cancer in 2013, according to Susan G. Komen for the Cure, a foundation that fights breast cancer.
Not all of them will have insurance to pay for treatment or even the bills that might accumulate.
Lyman said St. Rose created the RED Rose program to help uninsured women who are diagnosed with breast cancer.
In 2012, St. Rose had 658 women take part in the program in Southern Nevada, up from about 450 in 2011.
"It's a 12 percent increase from the past years," she said. "We are seeing an increase in women who don't have health insurance."
The Rose Regatta Dragon Boat Race & Festival started five years ago. Since the beginning, Maurer has been coaching a boat of survivors.
As a breast cancer survivor, she not only knows the importance of St. Rose but also how exercise is good for those recovering.
"I was diagnosed in 2005," she said. "I completed everything in 2006. I felt like I was sent out to live my life, but I could barely get off the couch. I knew if the cancer came back while I was feeling this weak, it would defeat me this time."
She made her way back to the gym.
"Going to the gym was my next round of chemo, you could say," she said.
Maurer tried to find a support group.
"I needed something more than just sitting around and talking," she said. "I needed a way to be active."
She then created a support group that revolved around walking, exercising and paddling that allowed survivors to connect with other women to talk about shared experiences while being physically active.
When St. Rose created its Rose Regatta race, Maurer was asked to help get a team together.
"And I've been doing it ever since," she said.
At 9 a.m. Sept. 22, 38-year-old Anna Friday stood at the marina in her pink tank top — the signature breast cancer awareness color — ready for her first practice.
"I am definitely going to need to do more arm workouts," she said.
Friday was diagnosed with breast cancer this year.
"I discovered a lump when I was doing a self-exam," she said.
From the time the doctor made the diagnosis to the time surgery was scheduled — only three weeks — the tumor had tripled in size.
"That was really rare," she said.
Being a registered nurse and knowing that breast cancer can be more aggressive in younger women, she went through a bilateral mastectomy.
"I told them to take them both and do it fast," she said.
She made it through her treatment this summer, is back to exercising daily and is trying to go vegan to improve her lifestyle.
Friday joined other survivors who have been on the team before.
Dena Trees and Martha Fresquez — who also wore pink — are two-time survivors.
"This is my second year out here for the race," Trees said.
The first time Trees, 47, was diagnosed two years ago, she felt she didn't have a strong support group. Then she found the Pink Paddlers. With them by her side, she laughed, cried and paddled as she went through her treatments.
She discovered another lump in January 2012 at a doctor's appointment.
"I was mad," she said. "I had already done this. I had already survived. I was just starting to feel better and get my life back."
This time around, she had her teammates to get her through it from the beginning.
Fresquez, 64, discovered she had breast cancer for the first time in 1977.
"I was only 27 years old," she said.
In 2009, she was diagnosed again.
"I was in disbelief," he said. "If anything, I was in a daze."
Her second time around, she searched for a support group and found Maurer's information.
"I was terrified to join (the boat race)," she said. "I'm terrified of the water, but I'll try anything once."
This is her third year in the race.
They all gathered on the dock and loaded into the boat one by one. Maurer gave instructions throughout the one-hour practice.
"A few of you are still in treatment," she said. "If you need to, pull your oar out of the water. Don't push yourself."
But they all kept pushing.
Even after the race ends, the team returns at least twice a month to get on the water.
"We are a floating support group," Maurer said.
For more information, visit roseregatta.org.
Contact Henderson/Anthem View reporter Michael Lyle at mlyle@viewnews.com or 702-387-5201.