St. Baldrick's set to rally childhood cancer research support for seventh year
February 26, 2013 - 12:00 am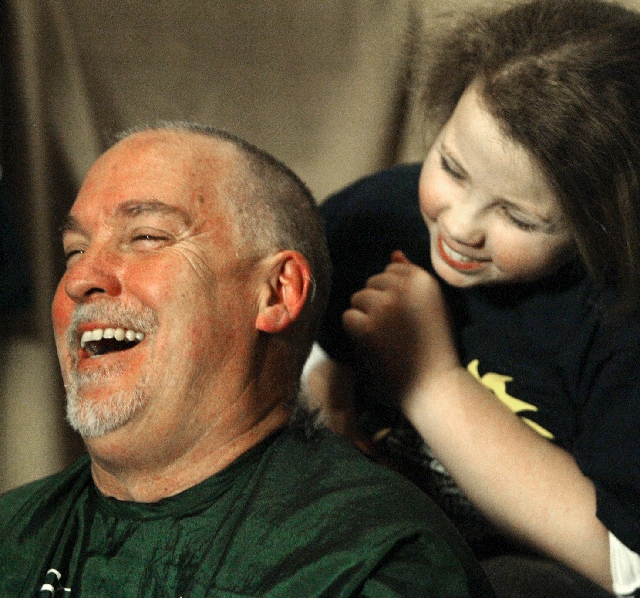 The path to knighthood just got easier.
Participate in St. Baldrick's Day events, and you can be named a Knight of the Bald Table at the seventh annual McMullan's St. Baldrick's celebration, slated to start at 1 p.m. Saturday at McMullan's Irish Pub, 4650 W. Tropicana Ave., Suite 110. For more information, visit tinyurl.com/stbaldricks2013. The event publicly shaves people's heads for the sake of raising money to beat childhood cancer.
Those who have participated all seven years at McMullan's can claim the tongue-in-cheek honor of knighthood. But the ultimate honor lies in participating and raising funds for the St. Baldrick's Foundation, which supports children who have cancer.
McMullan's Irish Pub got involved after owner Brian McMullan and his wife, Lynn, lost their daughter, Kyra, 2½, to brain cancer.
"So we decided to start that … it's like our own little mission," he said. "We didn't really know how well it would go, but that first year, we raised $152,000."
His wife plans to have her head shaved. Her team is Girls Gone Bald, which has more than a dozen members signed up, including a 6-year-old named Ruby. Lynn McMullan commended the foundation for not squandering money.
"They run a small ship, a tight ship, and are very transparent," she said. "They run it right."
McMullan's pub is joined by other venues around town, such as Rí Rá Irish Pub inside The Shoppes at Mandalay Place and Nine Fine Irishmen at New York-New York, which plan to host their own St. Baldrick's events.
Worldwide, 175,000 children are diagnosed with cancer each year. And in the U.S., more children die of childhood cancer than any other disease — more than AIDS, asthma, cystic fibrosis, congenital anomalies and diabetes combined.
Teams have formed at McMullan's throughout the years. Bald By Design was an early one, founded by Windom Kimsey, an architect whose daughter, Claire, was diagnosed with leukemia at age 10. She is now 17 and has been in remission for five years.
Phil Ralston is one of the 18 Bald By Design members. He grows his hair for 12 months in anticipation of the buzzing.
"Windom started shaving his head, and I drafted in behind him," Ralston said. "From that, we went to the architect institute and said, 'Hey, we want to do a team.' "
Three of the Bald By Design teammates are women. They do not shave their heads completely, but they agree to have their ponytails cut off. The long locks are used to make wigs for children who lose their hair during treatment.
"It's like Locks of Love," Ralston said, referring to a national effort that provides wigs for disadvantaged women and children undergoing chemotherapy.
Heather Davis is a former coworker of Ralston's and plans to take the stage for the first time this year. She has her own reason for joining, having lost a 16-year-old friend, Sam, to cancer 12 years ago. Davis has cut her hair for Locks of Love before in his honor. She's grown it for two years to get it long enough and said the sacrifice is well worth it.
"I think the more people get involved, the more research can be done," she said.
St. Baldrick's has quickly grown into the world's largest volunteer-driven fundraising program for childhood cancer research. Except for the U.S. government, the St. Baldrick's Foundation funds more in childhood cancer research grants than any entity. Since 2000, events have taken place in 24 countries and all 50 states, raising more than $74 million. More than 130,000 volunteers — including more than 10,000 women — have lost their locks to support the cause.
In 2012, 12,841 participants raised more than $3.5 million.
St. Baldrick's website notes that children with cancer "aren't just little adults fighting adult cancers. Childhood cancers are unique and require unique treatment and research, yet government and pharmaceutical funding for childhood cancer research is scarce."
"It's a very serious issue, but at least this is a fun way to try and battle it," Ralston said.
Contact Summerlin/Summerlin South View reporter Jan Hogan at jhogan@viewnews.com or 702-387-2949.