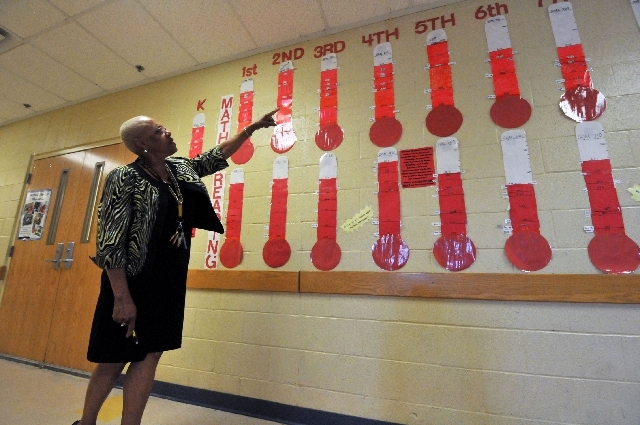 Her work here is almost done.
Peggy Selma plans to retire as principal of the 100 Academy of Excellence after the 2013-14 school year, and parents say she is leaving the place in better shape than she found it.
One of those parents, Nikki Donaldson, strongly considered withdrawing her son from the 100 Academy of Excellence about three years ago.
"It seemed more like a baby-sitting ground than a school," she said. "I felt like it wasn't serving a purpose for my child."
Other parents had similar feelings. Enrollment, which was more than 600 students in 2008, dropped to fewer than 350 in 2011.
Donaldson's attitude changed once Selma became principal in 2010.
"She and I met, and I gave her a year to sort of show me what she could do, and they've been there ever since," said Donaldson, who has two kids attending the school and is a member of its governing board.
Enrollment this school year was 670, and Selma said she is hoping to reach 725 next year, after which she plans to retire –– again.
Selma, 72, retired in 2000 as an assistant superintendent in the Los Angeles Unified School District but came out of retirement to lead 100 Academy after the school went through several principals and a turbulent four years since opening in 2006.
She is grooming her replacement, assistant principal Shawn Smith, to take over. She hopes he will hire a female assistant principal, "to keep the yin and yang" balance, she said.
The 100 Academy, 2341 Comstock Drive, is a tuition-free, public charter school serving kindergarten through eighth grade. It is made up mostly of minority students, with nearly all of them on the free and reduced lunch program.
The 100 Black Men of Las Vegas –– a local nonprofit organization that supports education and the black community –– partnered with Imagine Schools to open the 100 Academy. Imagine Schools is a company that manages charter schools.
Members of the 100 Black Men mentor students and help in various ways around the school.
In its early years, 100 Academy failed to comply with health and safety codes. It also had budgeting problems, and many of its teachers did not meet state-required qualifications.
Then came Selma.
Since her arrival, those issues have been addressed, and the school has a nearly spotless track record, said Dan Tafoya, director of the Clark County School District's Office of Charter Schools.
"You don't hear bad things about the 100 Academy anymore," Tafoya said. "… In a good way they've fallen off the radar."
Last year the elementary school had a two-star ranking, and the middle school had a three-star ranking out of five, as rated by the school district's former ranking system, the School Performance Framework. That system is being replaced with a statewide system, and the latest scores are expected to be released during the summer.
"It's just a different feeling on campus," Selma said. "It's just kind of like night and day. It's really doing great now. We're hoping our test scores will show that."
The biggest change Donaldson has noticed has been the teachers. Selma interviewed every teacher at the school and replaced more than half of them when she started.
"There's a personal relationship; there's just that push for excellence," Donaldson said. "There's nothing less than excellence (Selma) is willing to accept."
But Selma said she has also lost good teachers because she cannot pay them as much as their school district counterparts. Teachers at 100 Academy make about $1,000 to $2,000 less on average. Selma's proposed budget for next school year includes raises for her 35 teachers.
Community partners are also getting behind the school again.
"At one time the school lost a lot of community support," Tafoya said. "I'm glad to say that support is back tenfold."
The school is enrolling for every grade level except first, which Selma said is at capacity.
For more information, visit 100academy.com.
Contact View education reporter Jeff Mosier at jmosier@viewnews.com or 702-224-5524.