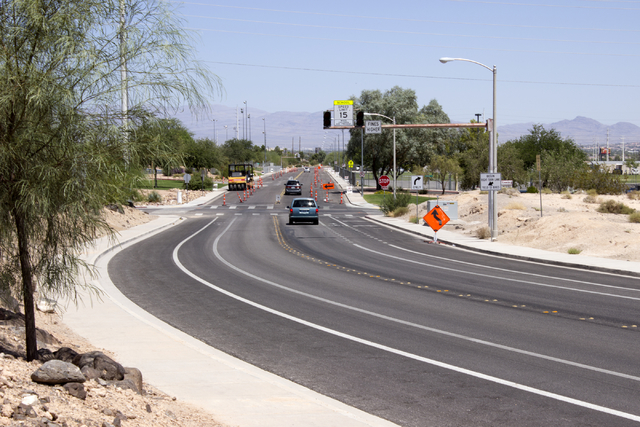 With more than 316,000 Clark County students expected to return to school Aug. 25, children and parents will be traveling to and from school, posing potential safety issues, according to local officials.
In 2012, about 140 children ages 6 to 18 were hit by vehicles in the hours before and after school, according to Erin Breen, director of the Vulnerable Road Users Project.
"Roughly a third of the people hit each year are children," Breen said. "We all live in the 'It-will-never-happen-to-me' world, but everyone needs to start taking more responsibility and watch out for each other."
Residents who live within a 2-mile radius of the school are considered to be in walking distance, according to the Clark County School District's website.
The distance is measured from the edge of the road in front of the school's main entrance and follows dedicated streets, ending at the edge of the road in front of the individual's residence.
Breen advises parents to walk with their children and plot the course before school starts, making sure they use signalized and midblock crosswalks when available.
"When using crosswalks, children should stop at each lane and make eye contact with each driver," Breen said. "We tell children to smile and wave and wait for (drivers) to smile and wave back, so you know that they see you."
As a driver, it is unlawful to pass a car that is stopped or slowing down at a crosswalk, according to Breen.
"You never know what people may be stopping for," she said. "If it's a pedestrian, you could kill them. Hitting someone at road speed is a fatality."
The school district police department plans to have all officers patrolling during the first week of school. The officers are capable of writing tickets, enforcing road laws and monitoring activity on campus, according to detective Thomas Rainey.
"It depends on where you are in the city, but an average ticket for speeding in a school zone is about $250," Rainey said. "It's important not only for drivers but students to know the rules of the road."
Parents should also refrain from allowing their teenagers to drive younger siblings to school, according to Breen.
"The single most dangerous way for a child to get to or from school is being driven by an older sibling," she said. "Little kids can be huge distractions, and distracted novice drivers are recipes for disaster."
Riding a bicycle on the sidewalk might sound safer, but Breen says it's more dangerous than riding in the street.
"It's the reason why we walk bikes across crosswalks," Breen said. "Bikes go so fast that there's no time for drivers to react to them. Drivers can't see you while backing out of a driveway if you're right there on the sidewalk."
Breen advises that children ride in the bicycle lane or the right shoulder and follow the same rules of the road as a car.
"When a bike is on the road, they are considered a vehicle," she said. "Children must signal intent with their hands, stop at stop signs and yield to pedestrians."
Drivers are also required to give bicyclists at least 3 feet of space while passing or switch lanes if possible.
"Children are unpredictable," Breen said. "As a motorist, you have to predict the unpredictable and expect the unexpected because you couldn't live with yourself if you hit a child, whether it was your fault or not."
Drivers must stop while approaching a bus with flashing rear red lights. If the bus is on the opposite side of the street and there is a raised concrete median, drivers are not required to stop.
"If there's no raised concrete median separating the streets, you must stop because that means kids have the ability to cross the street," Breen said. "If there is a raised concrete median, you do not have to stop because the children cannot cross. In that case, the bus is also required to stop on the other side of the road."
While exiting a bus, children should walk or stand at least 6 feet away so they can be seen.
"If a child is up against the bus, the driver cannot see them," Breen said. "Children should also be aware of their clothing and backpacks so they don't get caught in the doors of the bus."
Despite the dangers, Breen said walking, bicycling and riding the bus to school are the building blocks for teenagers to become good drivers.
"It's important for their physical and mental well-being and their life skills," Breen said, "but it's just as important to hammer in their head the importance of road safety."
For more information, visit zerofatalitiesnv.com or call UNLV's Transportation Research Center at 702-895-1780.
Contact Henderson View reporter Caitlyn Belcher at cbelcher@viewnews.com or 702-383-0403.