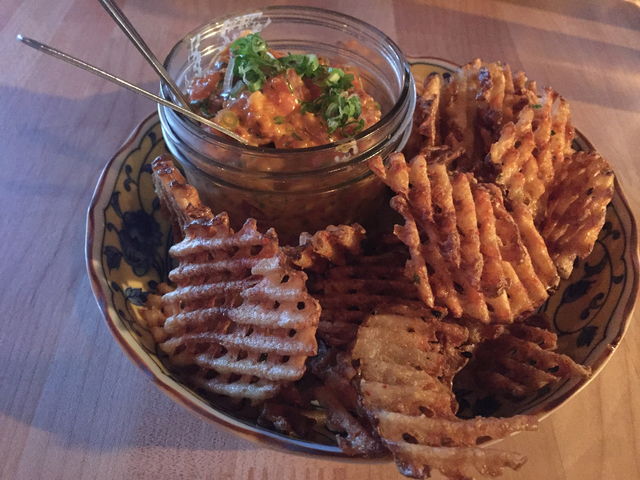 When you think "fresh seafood," you usually don't equate it to "suburb" or "strip mall."
Yet, here is Other Mama, 3665 S. Durango Drive, Unit 6.
Sporting a nautical theme with a modern touch, Other Mama transports you out of the desert and aboard a classy, wooden yacht.
Located oddly between a beauty supply shop and consignment store, the restaurant has become more than just a neighborhood favorite since its opening in March 2015. Although it sits in the outskirts of Spring Valley, it still has the glitz and glam of a Strip eatery without the hassle.
Owner/chef Dan Krohmer, who worked with the Iron Chef Masaharu Morimoto, toured with Taylor Swift, Metallica, Jay Z and others before settling in the kitchens of Sen of Japan and the now-closed Japanese Cuisine by Omae. While his experience with Japanese is vast, the broadness of Other Mama gives the restaurant room to experiment.
The menu is divided into smaller and larger dishes, although it seems like all the plates run on the small side. It's also a bit pricey for the amount of food, but the high-quality ingredients make it worth all those pretty pennies.
The restaurant offers a sea of selections, such as ceviche (octopus, shrimp and white fish tossed with habanero); organic salmon poke with beets and avocado; Rhode Island calamari served with hollandaise and pickled peppers; amberjack sashimi topped with ponzu salsa; and spice tuna tartare with a side of waffle fries. Most plates range from $9 to $16.
For a taste of land, the eatery serves organic chicken with spinach and potatoes; prime New York steak with miso hollandaise sauce and waffle fries; and kimchi fried rice mixed with pork belly and farm egg. Meals cost between $19 and $28.
A lengthy specials board also provides daily deals, such as oysters, sushi and desserts. Happy hour runs from 4 to 6 p.m. daily and includes $5 house wines, $5 well cocktails, $3 draft beers and $5 to $10 small bites.
Other Mama is open daily from 4 to 11 p.m. Visit othermamalv.com or call 702-463-8382.
Other Mama
Address: 3665 S. Durango Drive, Unit 6
Hours: Daily from 4 to 11 p.m.
Call 702-463-8382 or visit othermamalv.com.