Summer-o-saurus: Dinosaur exhibits draw crowds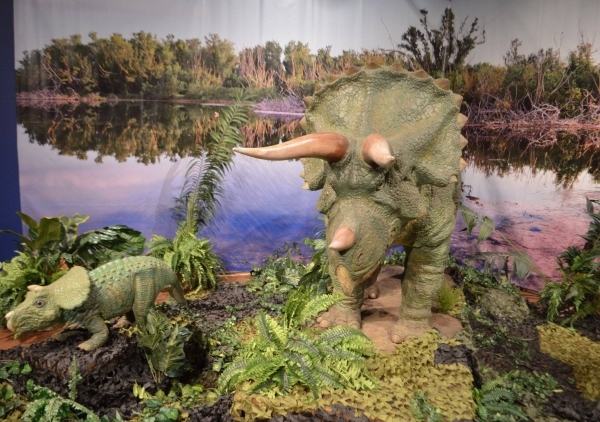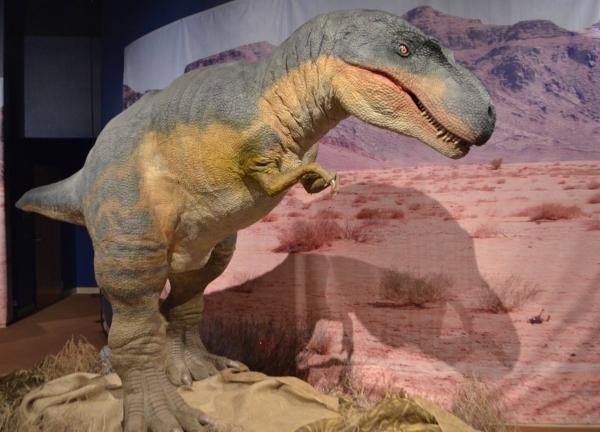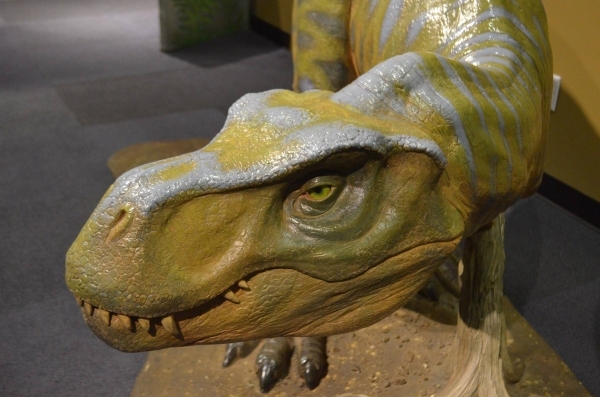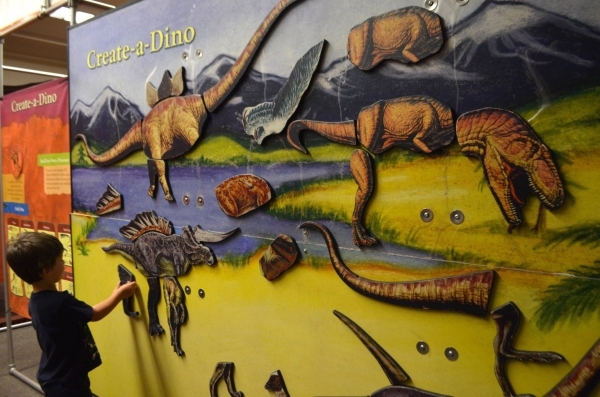 Dinosaurs are gigantic in Las Vegas, especially this summer, when they are roaming three of the city'€™s best-known family-friendly attractions: the Las Vegas Natural History Museum, the Discovery Children'€™s Museum and the Springs Preserve.
The museums have teamed to promote their visiting paleontology exhibits with joint advertisements and discount fliers.
Visitors may think the collaboration was a well-planned and intentional effort, but it started as a coincidence.
About 1 ½ years ago, the Discovery Children'€™s Museum, 360 Promenade Place in Symphony Park, signed the contract on its "Dinosaurs: Land of Fire and Ice," and the Springs Preserve, 333 S. Valley View Blvd., scheduled its "Dino Summer" exhibit. Then, at least a year ago, with this year'€™s blockbuster movie "€œJurassic World"€ fueling the decision, the Las Vegas Natural History Museum, 900 Las Vegas Blvd. North, scheduled its "Dinosaur Revolution" exhibit.
It could have turned into a prom with all the cool girls wearing the same dress.
"€œIt could have been a situation that wouldn'€™t have turned out well,"€ said Aaron Micallef, Springs Preserve curator. "€œIt's possible we would have competed."€
But instead he said they felt it was a good opportunity.
"€œWe knew about it well in advance and decided to try and maximize our efforts to get the word out by partnering with each other,"€ he said. "Around the new year, planning efforts went into high gear."
Las Vegas Natural History Museum Director Marilyn Gillespie said it went into the partnership hoping there would be enough visitor support to go around for all three museums.
"€œWe hope that kids can'€™t get enough of dinosaurs,"€ Gillespie said. "€œMaybe that'€™s what we'€™re banking on this summer."€
"Dinosaur exhibits are something that people hunger for,"€ Micallef said.
Discovery Children'€™s Museum representative Denyce Tuller said the promotion has helped bring in locals and tourists who may have visited one of the museums but now may check out all three.
"€œWe'€™re all nonprofit educational entities, and we'€™re here to support each other and work collaboratively,"€ she said.
"€œWe have to realize, we'€™re all in this together,"€ Gillespie added. "€œWe have an odd market, a difficult market. We'€™re not like other communities. A lot of communities can rely on tourism as a big base of their revenue. In Las Vegas, our tourism is very directed to the Strip. It really takes a diehard museum goer, and people that have been to Las Vegas before, to start branching out and looking for museums as part of their stay."
It helps that the exhibits aren'€™t identical.
"€œAll the different traveling exhibits at each of the museums are all very different,"€ Tuller said. "€œIt creates a well-rounded educational environment."€
The Discovery Children'€™s Museum exhibit focuses on the Cretaceous climate dinosaurs inhabited 70 million years ago. At one extreme, a triceratops and Tyrannosaurus Rex replica stand ready for photo opportunities in a steamy, boggy Montana landscape with a volcano towering overhead. Meanwhile, a troodon and edmontosaurus represent dinosaurs that scientists say survived Alaskan temperatures. Other attractions include a dig site, a field research station, an ice slide complete with ice cave and plenty of tunnels to crawl through.
The exhibit at the Las Vegas Natural History Museum takes visitors through a trivia maze where they must use their knowledge of dinosaurs to avoid dead ends. Along the way, kids can study footprints, slide along a mini zip-line, dig for bones, take to a climbing wall and examine ancient evidence to determine if T-Rex was a carnivore or a scavenger.
At the Springs Preserve, visitors are greeted by a half-size animatronic T-Rex and a half-size triceratops mother and baby. Kids can mount a triceratops for photos or pose with life-size dinosaur heads. Visitors of all ages are invited to sit down at arcade-style video game systems throughout the exhibit hall and drive a virtual dinosaur. They can avoid predators or look for prey or food.
"€œAnd even pooping is an option with its own noise. Giggles happen a lot,"€ Micallef said. Younger museum goers can follow dinosaur life in a virtual Jeep.
So far, attendance numbers have been up at all three museums, and organizers are open to collaborating again, but next summer'€™s exhibits are already reserved and couldn'€™t be more different. The Las Vegas Natural History Museum is slated to transport visitors to ancient Rome. The Discovery Children's Museum plans an exhibit dedicated to Clifford the Big Red Dog. And the Springs Preserve is set to explore the physics of light with prism displays.
Even though the exhibit stars are unlikely to line up again, Micallef said patrons can expect continued collaboration among area museums through the 1 ½-year-old Las Vegas Museum Alliance. In October, the alliance plans a Las Vegas Museum Month with valleywide discounts and celebrations to be announced at vegasmuseums.org.
— To reach View contributing reporter Ginger Meurer, email gmeurer@viewnews.com or follow her on Twitter: @gingermmm.
If You Go
The Discovery Children's Museum, 360 Promenade Place in Symphony Park, plans to display "Dinosaurs: Land of Fire and Ice" through Sept. 13. Visit discoverykidslv.org.
The Springs Preserve, 333 S. Valley View Blvd., is scheduled to display "Dino Summer" through Sept. 20. Visit springspreserve.org.
The Las Vegas Natural History Museum, 900 Las Vegas Blvd. North, is set to display "Dinosaur Revolution" through Sept. 15. Visit lvnhm.org.