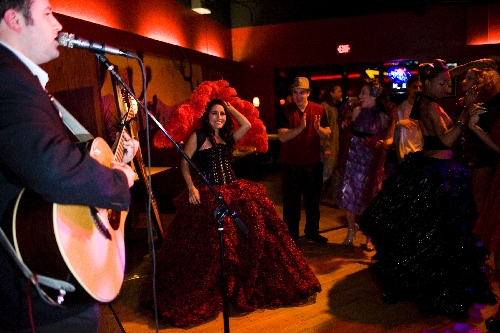 It's a concert but so much more. It's also an artist exhibit but not entirely.
The event, 1CrazyHappyHour, is something new for the suburbs, a way to embrace music, art and fun in one event, all while imbibing good drinks and enjoying food.
"We want people to walk away going, 'Man, that was one crazy happy hour,' " said Hal Savar, co-founder.
He and his brother Evan, both of Summerlin, are the brains behind the new concept. Each event has a theme that's based around the music. The first one, "Blues, Booze & BBQ," was held Dec. 1 at Buzz BBQ, 9640 W. Tropicana Ave. About 120 people showed up.
"It was awesome," said Mike Hanson, co-owner of Buzz BBQ. "This was not just a happy hour. There was music, poetry, modeling … it was an awesome fit for the neighborhood."
The event featured local blues musicians, paintings from local artists and a spoken word segment for poets, as well as fashion models strolling amid vintage cars from the 1920s, '30s and '40s.
"We can combine history and music and make it relevant to people," Evan Savar said.
The cars were courtesy of Art & Shirley Goldstrom's Auto Collection & Museum. There was no cover charge, which is part of the appeal of 1CrazyHappyHour events.
The brothers said the Strip and downtown Las Vegas have plenty of opportunities to find art and good music, but the suburbs do not.
"We're trying to bring art to an area where it's not readily available," Hal Savar said.
The second event, "Tunes, Tapas & Temptation," was held Dec. 8 at Marbella Tapas, Bar & Music of Spain, 4561 W. Flamingo Road. That one is set to repeat from 5 to 8 p.m. every Wednesday. It features Latin jazz musicians, Latin-inspired art, Latin fashions and Latin dance pieces.
Another 1CrazyHappyHour event is being planned to piggyback on the Vegas StrEATS food truck and street art festival held in downtown Las Vegas near the El Cortez Hotel.
The plan is to have five bands and three artists featured at each event. The Savar brothers say they eventually want to host three to five events at different eateries each week.
No matter which restaurant hosts the events, food and drink specials are available for purchase as part of the evening. Best of all, there's no cover charge to hear the music. But then, the bands are not paid. So, what do they get out of it?
"It is a chance for musicians to be heard by a new audience each time, to build a following," Evan Savar explained.
At the events, attendees vote on their favorite band of the evening, resulting in points for each band. The one with the most points is invited to a monthly event, still in the planning stage. At those, the musicians will be paid, and attendees will pay a cover charge of about $15.
For more information, visit 1crazyhappyhour.com. Besides the website, the Savars also will use social media to get the word out about upcoming events.
Contact Summerlin/Summerlin South View reporter Jan Hogan at jhogan@viewnews.com or 387-2949.