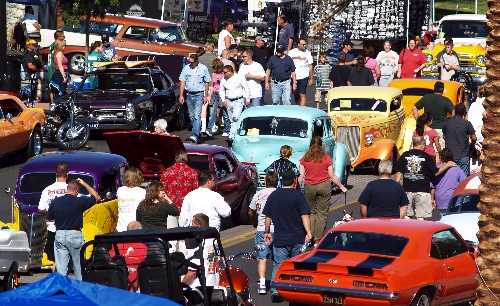 SuperRun Classic Car Show, the largest classic car show in Southern Nevada featuring more than 1,000 muscle, classic and model cars, is returning to Henderson Thursday through Sunday.
Art Kam, the director of the Las Vegas Cruisin Association, said people from across the Las Vegas Valley and from California, New Mexico, Arizona and Utah come out to show off their cars.
"We even have someone coming from New York," Kam said. "The word is spreading."
The kick off for SuperRun is scheduled from noon to 8 p.m. Thursday at T he District at Green Valley Ranch, 2240 Village Walk Drive.
SuperRun events are expected to drive over to Water Street and set up at the Henderson Events Plaza, 200 S. Water St., on Friday, Saturday and Sunday.
Kam said cars are scheduled to line up on Water Street from Victory Road to Ocean Avenue.
Spectators who just want to see the cars can do so for free from noon to 9 p.m. Friday, 10 a.m. to 9 p.m. Saturday and 10 a.m. to 3 p.m. Sunday.
Because there are 150 trophies to compete for, car owners must pay to participate and compete in the events.
Kam said he hopes part of the proceeds will provide presents for children at Robert Taylor Elementary School in Henderson in December.
Kam said Richard Harrison, "The Old Man" from the History Channel s how "Pawn Stars," plans to attend.
"Nothing is scheduled," Kam said. "He is just a car buff and said he'd be down there."
Kam said the crew from "American Restoration," another History Channel s how, also is expected to appear.
Food vendors and merchandise booths also are planned for the event.
In addition to classic cars, the entertainment lineup is set to include The Temptations Review at 8 p.m. Friday and Against the Grain at 8 p.m. Saturday.
"People can expect original songs and cover songs," said Tony Mosti, one of Against the Grain's band members. "We will be doing music so people can dance. The evening will be a mix between a concert atmosphere and a country dance club. This won't feel like it's your living room. We want people to dance."
This year is the third time Against the Grain has played at SuperRun but the first year headlining.
"We had a good response last year," Mosti said. "So the city approached us and asked us to headline this year. We are a family-friendly band. Everyone can enjoy us from 5 to 75."
For the first time at SuperRun, the entertainment lineup is scheduled to include a '50s Fashion Show presented by Bettie Page Clothing at 7 p.m. Saturday.
Tatyana Khomyakova, founder of Bettie Page Clothing, said the fashion show fits with SuperRun because the line mimics the classic look of the 1950s, where a lot of the classic cars have origins.
"The look is the body-hugging, longer dresses that are usually below the knee," Khomyakova said. "There are lots of colors and lots of polka dots. Celebrities like Holly Madison and Denise Richards have worn the line. A big part of our clientele is the rockabilly crowd that comes to the classic car show."
Khomyakova developed the line in 2006 after she watched several classic films and realized she couldn't find the styles she saw.
Five years later, there are more than 17 styles and more than 200 designs with stores around the country.
Khomyakova, who lived in Henderson for several years, found out about SuperRun and figured it would be a great way to showcase classic looks to go with classic cars.
A free shuttle will be available for guests who park at the Lake Mead Crossing shopping center on the corner of Water Street and Lake Mead Parkway. Parking also is available in the garages at Henderson City Hall at Basic Road and Lead Street and the Henderson Justice Facility at Basic Road and Texas Avenue.
For more information on SuperRun and a schedule of events, visit hendersonlive.com.
Contact Henderson/Anthem View reporter Michael Lyle at mlyle@viewnews.com or 387-5201.