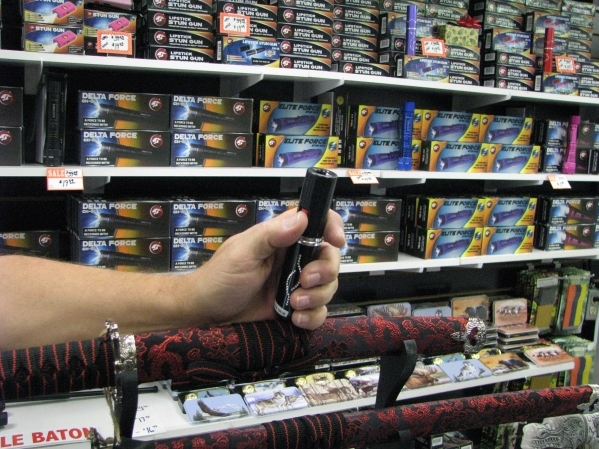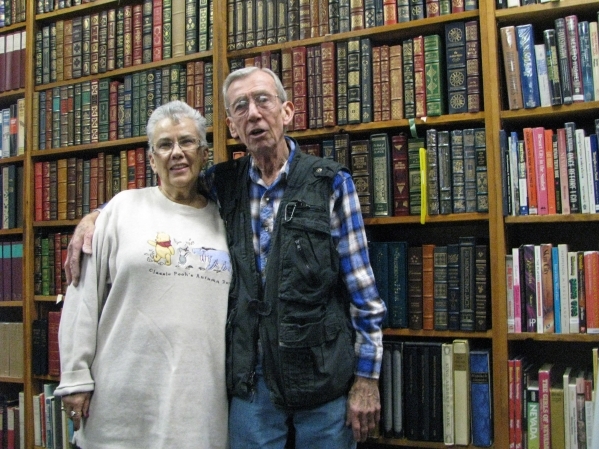 Just because you waited until the last week before Christmas, and the malls are packed and the shipping is unsure, you still have some options. You may just have to do a little thinking outside the box.
Perhaps you've driven by the Fantastic Indoor Swapmeet, 1717 S. Decatur Blvd., but never ventured inside, or perhaps you were put off by the $1 admission fee, but if you're looking for an unusual gift item, the location has a pretty wide selection.
There are several shops selling an assortment of sunglasses ranging from stylish homages to well-known brands to novelty shades in colors and styles that wouldn't look out of place in the far-flung future of 2015 portrayed in "Back to the Future II." At least one store sells actual beer goggles, sunglasses crafted to look like a pair of frosty mugs of beer perched on the front of your face.
If you're concerned your gift receiver will see through your lack of planning, several shops print or paint personalized items while you shop.
If you want to give someone a gift they won't forget, there is The Right Edge at spot B15.
"We've been here five months now," said Jim Wells, who owns and operates the shop that sells decorative weapons and self-defense options. "We had an online store for many years, and we still sell a little there, but this is our main business now. I was tired of the shipping hassle, and we wanted to meet real people again."
While the store doesn't carry any items specifically for the holidays, there may be someone on your list who has always wanted a Klingon bat'leth from "Star Trek" or an umbrella that conceals a sword.
"Look at that grappling hook there," Wells said. "You know there's someone who wants to find a grappling hook under their tree Christmas morning."
Jokes aside, one of the more popular items that people buy for gifts at The Right Edge are handheld stun guns, including standard models and ones built into flashlights or masquerading as lipstick. Wells demonstrated one creating a brilliant blue-white electrical flash and a disconcerting loud crackle.
"I tell people if they're somewhere and they don't feel safe, you can just take it out press the button a few times," Wells said. "The noise is enough to frighten off most attackers."
Fantastic Swapmeet is open from 10 a.m. to 6 p.m. through Dec. 24. It is one of the oldest and most well-established indoor swap meets in town but by no means the only one.
If you're looking for a last-minute gift that appeals to the more literate set, there are used bookstores around the valley. Amber Unicorn has been at its current location, 2101 S. Decatur Blvd., since 2008. The store has been operated by Lou and Myrna Donato in one form or another since 1981.
"We opened in March right before the economy tanked," Myrna said. "Because of that, we had a 25 percent off sale starting the week before Thanksgiving and running through the second weekend in January. None of that Black Friday stuff for us. The next year, people asked us if we were going to have the same sale again. Now we're in the seventh year of our annual sale."
The store carries books of nearly every subject, although it is particularly known for its cookbooks, books on metaphysics and high-end science fiction. The Donatos think giving someone a quality secondhand book is a very personal gift because you have to know what the gift receiver is interested in and take their tastes into consideration. There are some books that will do for just about anyone, however.
"The leatherbound classics are always nice, and we do have some signed ones," Myrna said. "They look good in addition to having great writing inside."
She pointed out a few books she thought were particularly of note, including a first hardbound edition of "The Joy of Cooking," a collection of poems by Sir Walter Scott, several collectible Arkham House science fiction books and an oversized art book of reproductions of Japanese woodblock prints called "Scenes of Old Kobe."
"The pictures are just so beautiful," she said. "I love the colors. I hope someone buys it."
Lou chuckled good-naturedly at the statement.
"I hope someone buys all of them," he said.
The store is open from 9 a.m. to 6 p.m. Monday through Saturday and 9 a.m. to 4 p.m. Sunday. It is closed on Christmas Day, and the Donatos hope to close a little early on Christmas Eve.
"We'll try to get out of here by 4, but we'll stay open a bit if people are still in here shopping," Myrna said. "Some things don't change."
— To reach East Valley View reporter F. Andrew Taylor, email ataylor@viewnews.com or call 702-380-4532.