The Orleans to rock with Viva Las Vegas Weekender
April 10, 2014 - 12:00 am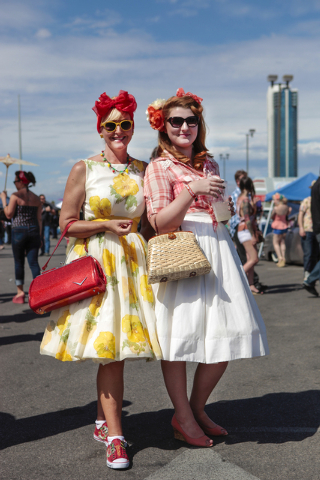 Las Vegas is set to travel back to a time of pin-up girls, greaser hairstyles and 1957 Ford Customs.
The Viva Las Vegas Rockabilly Weekender is scheduled for April 17-20 at The Orleans, 4500 W. Tropicana Ave. The event is set to include live music, a car show, burlesque performances, vendors and more.
"Rockabilly is based on '50s songs and music," said organizer Tom Ingram. "It's '50s rock music without the piano or sax."
The car show, planned for April 19, is set to include more than 800 cars dated pre-1963.
Performances by more than 65 artists, such as Imelda May, Lloyd Price and The Trashmen, are set to be hosted in six music venues within the casino and on an outdoor stage.
Additional entertainment includes burlesque and vintage fashion shows, dance lessons, pool parties, contests, bowling, a tattoo parlor and more.
"We'll have more than 120 vendors on site," Ingram said. "They include things like vintage clothing, records and CDs, car accessories and posters."
The Viva Las Vegas festival started in 1998 with about 1,200 attendees at the Gold Coast, 4000 W. Flamingo Road. After 11 years, the festival was relocated to The Orleans due to its size.
Ingram, who has been promoting rockabilly events for more than 30 years, used to run weekend festivals in England before moving to the United States.
"When I moved (to the the United States), I wanted to do weekenders out here," Ingram said. "I thought, what better location than Las Vegas?"
The festival is scheduled to have a larger movie car display and a "stronger burlesque performance," according to Ingram.
"We'll have the car from 'Herbie,' the car in the movie 'Christine,' the DeLorean from 'Back to the Future' and 'The Beverly Hillbillies' car," Ingram said. "We've had other movie cars in the past, like the Batmobile, but we're planning on expanding to have multiple cars each event."
Burlesque performer and producer Audrey DeLuxe was introduced to the art form in 1999 as an actress at a theater school.
"I've always been fascinated by the mid-century glamour and the Hollywood heyday and beautiful women of that time," DeLuxe said. "I had a random opportunity to join a dance troupe in New Orleans, and I took it."
DeLuxe joined the Viva Las Vegas festival about four years ago and is in charge of running the burlesque events.
"I love seeing the seed of an idea translate into a live performance," DeLuxe said. "The best part is being on stage and sharing the excitement and energy I feel with the audience."
Viva Las Vegas is set to open at 9 a.m. April 17, 10 a.m. April 18, 9 a.m. April 19 and noon April 20. The festival is designed for adults 21 or older and children 12 or younger accompanied by an adult. A four-day pass costs $135 for adults and $50 for children. Tickets to the car show, which is all-ages, cost $30.
For more information or to purchase tickets, visit vivalasvegas.net.
Contact Southwest View reporter Caitlyn Belcher at cbelcher@viewnews.com or 702-383-0403.