Through life, Las Vegas artist Dave Dave finds inspiration for his work after childhood tragedy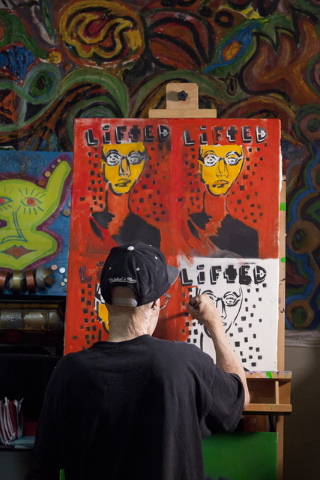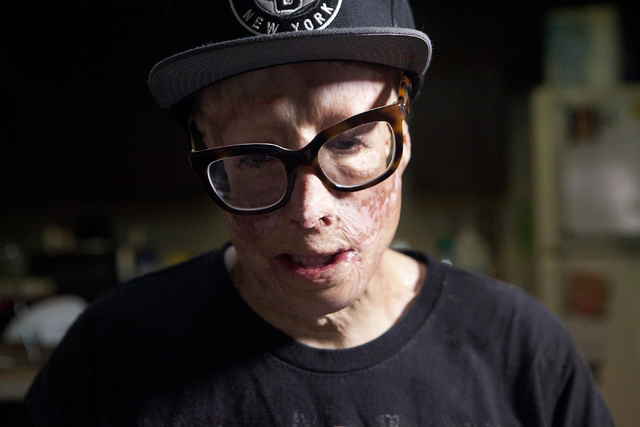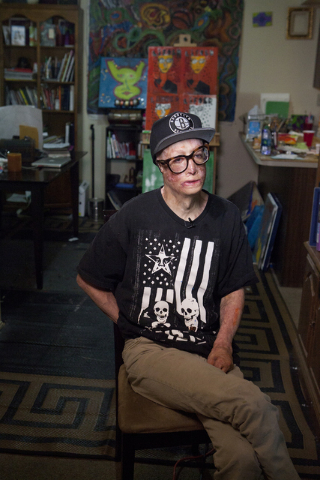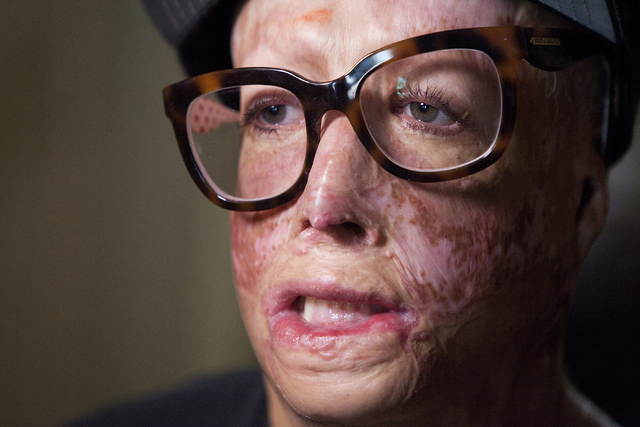 A lot of artists talk about suffering and struggle, but few have lived them like Las Vegas artist Dave Dave. When he was 6, his father tried to kill him by setting him on fire.
"I remembered being in a lot of pain," Dave said. "When stuff happens to you at that young of an age, you tend to block it out, but I remember the pain was excruciating."
Dave — formerly known as David Rothenberg — remembers his father, Charles Rothenberg, as being the greatest father in the world, but when his parents separated, he said it caused a blank anxiety within his father. Despite the fact that Charles was never kept from Dave, he grew to believe he would lose him in a custody battle.
"He was working at a restaurant in New York, and he had saved $10,000 for this trip to California," Dave said. "On the trip, he was planning to kill me."
Following a telephone argument with Dave's mother, Charles gave the then-6-year-old a sleeping pill, doused the bed in their Buena Park, Calif., motel room with kerosene and set the bed, the room and Dave on fire. He then watched the fire from a telephone booth across the street.
Dave was burned over 90 percent of his body.
Charles later said he was trying to commit a murder-suicide but lost his nerve. He was convicted of attempted murder and sent to prison.
Dave's childhood was spent healing and having skin grafts. A year after the fire, he had another life-changing event in his life when he met Michael Jackson. He said he doesn't remember if he and his family initiated the meeting or if it came from Jackson and his camp, but they hit it off right away.
"I wanted to meet him, and he wanted to meet me, and that just turned into a lifelong relationship that never ended," Dave said. "It was amazing being friends with Michael Jackson. He was an amazing person."
When Dave started creating art at age 19, he said Jackson was very supportive.
"He saw me painting near the lake at his home," Dave said. "He told me I was the greatest artist in the world."
Dave attended ArtCenter College of Design in Pasadena, Calif., a school that he described as the best in the world. He studied film for a while, but although film is a generally collaborative art form, he found his classmates weren't interested in his projects.
He had more success in visual art, with several collaborations with other visual artists. His most recent was with fellow Las Vegas artist Sheridee Hopper in July at Art Square, 1025 S. First St.
"We work really well together," Hopper said of Dave. "We have great ideas; we have good energy. We're flexible and compatible."
The project was a set of pop art portraits of imagined characters. Dave created a face, and he and Hopper pondered it, trying to decide the character of the subject.
"The colors that he used and the embellishments that I added looked very royal," Hopper said. "We started calling it 'The King,' so after that, we started creating a family — a royal family."
The pair added a queen, a prince, a princess, a jester, a female wizard and other members of the royal court. Dave painted in acrylic, and Hopper added embellishments, including feathers, plastic crystals, wooden chips, fishing line and glitter.
"They're sort of whimsical portraits portraying different characters and exploring the outlandish dressing habits of royalty," Hopper said. "We enjoyed going over the top."
Dave is now a full-time artist, selling his work to private collectors. He doesn't need to show his work but said he enjoys it and hopes to find the right venue for a bigger show.
Currently, he's working on pieces to show at Camelot Arts Galleries in the Forum Shops at Caesars Palace.
He is slated to receive a Hollywood F.A.M.E. Award on Nov. 5 at the Avalon Hollywood nightclub in California.
He's also revisiting a series he worked on several years ago, called "Lifted," which featured the word stenciled on works above images.
"I've been studying society for some time because I see myself as a sociologist — not by choice, but by nature," Dave said. "I see the world crumbling in front of me in the past four years, and I wanted to inspire people to lift themselves up. By so doing, they lift everybody else up, so it's a collective."
Dave isn't in contact with his father, who was released from prison seven years after trying to kill him. Charles was given a new identity — Charley Charles — and Dave said he committed crimes under that name before the justice system put two and two together.
"My dad's in prison with his third strike," Dave said. "He's gone forever, not for what he did to me, but he was a pretty shady individual."
The last time Dave saw his father was in prison, he said, when he was 19. A journalist arranged the meeting, and Dave was finally able to confront his father about what he had done.
"It was very cathartic to be able to look my dad in the face and tell him exactly what was on my mind," Dave said. "A lot of people don't get a chance to do that, to face the person who hurt them."
Dave legally changed his name to Dave Dave to rid himself of his father's surname.
Despite his challenges, he continues to live, thrive and create. He has come through his problems and remains positive.
"The art started coming to me naturally when I was about 19," Dave said. "My inspiration and the meaning of the art is life."
Dave Dave's art and more information can be found at davedavehq.com.
To reach East Valley View reporter F. Andrew Taylor, email ataylor@viewnews.com or call 702-380-4532.