Toys 4 Smiles hopes to relocate to donated, climate-controlled workshop
February 10, 2015 - 10:00 am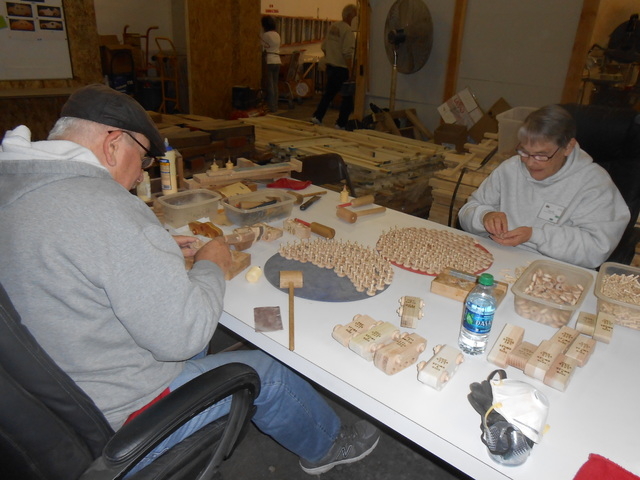 It was founded to extend the kindness of strangers to children in need. Now, it's the kindness of strangers that help it operate.
Toys 4 Smiles was established in July 2006. It began with three men gathering in a garage to craft simple toy vehicles out of blocks of wood. They were given to schoolchildren in low-income areas.
The effort has grown over the years. In November 2011, Toys 4 Smiles made its 100,000th toy. In December, it completed its 200,000th one.
But the group is in need as well. It's hoping to find a benefactor who can ease the strain of its operating on the financial edge by donating workshop space.
"All we need is one special person," said the nonprofit's founder, Rex Doty. "The problem is, the people who can help us don't know that we exist."
The effort operates on $25,000 a year. Most of that goes to pay rent and utilities and to buy pre-made toy wheels and axles.
For a time during the economic downturn, Gatski Commercial Real Estate Services was able to arrange free workshop space for the group.
"It was a tough time in the recession, and there was a lot of vacant space," CEO Frank Gatski said. "So I met with the property owner and said, 'Hey, this is a good cause.' I never even met Rex, but I saw the work that he did, and I was able to get the property owner to donate the space. … My feeling is, if the community has been the reason you're successful, it's kind of everybody's obligation to give back."
Now, Toys 4 Smiles pays rent, and while it's a cut rate, it still eats into its ability to make toys. Each September, the lease is up.
The 3,000-square-foot space is sparse, with just corrugated walls and a functional bathroom. There's no air conditioning. The nonprofit has swamp coolers for when the weather heats up, but it's a losing battle when triple digits hit. Volunteerism drops off sharply in the summer.
Doty said he's hoping for a new space to be donated, one with an HVAC system and enough parking for volunteers.
Ganalh Lumber of Anaheim, Calif., provides the group with wood scraps. Peterman Lumber Inc. trucks the scraps to Las Vegas.
"A bunch of great people have stepped up to help," Doty said. "That was one of our scares over the years: that we'd run out of wood. I don't have to think about that anymore."
Many of those stepping up are the group's 40 or so volunteers, such as retiree Charla Glimp. She has been coming to Toys 4 Smiles twice a week for the past year.
"I like doing things for kids, and I like the people here," said the Sunrise resident.
Vince McNeil began volunteering three months ago.
"They told me to expect to have a lot of fun, and I am," he said.
Toni Woodson attaches wheels and axles to the car bodies. She said she likes the repetitive nature of the work "and making sure the air bags are OK," rather than being around the machines.
Doty said the effort means volunteers forge new friendships.
"We were not just making toys; we were making relationships," he said.
Various groups received the toys to hand out, including Safe Nest, Project Sunshine, Pay It Forward — UNLV, Palo Verde High School, Nevada Child Seekers, Toys For Tots, Candlelighters Childhood Cancer Foundation of Nevada and the Nevada Childhood Cancer Foundation.
Doty said the toys are simple, forcing the child to use his imagination. There are no batteries and no instructions.
"It's so simple, but it's life-changing for some of these kids," Doty said.
For more information, visit toys4smileslasvegas.org.
Contact Summerlin Area View reporter Jan Hogan at jhogan@viewnews.com or 702-387-2949.